Fueling Growth Through New Investment
This month, Vera received an investment from
Salesforce Ventures
, joining a broader portfolio of
more than 375 enterprise technology companies
backed by Salesforce Ventures. This investment will support the next phase of Vera's growth in providing services to hundreds of social-impact organizations using the Salesforce Platform to track impact, manage programs and grants, and streamline operations.
"As we expand our important work in strengthening nonprofits' accountability and efficiency, we're thrilled to be partnering with Salesforce Ventures and its Impact Fund," said Vera Co-founder and CEO, Zak Kaufman. "When we founded Vera ten years ago, we had only begun to appreciate the potential for impact that the Salesforce Platform and ecosystem offered to nonprofits around the globe. Today, we're proud to be working alongside some of the world's most inspiring, influential, and impact-driven organizations to create a more data-driven social sector, and I can't think of a better ally to have on this journey than Salesforce Ventures."
Launched in 2017
, the Salesforce Ventures Impact Fund invests in companies benefiting society in workforce development, equality, sustainability, and amplifying the impact of nonprofits.
Adapting to a New 'Normal'
The last six weeks has certainly sent massive ripples into our global wave pool, as the world has adapted to widespread lockdowns and the health and economic threat of COVID-19. In early March, Vera shifted its entire global operation to working from home in an effort to protect staff and do our part in slowing transmission of the virus. All our offices have remained closed since, but we're still running on all cylinders, actively supporting nearly 70 clients. In a sense, our global team – spread across five continents and seven timezones – has never been so connected, initiating company-wide dance challenges, sharing creative virtual energizers on Slack, and taking time for group meditation on our All Hands Calls.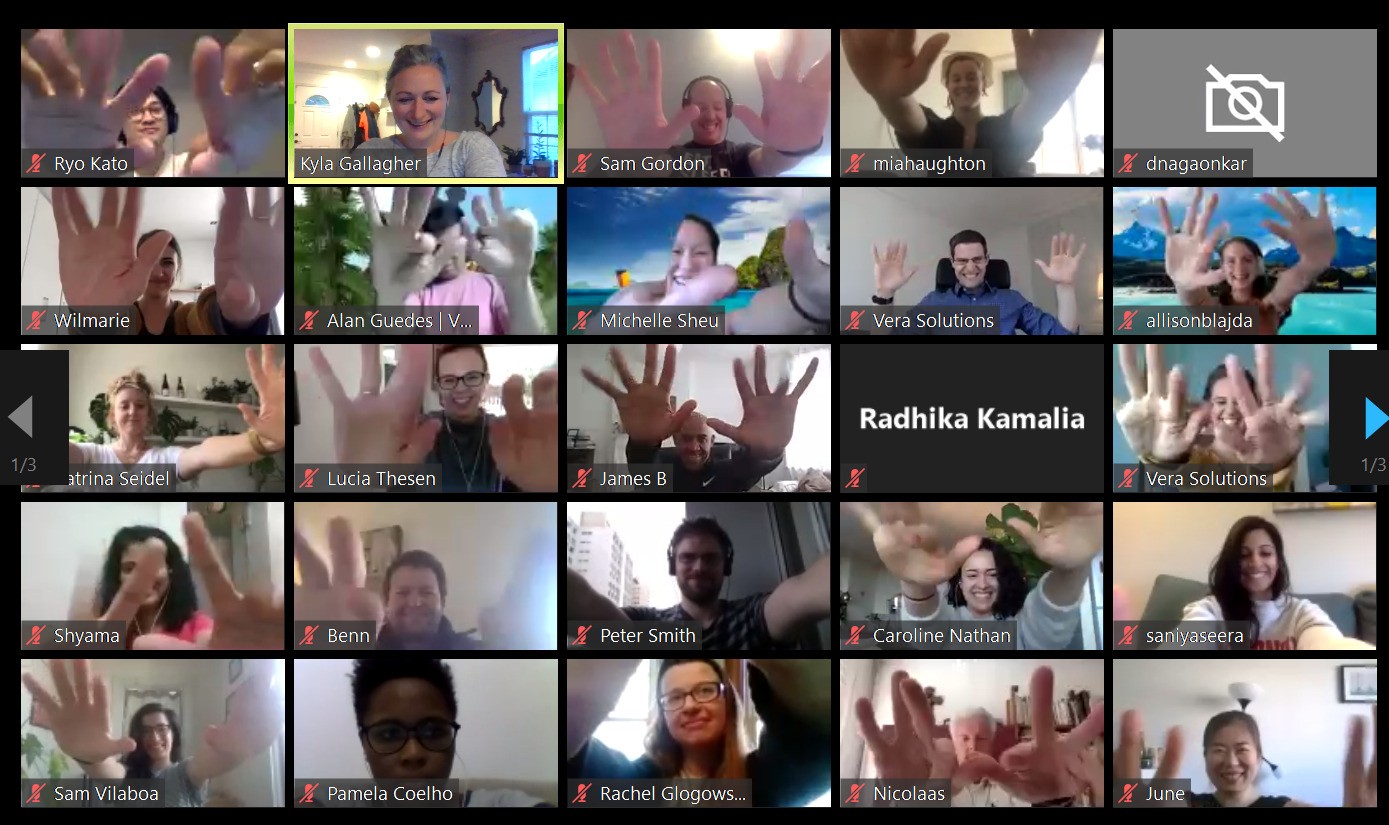 Like virtually all companies, Vera has had to quickly adapt to a new 'normal' – parents juggling caregiving and work responsibilities, Zoom calls taking the place of personal catch-ups, and collaborating with clients who are getting used to working remotely. At the beginning of the crisis, pulling from public health and operational expertise around the company, we formed a COVID Task Force that has coordinated Vera's response and ensured we remain agile and on top of local guidance, policies, and practicalities in all the cities where we operate.
While the crisis has affected nearly every company in some way and Vera has not been immune to the impact, we feel fortunate that our core business has not been heavily disrupted and our services and products remain as relevant and necessary as ever. We're looking forward to reopening our offices once it's safe to do so – in the meantime, we remain ever committed to (virtually) enabling efficiency, accountability, and impact for the social sector through our services and technologies.