Aditi Patel is a Consultant at Vera Solutions, based in Mumbai and en route to Geneva. Before Vera, Aditi received her Master's degree specializing in Design, Monitoring, and Evaluation at The Fletcher School at Tufts University. Outside from her interests in data and development, Aditi loves good books, travel, and knitting while watching TV.
Who, or what, inspires you or motivates you?
My maternal grandmother, who died at the age of 90 a few years ago. She was an incredibly spirited lady, right up until she passed away, and always made it a point to stay abreast of the times. She was part of India's freedom movement and a lifelong Gandhian, and really believed in moderation, self-sufficiency, and fighting for your principles. My grandmother lived a well-balanced and full life, and always made a point to love and enjoy her family and friends (and to never take herself too seriously).
What was most inspiring about her was her quiet dedication—she always did what she believed was right, but was never dogmatic about it. Her opinions were strong, yet privately held. Her strength had a deep impact on me, particularly because I think we live in an age where it is difficult to live your life with that type of quiet determination. Talking about one's values seems to be more important than actually living by them, and her memory reminds me daily of the importance of putting your beliefs into action.
How has living, working, and studying abroad shaped your path or trajectory?
I first left Mumbai to go to an international high school, the United World College, in Pune. Since then, I have been in and out of both my city and country for college and postgraduate school in the U.S., an exchange program in Argentina, a summer in Rwanda, and a year living in Delhi. A big—and bittersweet—consequence of these journeys has been a changed relationship with home. While I continue to feel very rooted in Mumbai, the meaning of "home" is constantly evolving for me. It's hard to feel like you belong to a certain place when your heart is in several different places at once.
On the plus side — although I'm not sure I necessarily feel like a "global citizen" — I certainly feel more connected to happenings around the world than I might have had I never lived, studied, or worked abroad.
How did you learn about Vera? What drew you to Vera?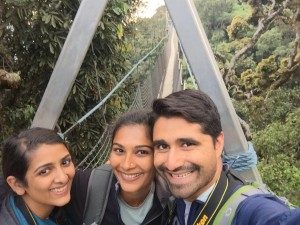 I first learned about Vera several years ago when I was working at Dasra, a longtime Vera client and partner. Most recently, I met several people during my studies at The Fletcher School who had had great experiences working at Vera and highly recommended it, given my interests and background. Since I had previously lived and worked in several different geographies, the ability to continue working with clients doing incredible work around the world was a major draw.
Vera's locations also made it a perfect match. My husband and I will soon be moving to Geneva, but I am able to work from our Mumbai office while preparing for the move.
How have your interests, or background, prepared you to work at Vera?
My Master's degree at The Fletcher School at Tufts was focused on design, monitoring, and evaluation (M&E), specifically on how technology can make monitoring and evaluation more effective and useful. As part of my studies, I researched and co-authored two papers dealing with the topic: the first looks at how social impact organizations around the world are using cloud computing, and the second at how technology can be used for evaluation in conflict contexts.
This background in studying how organizations use data for their monitoring and evaluation needs helped me understand Vera's work from the start. Having been a Vera client was also useful, as it gave me an understanding of the client's perspective, constraints, and realities—such as the fact that our clients usually work on a project with Vera in addition to doing all the other 10,000 tasks that their jobs demand of them, and are almost always pressed for time.
How would you characterize your interest in data, technology, and development?
I have always been interested in international development. I think that this interest comes from seeing a very unequal world around me and wondering what my role is in making it more equitable. My interests in data and technology have evolved over the last several years. Thanks to my Master's studies, I was able to specialize in monitoring and evaluation and deepen my interest in international development into a very specific skill set. Since arriving at Vera, I have been able to become much more familiar with the how clients around the world are innovating, using technologies that can put a good M&E plan into action.
Is there a problem (local or global) that you really want to solve? Why? And how does it relate to your work at Vera?
There are two very different problems that I would love to work towards solving. The first is an issue that I have been interested in since college: examining the effectiveness and impact of government welfare programs, specifically in India, where a lot of government funding is spent on programs with dubious impact. I would love to work on initiatives that use data and technology to understand how effective government programs are at alleviating poverty, and think about ways to improve them.
What can others learn from your experiences in M&E?
I think there are three big issues in M&E and technology:
The first is that people often see technology as a solution, when in reality it is merely one tool available to social sector organizations. There is an assumption that it is always the best tool, when in reality an organization needs to have several prerequisites in place before it can successfully adopt a new technological system.
The second issue is that people get so excited about using technology that they tend to forget that more data doesn't necessarily mean better data—what's important is to keep in mind how the data is used, and not to simply focus on collecting it.
The third issue is the disconnect between the tech world and the M&E world—the tech world tends to see its role in M&E as being primarily about data collection, which is only one step in a much larger process.
Why is working at the intersection of data, technology, and development important to you?
I questioned for a long time what my specific role in international development might look like. The work that I do at Vera is important to me because I feel like I am bringing a tangible and specific skill set to the table. Our work allows our clients and partners to do their jobs more effectively and efficiently. We use technology to ease their reporting burdens, streamline their internal systems, and improve the quality of their data, so that they are able to make data-informed decisions about their programs and services. To me, that makes Vera's work important and worth doing.