Vera Solutions is proud to announce that we are now a carbon-neutral organization. This means that from 2017 on, Vera will offset all calculable carbon emissions that result from business practices – including travel and energy use across our global offices. Beyond that, in all aspects of our business, we will continue to actively promote responsible practices that do not contribute to the harmful effects of climate change.
This decision was made in alignment with our mission – as we aim to amplify the impact of social sector organizations, we must also consider the impact of our own work and business operations. Vera's CEO Zak Kaufman shares,
"Few things are more important than living and working in a way that our planet can sustain. Regardless of their focus, industry, or legal status, companies and organizations have an obligation to future generations to consume, produce, and operate responsibly. By monitoring, minimizing, and offsetting our carbon footprint, Vera is taking simple but necessary steps to help protect the planet."
Sustained Partnership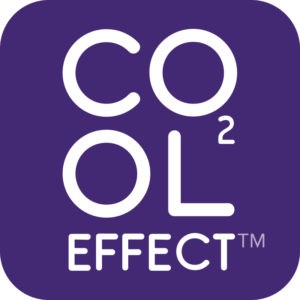 To help implement this policy of offsetting our annual calculable carbon emissions, we have partnered with
Cool Effect
, a non-profit organization that provides a platform to consistently fund carbon-reducing projects around the world. Annually, Vera will calculate the impact of our business practices as a measure of tonnes of carbon emissions. We will then fund Cool Effect renewable energy or environmental protection projects that reduce that same amount of greenhouse gas emissions, resulting in a net zero emissions as a result of Vera's business practices.
This year, we held a company-wide vote to select two Cool Effects projects to support: the
Alto Mayo Protected Forest in Peru
and the
Community Biogas Program in India
. The Alto Mayo project seeks to save 450,000 acres of the rainforest from deforestation by teaming up with the local government to increase education and economic incentives. The Community Biogas Program aims to increase family access to biogas digesters, which convert cow manure into energy and organic fertilizer.
In addition to the organization's unique giving model, we have chosen to partner with Cool Effect for its unparalleled commitment to transparency and accountability – providing verification reports, monitoring reports, and other due diligence documents for each project it supports. With these shared priorities, we are confident our partnership with Cool Effect will result in an effective and sustained reduction of Vera's environmental impact.
Vera's Environmental Journey
Vera first took an environmental pledge in 2012 when we became a
Certified B Corporation
. Since then, Vera's process of evaluating environmental metrics for the B Corps certification process served as a strong foundation for our internal environmental work. This has lead to a gradual incorporation of sustainable practices across our global hubs. For example, composting organic waste was an employee-led initiative in both the Boston and Cape Town offices.
In late 2017, we took these efforts a step further by conducting a company-wide environmental impact assessment. The goal of this project was to assess Vera's current environmental impacts and make recommendations for improvement, both in terms of our facilities as well as our operations.
Based on the findings of the assessment, we reflected on how our business activities contributed to a myriad of environmental factors, including office sustainability, energy use, waste management, and carbon emissions. We identified opportunities to improve internal operations across these areas, and decided to implement a carbon-neutral policy effective immediately. We were able to integrate our learnings and align our short- and long-term goals into a clearer vision of sustainability moving forward.
Vera is always looking for new ways to promote a corporate culture of environmental awareness and continuously drive our sustainability goals forward – going carbon neutral is one step in this journey. As Cape Town Consultant Megan Welsford says, "
By Vera taking the step to ensure our calculable carbon emission is offset, we are
taking responsibility for our collective actions as an organization and hopefully creating a ripple of change for others to follow suit to ensure a better future for all living beings and our planet!"