Amp Impact Fornax – the product's Summer '21 release – offers users greater data visualization capabilities, increased UI flexibility, and the enhancement of key modules including Work Planning and Fund Management.
With the Winter 21' Electra release, Logframes and Work Planning (also known as Activities) were released as Lightning Web Components (LWCs) to further enhance page load speeds and overcome data limitations.The migration of existing VisualForce and Aura components to LWCs provides stronger performance and greater UI flexibility, allowing system administrators more options to tailor components for specific use cases. To reduce the need for additional custom settings, several design attributes have been added to the Work Planning and Logframe LWCs, facilitating component customization in the Lightning App Builder. Additionally, the introduction of a refresh button on all LWCs will allow users to ensure they are always working with the latest data.
Building on feedback from our users, Amp Impact will now come with a packaged Screen Flow to quickly schedule many reporting periods for a project, program, or grant. A user can indicate the required reporting frequencies to be generated, and with the input of a few details, Reporting Periods will be automatically scheduled in bulk.
Activities and Implementation Plan Enhancements
Amp Impact's Electra Winter 21' release greatly increased the robustness of the product's work planning and activity monitoring features. By introducing the ability to drag-and-drop Activities in your Gantt charts, track and view Activity completion as a percentage, create and manage Activity dependencies (for example, if one Activity must end before another starts), and visualize a work plan's critical path, Amp Impact is increasingly able to meet the needs for workplan implementation.
Track Milestones
Activities can now be created as milestones which visually display as diamonds in the Gantt Chart chart and can be included in an Implementation Plan's critical path.

Implementation Plan Download/Upload Capabilities
With new quick actions on the Implementation Plan object, users can now instantaneously download an upload-ready formatted excel template to create or update Activity data en masse.

Request a demo to see Amp Impact's activity planning functionality in action.
Data Visualization Enhancements
Power BI Dashboard Starter
With increasing interest from our clients to view a broader range of visualizations for greater insights into their financial, work planning, and impact data, users will now have access to a Power BI Dashboard Starter template.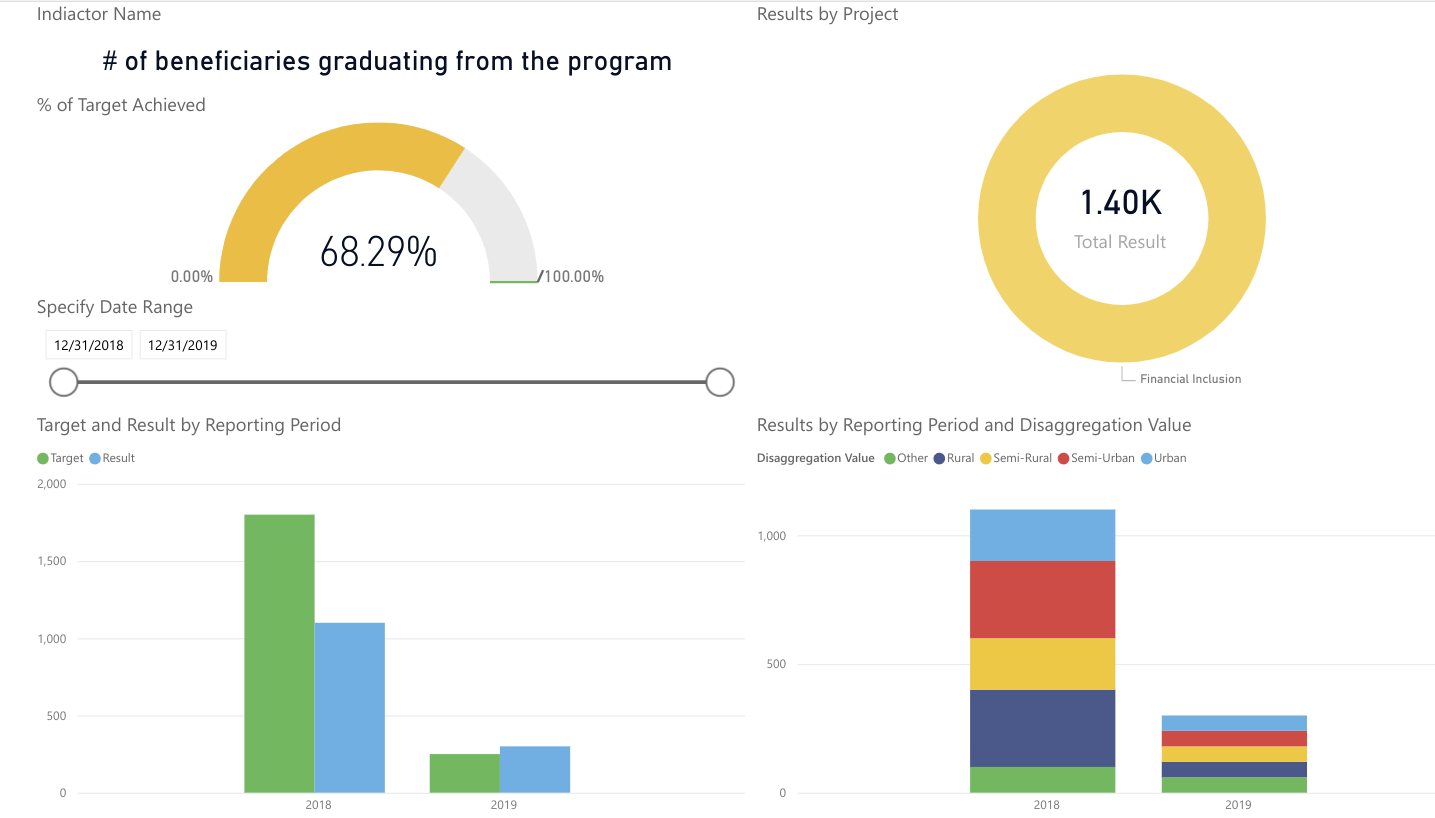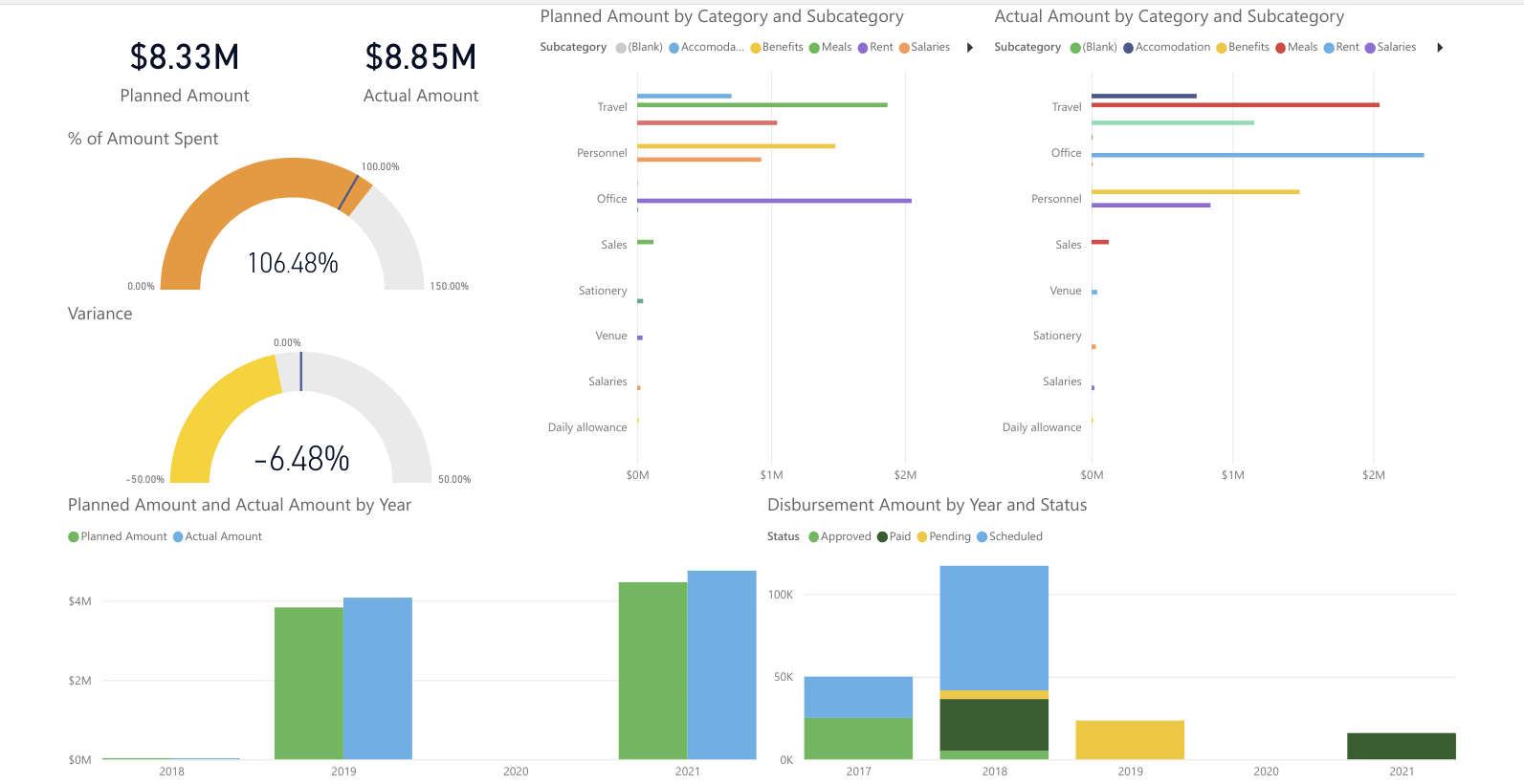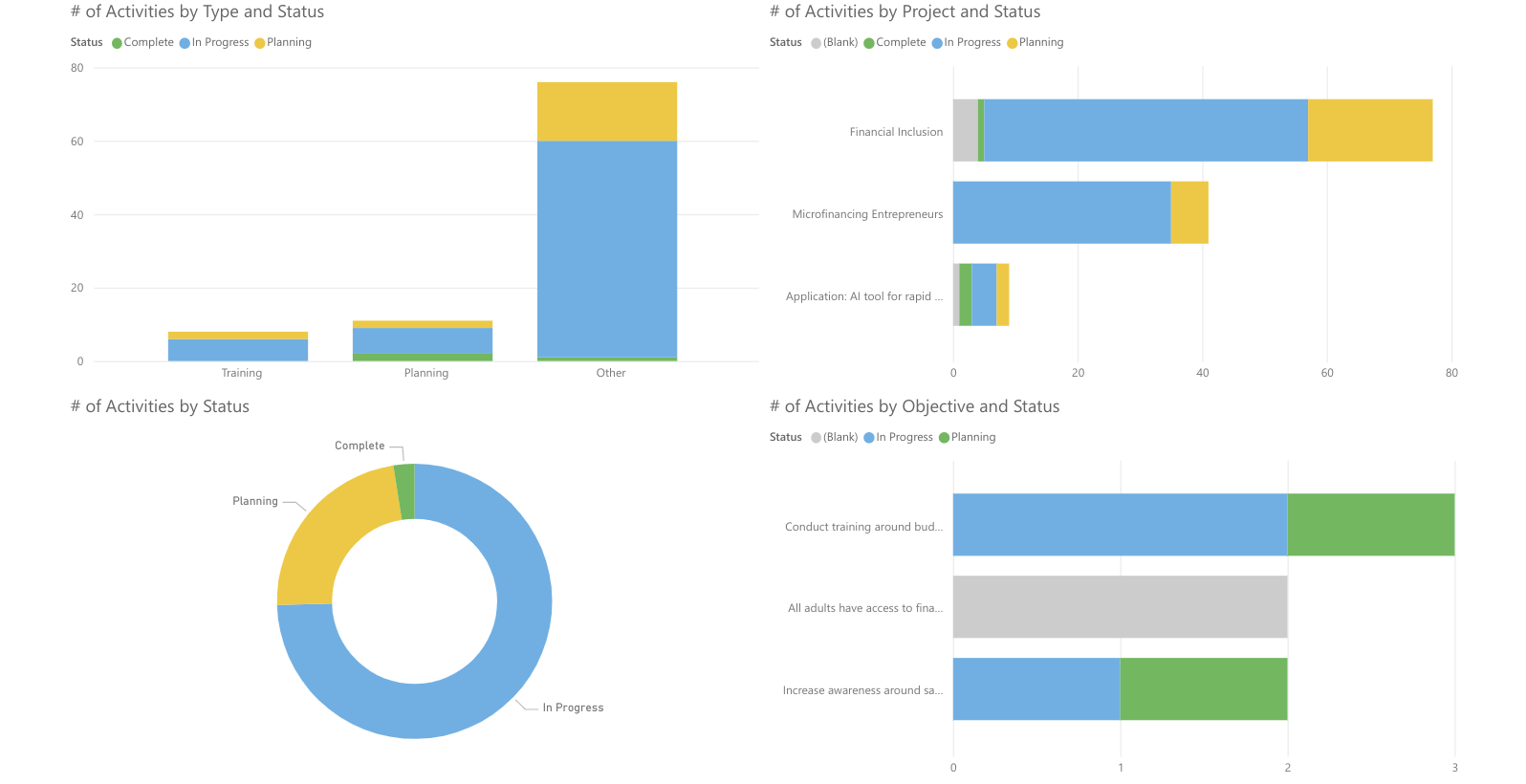 Risk Management Enhancements
Amp Impact's Risk Management module allows users to identify, track, and manage risks that could impede the impact of an organization's projects or grants over time across Outcomes/Outputs, Indicators, and Activities.
Visual Indicators of Risk


Empowering users to visually assess aspects of a project's risks, new fields on Risk display color-coded icons can be used in Related Lists, List Views, and Reports. Additionally, new fields on Risk now convert picklist values to numbers for analytics which are used to calculate an overall score (based on Probability and Impact) and a Risk Level based on that score and thresholds corresponding to either a 5×5, 4×4, or 3×3 risk matrix.

New Features for Fund Management and Impact Stories
Understanding the industry's need for a program management solution that can resolutely support the tracking of a program budget, Amp Impact's latest features ensure interconnected budget management and reporting across all aspects of a grant or program portfolio. Users are able to track which resources are funding or contributing to which Programs, Outputs, or Activities.
Manage Funds
The introduction of a new Fund object with relationships from Disbursement and Allocation strengthens Amp Impact's Fund Management capabilities. Any number of Funds can now be defined and used to segment, monitor, and break down commitments and disbursements. Out of the box reports will now facilitate tracking Allocations and Disbursements by Fund.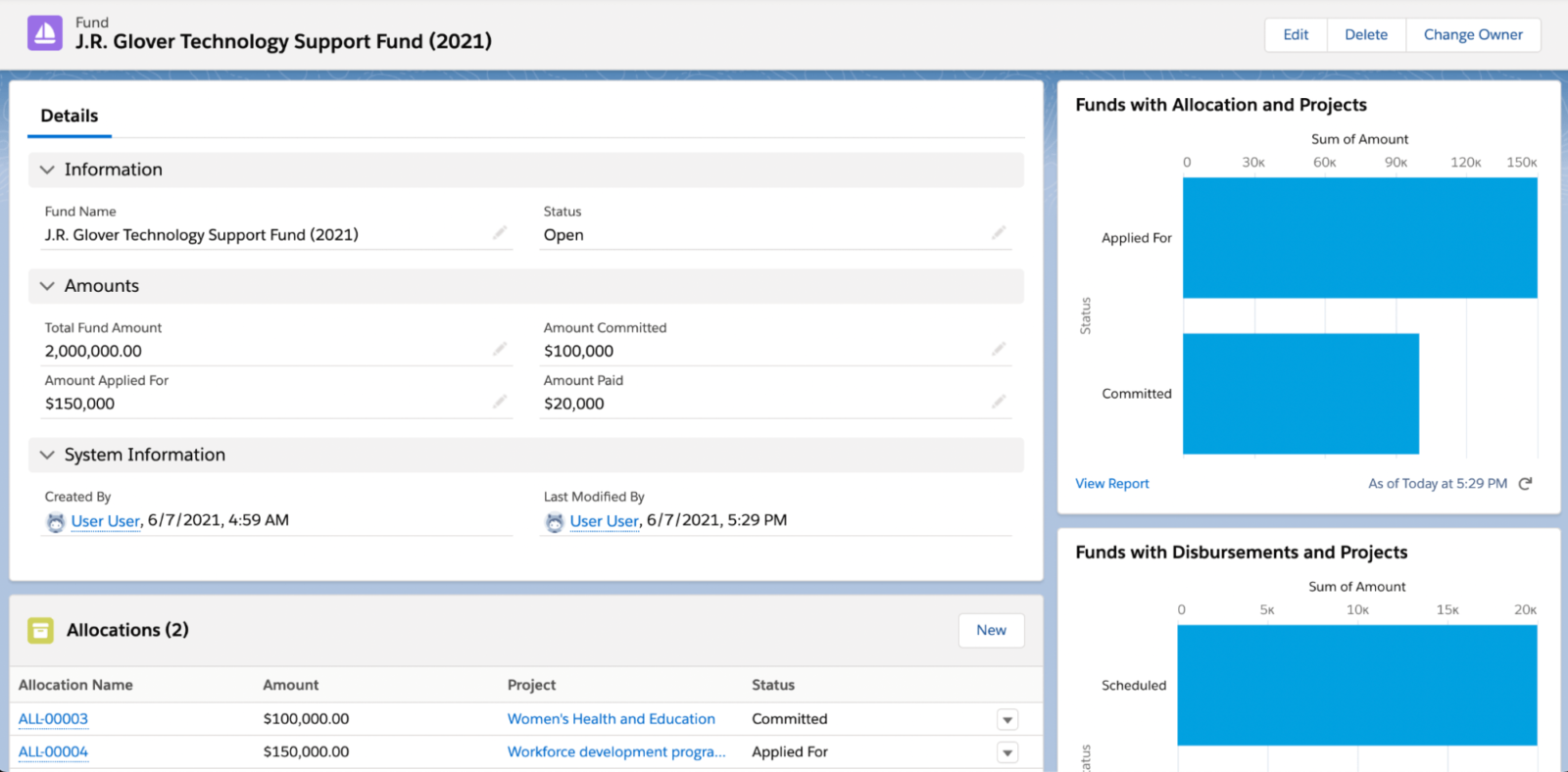 Impact Stories
The new Impact Stories feature will open up new, unstructured ways of capturing impact that can include rich text, photos, and videos. This feature will be available on the Project, Geographic Area, Thematic Area, and Reporting Period objects and can connect to other Salesforce objects.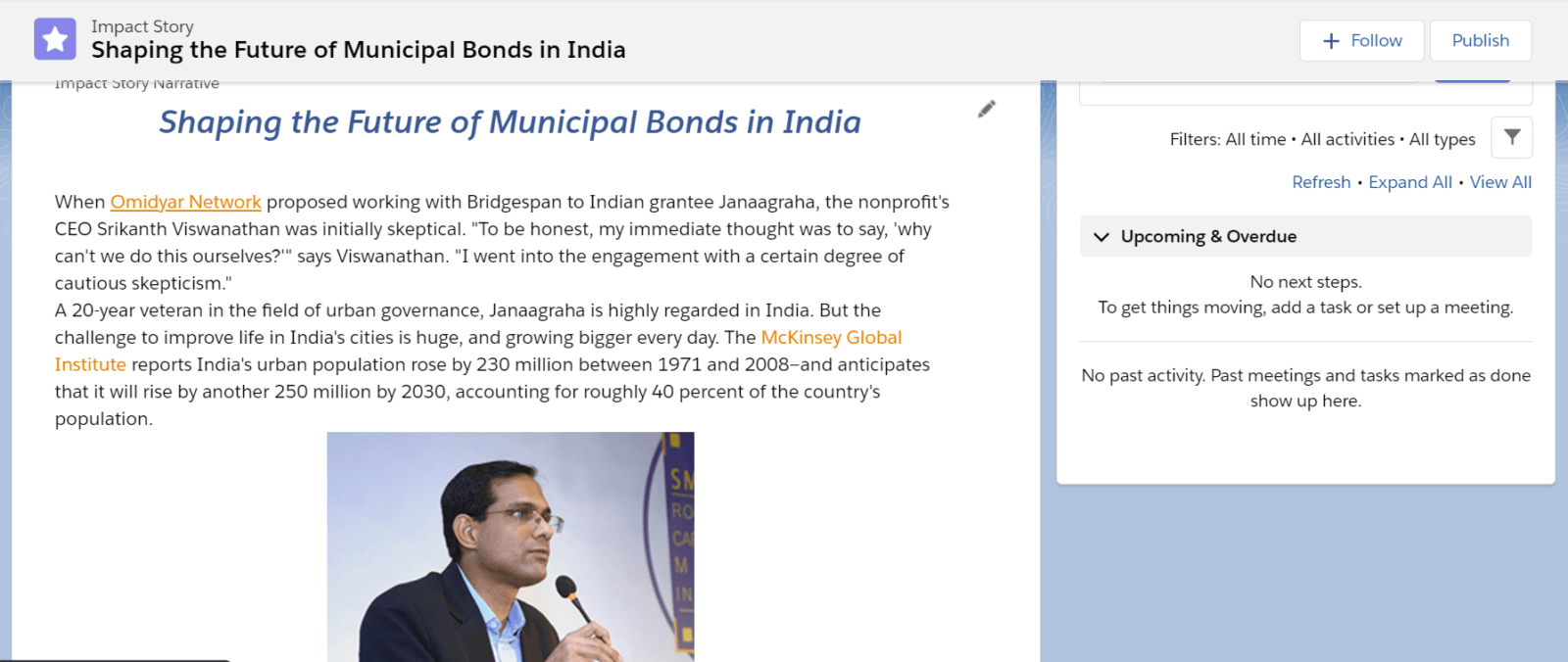 Upgrades for Existing Amp Impact Customers
If you are seeking to upgrade your system to the latest version and need support, please reach out to your Account Manager for more information or Contact Support.