Vera Solutions is excited to welcome the Fellowship class of 2017-18. As integral members of our project teams, these twelve fellows will develop the hard and soft skills necessary to become data solution experts, including researching new technologies, building cloud and mobile applications, and conducting trainings on newly implemented systems. This year's class combines a myriad of global development experience and technical expertise—ranging from youth development and medical humanities to management consulting and nutrition sciences to information technology. The yearlong mentorship program began in June when the Fellows met at Amherst College, alma mater of Vera co-founders Karti Subramanian and Taylor Downs, for a week of professional training and team building.
Ninan Vargis, a 2017-18 Fellow based in Mumbai, shares his experience from the orientation week: "The training Vera provided set the foundation for us to harness the power of technology to build apps that are tailored to the needs of the social sector. This week-long confluence of training, ideas, and case studies introduced us to the impactful work and driven culture that Vera has to offer." Joining Ninan on the Mumbai consulting team are Fellows Lauren Mihan and Shyama Sinha, both of whom previously dedicated their efforts to the sport for change platform. While Lauren channeled her passion for soccer to fight homelessness in North Carolina, Shyama worked for a non-profit in India that helps the development of underprivileged girls through soccer and education. Gabriella Espinoza, a Products team Fellow in Mumbai, has worked with various education non-profits, including Jumpstart, Citizen Schools, and Teach For America.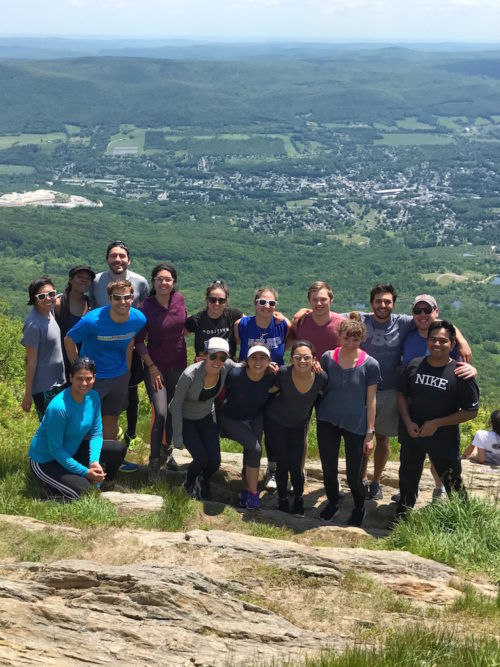 Erica Obersi, a Fellow based in Mumbai, has a background in private-sector web development, including her most recent job managing digital projects for Exxon Mobile. Kim Feldman, a Boston-based Fellow, is passionate about using data to tell stories and effect change as part of the consulting team. Prior to joining Vera, Kim worked as a technology consultant, implementing Enterprise Resource Planning (ERP) cloud solutions for universities and academic medical centers.
Izelle Du Pisanie, one of three Fellows joining the Cape Town consulting team, spent the last two and a half years working with HIV-positive women and children in Cape Town's informal settlements. Izelle is joined by Langa Zono, who is also pursuing his Master's degree in Development Studies at the Nelson Mandela Metropolitan University, and Hetile Mabunda, who was particularly drawn to Vera's means of technology implementation across the social sector.
"I was really excited when I learned that Vera leverages the Salesforce platform for our partners because I have experience using it while working for an NGO," said Hetile. "Vera has shown me how powerful the platform is and the extent of what it can do for the social sector at-large. I am excited to work with not just one, but several impact-driven organizations in the development space and implement systems that allow them to work better and smarter." The Cape Town office also welcomed Justin Feldman, a Fellow on the Support & Innovation team, who has a passion for innovative and entrepreneurial thinking directed towards social impact.
Fellow Caroline Nathan joined the Washington, D.C. consulting team, and will soon be joined by Joel Salazar. While Joel formerly worked as a management consultant, Caroline operated as a data analyst for multiple USAID-funded nutrition and agriculture research projects. Caroline's passion for effective data use brought her to Vera: "I am thrilled about the opportunity to work for a company that is helping improve the way social impact organizations evaluate and deliver their programs."
You can learn more about the 2017-18 class here. Follow us on Twitter, Facebook, and LinkedIn to stay up to date on the upcoming 2018-19 Fellowship application period.