Our word for the year: resilience. Reflecting on 2020, Vera has surely faced unprecedented challenges, but we've also seen some great milestones and remarkable growth. In March, as the world adapted to widespread lockdowns and growing health and economic concerns as a result of the pandemic, we quickly shifted our entire global operation to working from home in an effort to protect staff and do our part in slowing transmission of the virus. Despite the ongoing trials of remote working, our global staff—spread across five continents and seven timezones—has shown tremendous resilience, providing over 40,000 hours of service to more than 90 social impact organizations, deploying Amp Impact in more than 100 countries, and growing our team by 17%.
Reflecting on the year, we have a lot to celebrate and feel grateful for—having the opportunity to virtually present at and attend conferences like PEAK Grantmaking and the Nethope Global Summit, being selected for the Meaningful Business 100, and most notably ringing in our 10 year anniversary! Over the last decade, we've worked to amplify the impact of more than 325 organizations, grown to a team of 75 on five continents, and built an amazing community of data-minded changemakers around the world. As we've grown, our quest for continuous improvement—to make Vera better for our staff, our clients, our partners, and our planet—has never wavered. This year, we're especially proud of the way our team has responded to adversity and taken our company to new heights across our five core values: Excellence, Sustainability, Teamwork, Leadership, and Impact.
To celebrate the company's 10th anniversary, staff share what they love most about working at Vera.
Excellence: Making training, learning, and development our top strategic priority
At the beginning of each year, Vera's leadership team comes together to set company-wide, strategic objectives for the year ahead. This year, incorporating feedback from staff across the company, we decided to rethink the approach and pour our energy into one single goal:
to make training, learning, and development (TLD) one of Vera's signature strengths
.
Over the course of this year, we've established a strong TLD team, conducted dozens of learning and enablement sessions for staff and partners, completed a month-long
virtual onboarding
and training curriculum for new hires, and finalized a five-year TLD strategy and learning management framework. While it's incredibly invigorating to see the progress we've made in achieving our 2020 goal, we realize TLD is a journey, not a destination – and we look forward to continuing this journey in the years ahead.
Sustainability: Cutting our environmental footprint by over 65%
Since we first became a Certified B Corporation in 2012, we've remained committed to upholding the highest standards of environmental responsibility. Last year, we raised the stakes in our commitment to climate action,
joining 500+ B Corps
committed to net zero by the year 2030. Since 2017, we have been partnering with CoolEffect to offset our emissions by supporting clean energy and conservation projects around the globe.
Largely thanks to the reduction in travel and closure of our offices in response to the COVID-19 pandemic, our preliminary estimates show an over
65% reduction in our carbon consumption and environmental footprint in 2020
. Going into 2021, we expect to sustain some of the reduction, with distributed working across our global hubs and experimenting with hybrid models that allow us to stay below reduced office capacities. Our newly formed Vera Green Team will be strengthening our methodology for estimating our environmental footprint and recommendations for continuing to cut emissions. Furthermore, we will continue to actively promote responsible business practices across office sustainability, energy use, waste management, and carbon emissions.
Teamwork: Staying connected while working from home
Amidst the chaos and uncertainty of this year, our culture of kindness, compassion, and empathy has never been stronger. Working together, we adapted to remote work without skipping a beat on projects (and had the joy of meeting each other's kids, partners, and pets as they popped into calls). We formed a COVID Task Force, pulling from public health and operational expertise around the company, that has coordinated Vera's response and ensured we remain agile and on top of local guidance, policies, and practicalities in all the cities where we operate.
We also found new ways to connect, play, and collaborate across continents. We danced, sang, lip-synced, and shredded on guitar in our company-wide dance challenge. We showed off our cooking skills in Top Chef: Quarantine Edition. We battled with GIFs and bake offs. We meditated and celebrated. We learned. We grew.
Over and over, we found ways and reasons to laugh, smile, and be there for one another.
While we can't wait to be back in our offices again (once it's safe to do so), we're immensely proud of the resilience our team has shown this year and everything we've been able to accomplish together.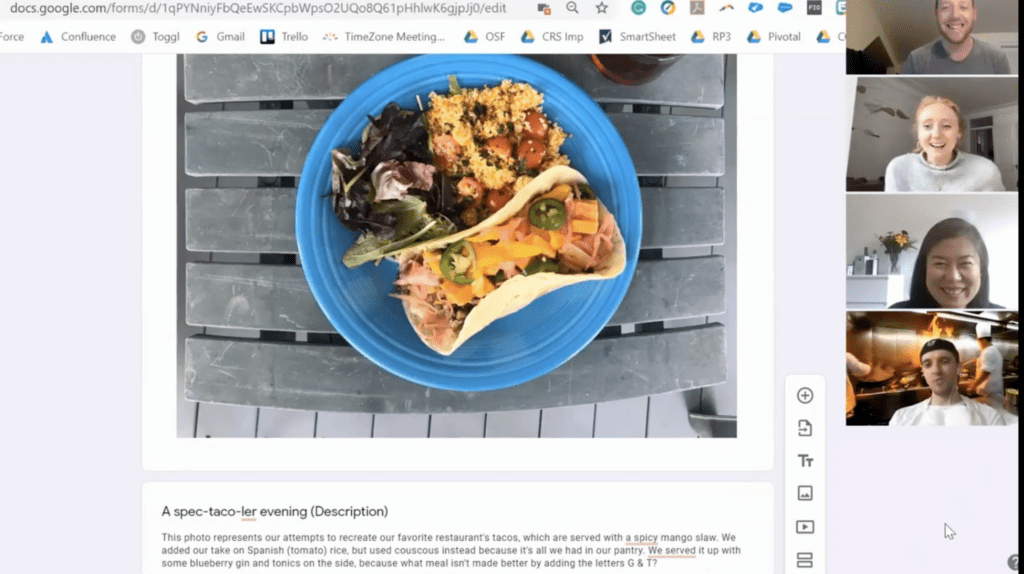 Leadership: Joining the Salesforce Ventures Impact Fund portfolio
Vera Solutions cultivates a culture of leadership both in how we develop our staff and the expertise we provide to move the needle toward a social sector driven by outcomes, accountability, and data-informed decisions. In April,
we joined the ranks of more than 375 enterprise technology companies backed by Salesforce Ventures
– a recognition of our leadership in the cloud computing space as well as our commitment to creating positive impact both in our products and the services we provide.
"As we expand our important work in strengthening nonprofits' accountability and efficiency, we're thrilled to be partnering with Salesforce Ventures and its Impact Fund," said Vera Co-founder and CEO, Zak Kaufman. "When we founded Vera ten years ago, we had only begun to appreciate the potential for impact that the Salesforce Platform and ecosystem offered to nonprofits around the globe. Today, we're proud to be working alongside some of the world's most inspiring, influential, and impact-driven organizations to create a more data-driven social sector, and I can't think of a better ally to have on this journey than Salesforce Ventures."
Impact: Continuing to scale and strengthen Amp Impact
2020 was a huge year for Amp Impact. Now deployed in over 100 countries, Amp Impact saw more than 150% growth in users across the globe this year.
Our 2020 releases,
Casseopia
and
Delphinus
, welcomed new features for multilingual functionality and grants management as well as major enhancements to indicator management,
Submission templates, and more
. We also launched a new Amp Impact website and partnered with leading Salesforce implementation partners—including Acumen Solutions, G-Company, Isobar, and Exponent Partners—to deliver transformative solutions for more organizations worldwide.
Preparing for 2021, we have been working towards a massive release in February, with the introduction of advanced gantt chart functionality, frameworks and catalog objectives, and new 'headless' functionality that enables Amp Impact's features to be used not only within the Amp Project object but on Lightning Pages for
any
Salesforce object. We're also excited to launch a brand new Amp Community in 2021 to further nurture our community of practice, providing a space for customers to collaborate and learn from each other's experiences, collectively build technical and functional capabilities and knowledge, and provide feedback on and ideas for Amp Impact's functionality and roadmap.
While 2020 has changed our business in profound ways – from the way we work to the way we connect – we feel fortunate that Vera has been able to continue serving our mission-driven clients around the world and that our services and products remain as relevant and necessary as ever. We're thankful for the continued support and resilience of our staff, partners, and clients around the world, and we look forward to continuing our never-ending quest for excellence, sustainability, teamwork, leadership, and impact in the years ahead.