"Life's most persistent and urgent question is, 'What are you doing for others?'"
Dr. Martin Luther King, Jr.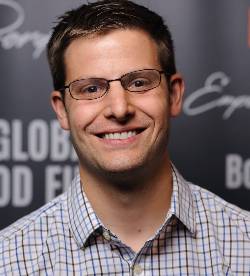 Every year on MLK Day, we are reminded of the power and importance of visionary leadership in our global work to end poverty, combat climate change, and achieve social justice and equality. Today, we are proud to announce that Vera Co-founder and CEO Zak Kaufman will be recognized next week as a recipient of Dartmouth College's 2018 Martin Luther King Jr. Social Justice Awards for Ongoing Leadership.
The Social Justice Awards were established to recognize members of the Dartmouth community "who have demonstrated compassion, perseverance, courage, and leadership by engaging in the difficult work of fostering human dignity and our common humanity through their projects, programs, and visions." Previous recipients of the award include Grassroot Soccer Founder and CEO, Dr. Tommy Clark, Senator Kirsten Gillibrand, and Lwala Community Alliance Co-founders Milton and Fred Ochieng.
Since graduating from Dartmouth in 2008, Zak has spent a decade working at the intersection of technology and the social sector, overseeing program evaluations in Southern Africa and Latin America and architecting data systems for dozens of leading health and education organizations around the world. In 2010, Zak co-founded Vera Solutions to help social sector organizations use cloud and mobile technology to better track their impact, streamline their operations, and create feedback loops that put data in the hands of those who need it. Under Zak's leadership, Vera has grown to a team of 50 staff on four continents, serving more than 230 organizations in more than 45 countries. "I'm humbled to join this group of amazing changemakers," says Kaufman. "The Dartmouth community has certainly played a huge role in my life and career, and I look forward to talking with faculty and students about the role technology and social entrepreneurship play in advancing social justice."
Dartmouth's Social Justice Awards are co-sponsored by the Martin Luther King Jr. Celebration Committee, Office of Institutional Diversity & Equity, William Jewett Tucker Center, Dartmouth Center for Service, and Geisel School of Medicine. Learn more about the Awards here.