After a rigorous selection process, Vera Co-founder and CEO, Zak Kaufman, has been named a 2017 Global Good Fund (GGF) Fellow. Over 2,400 social enterprise leaders applied to become part of the fifth class of GGF Fellows – the group was narrowed down to 15 Fellows over a four-stage application process. In early April, Zak attended the GGF Annual Summit, where this year's cohort gathered for the first time for four days of workshops and was introduced to the GGF community.
A leadership development organization founded by social entrepreneurs for social entrepreneurs, GGF believes that supporting and developing leaders is the best way to address complex social problems. GGF's notable alumni include Angelica Towne, co-founder of Educate!; Sasha Fisher, founder of Spark Microgrants; and Karim Abouelnaga, CEO of Practice Makes Perfect.
"It's an honor and a privilege to join such an inspiring and international group of leaders and to start this journey with GGF," said Zak. "Vera and GGF have closely aligned missions, both working to amplify the reach and effectiveness of social sector organizations."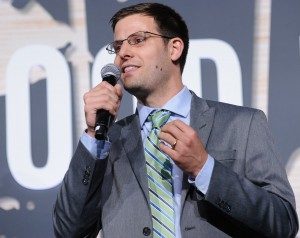 The GGF Fellowship provides training, sector expertise, and relevant resources to selected high-potential leaders in the social sector with the objective of accelerating their success. This year's diverse group of 2017 Fellows includes leaders working in nine countries, addressing issues ranging from prisoner rehabilitation in the United Kingdom to child nutrition in Colombia to food waste in New York City.
"We are so excited that Zak and Vera Solutions are part of The 2017 Global Good Fund Fellowship Class. Specifically, Vera is using technology to solve complex problems to directly benefit the social impact community," said Carrie Rich, Co-Founder and CEO of the Global Good Fund. "Zak embodies what it means to be a Global Good Fund Fellow; he is a humble and hungry social entrepreneur who understands the importance of making time for himself. At the end of his Global Good Fund Fellowship Zak will have the confidence needed to scale Vera and create greater positive social impact."
In the initial stage of the 15-month program, each fellow undergoes a leadership assessment using GGF's 360 MIRROR tool. With the MIRROR results and support from a leadership development coach, each Fellow defines a Leadership Development Plan for the year ahead. Fellows are then paired with an Executive Mentor, with whom they work further on developing their leadership skills.
"GGF's approach to scaling impact through leadership development is both powerful and critically needed in our sector," said Zak. "It's been amazing to see it in action firsthand."
Congratulations to all the inspiring leaders selected for the 2017 GGF Fellowship Class: Baillie Aaron, founder and CEO of Spark Inside; Guilherme Bragam, founder and CEO of Egalite; Charlene Brown, CEO of ReciproCare; Sarah Burgaud, CEO of CALSO; Brittany Déjean, founder and CEO of Able Thrive; Andrea Escobar-Hoyas, co-founder of Soydoy, Francesca Fedeli, founder of Fight the Stroke; Ryan Gersava, founder and CEO of Go2; Samir Goel, co-founder and Chair of Transfernation, Tom Mcdougall, founder of 4P Foods; Phil Michaels, co-founder and CEO of Tembo Education; Abhishek Mishra, co-founder of Nabet India; Cynthia Ndubuisi, founder of Kadosh Production Company (KPC); and Lily Yeh, founder of Little Loving Hands.
To learn more about the Global Good Fund, visit www.globalgoodfund.org.