Our latest Amp Impact Release – Indus – contains powerful new features for indicators, targets, and results, allowing for quicker performance, greater data volumes, and a cleaner and more consistent user interface. Users can now set targets across multiple periods in one table, compare results against baselines, capture disaggregated targets or results in a pop-up table, use picklist indicators, preview qualitative responses and comments, and mark results as not applicable. Building on feedback from users, the Set Targets and Add Results pages have been rebuilt as Lightning Web Components, ensuring faster load-times and processing through the Salesforce platform's latest development framework.
The Indus Release also introduces improved usability for IATI Reporting (which allows users to generate IATI-compliant XML files from the impact and transaction data managed on Amp Impact). In addition to improved error handling, clients can now validate XML files using the IATI validator. The 'Generate Reporting Periods Reporting flow has also been improved to provide friendlier naming conventions and create Baseline reporting periods. Last but not least, Amp Impact is now available in Spanish and Portuguese.
Amp Impact's previous Hercules Release introduced foundational improvements to strengthen the product's workplanning and risk management modules. By introducing these improvements, we simplified the process of organizations managing and filling positions for roles, assigning program activities, and requesting and managing a catalog of goods and services.
Indus highlights are illustrated below. Check out the Release Notes for further details.
Note: For detailed information on how to use the Set Targets Lightning Web Component, please refer to the Set Targets and Add Results User Guide.
Set Targets Rebuilt as a Lightning Web Component
The Indus Release significantly improves the Set Targets functionality through a new Lightning Web Component. The new functionality has a much faster and cleaner user interface, allowing for greater data volumes than before and displaying reporting periods in columns, allowing users to capture targets for multiple periods in one table.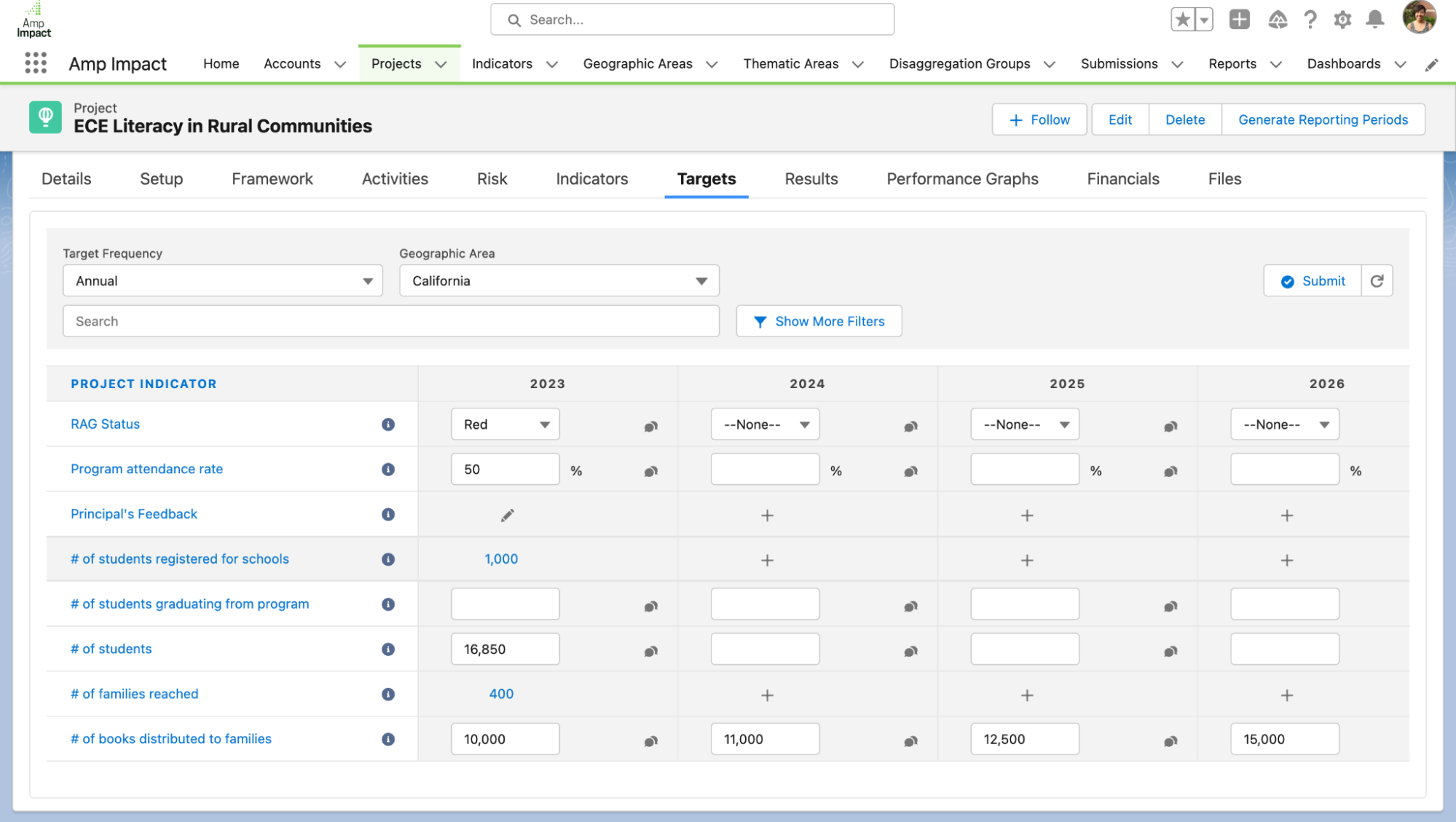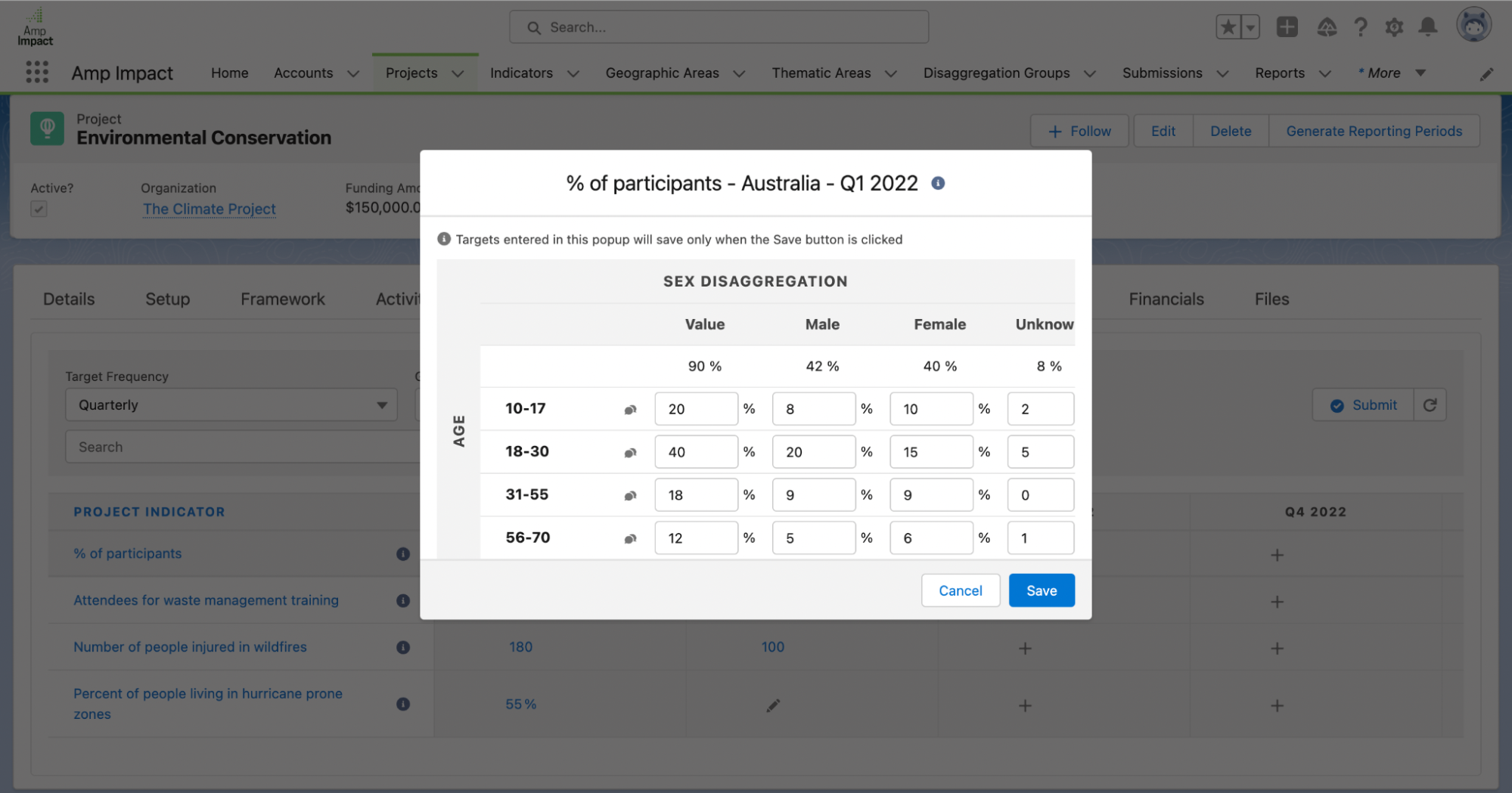 Enter Baselines for Indicators
Further improving the ease of entering baseline data, the Indus release introduces the ability to enter Result-level baseline data for indicators on the Set Targets page, enabling users to more easily plan their targets for an indicator based on the baseline information. Previously, baseline data could be captured at Project Indicator level or on the Results page. Now, users can add baseline data on the Targets page, and disaggregate it geographically or in other ways . Users can also enter qualitative or picklist baselines.


Preview Qualitative Targets and Comments
With this release, users can now preview qualitative targets and comments on the Set Targets LWC. When a user hovers over the icon for editing or viewing qualitative targets, they now see a popover with a preview (first 150 characters) of the qualitative target value.

The same functionality is available when hovering over the comment icon.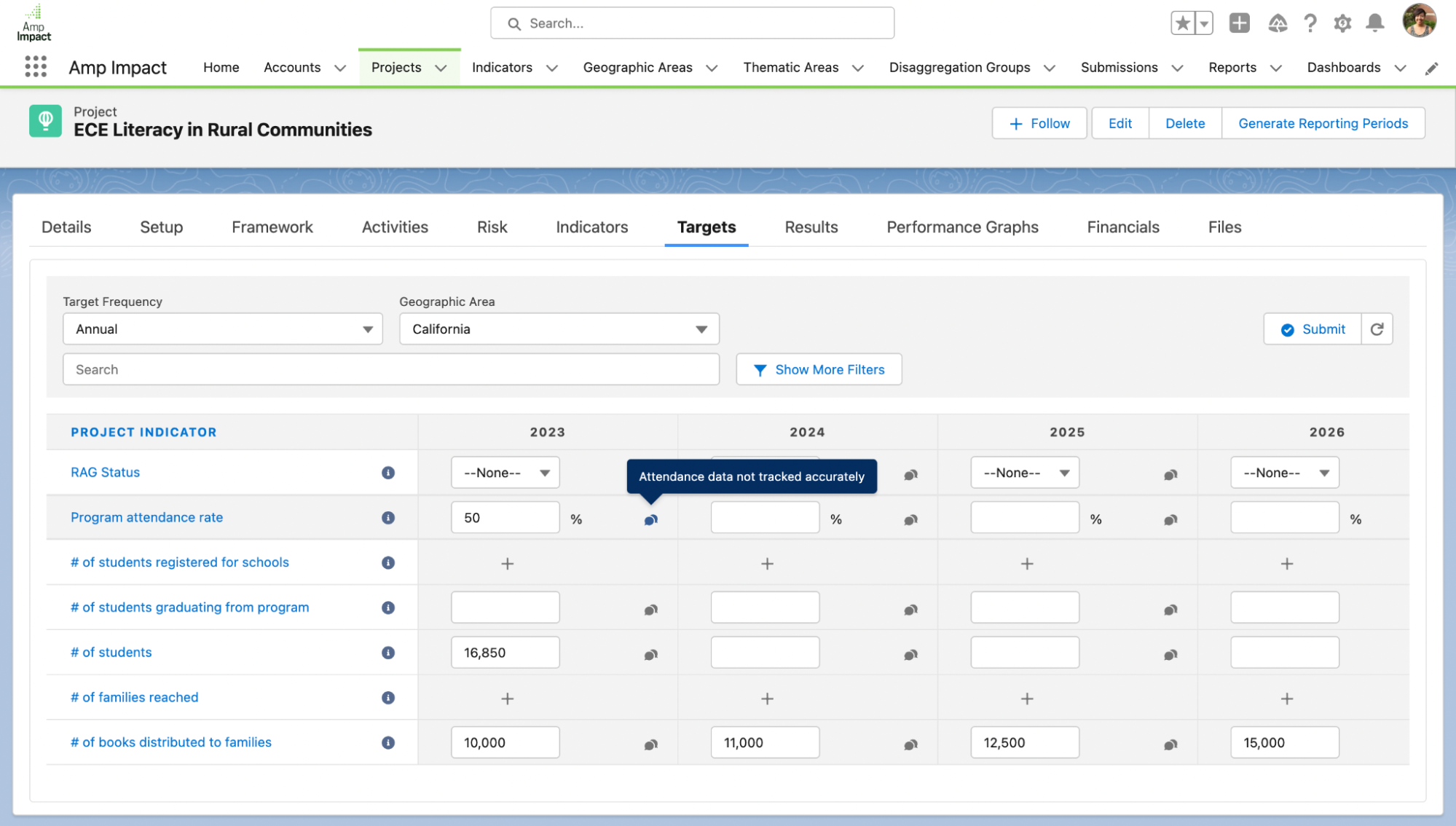 Deactivate Reporting Periods for Target Entry
With the new interface displaying all reporting periods across the Set Targets table, this release also introduces the ability to deactivate reporting periods for target entry, in order to ensure the table only displays relevant / active reporting periods. When the Active checkbox is set to TRUE, the reporting period will display as a column in the table.
Add Results Rebuilt as a Lightning Web Component
The Add Results page has also been rebuilt as a Lightning Web Component (LWC). Now, users will experience quicker load and processing times, as well as a cleaner and more consistent user interface.
Compare Results against Baselines
Amp Impact's new Results interface introduces the ability to compare results against baseline data. Users can toggle between viewing targets and viewing baselines for indicators and compare their actuals to their starting point for the indicator to better understand their progress.

Preview Qualitative Results and Comments
Previously, users had to click into the edit popup for a qualitative indicator to see the data that had been entered. With a more intuitive display, Qualitative Results can now be viewed when a user hovers their cursor over the icon for editing or viewing the qualitative results and a popover with a preview (first 255 characters) of the qualitative result value will display.
The same functionality is also available for previewing comments.
Reporting Period Locked Status Displays in Dropdown
Amp Impact customers can now view whether Reporting Periods are locked in the Reporting Period Dropdown picklist without having to toggle between Reporting Periods.

Deactivate Reporting Periods for Result Entry
As with Targets, users can now mark a Reporting Period as inactive, which prevents its inclusion on the Add Results dropdown picklist. When the Active checkbox is set to TRUE, the reporting period will display in the dropdown picklist on the Add Results page.
Download / Upload Results Table
We've introduced a modified Results Excel download template to account for new features, including:
1.
Comparing Baseline data against Results
2. Entering Results for Picklist Indicators
3.
Marking Results as Not Applicable
New Indicator and Result Types

Amp Impact Indus introduces New Indicator and Result Types, enabling users to set targets and add results for new indicator and result types, including Picklist Indicators and Read-Only Results. Users will also be able to mark Results as "Not-applicable".
Picklist Indicators
Users can now create Picklist Indicators and define a set of target/result values that will then display as a dropdown picklist on both the Set Targets and Add Results Lightning Web Components. These Picklist Indicators can be used for various scenarios, such as Likert scales, Red/Amber/Green statuses, or Low/Medium/High ratings.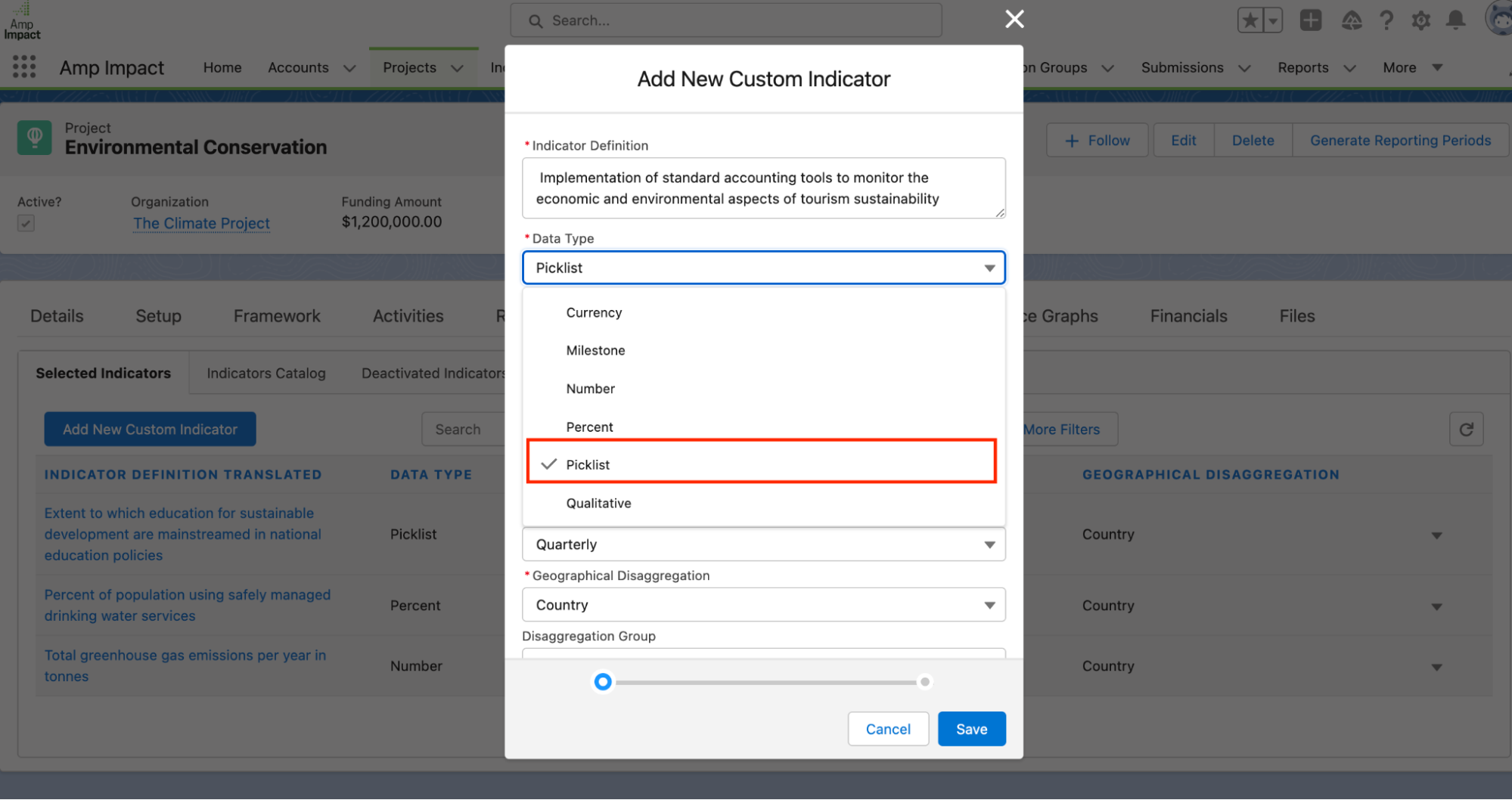 Read-Only Results
To allow for use cases where Result data may come from external sources or integrations, users can now select the "Read-Only" Type of Results if a project Indicator's data should not be entered manually, aggregated, nor calculated. For "Read-Only" Project Indicators, the Results display as output values in the Add Results LWC, and the data is not editable by the user.

Not Applicable Results
Occasionally, Results cannot be reported due to irrelevance or certain circumstances. Amp Impact Indus accounts for these occurrences by allowing Results to be marked in the comment popup as "Not Applicable." By marking a Result as "Not Applicable", a checkbox on the Result record makes it easy to filter out non applicable results from reports or dashboards.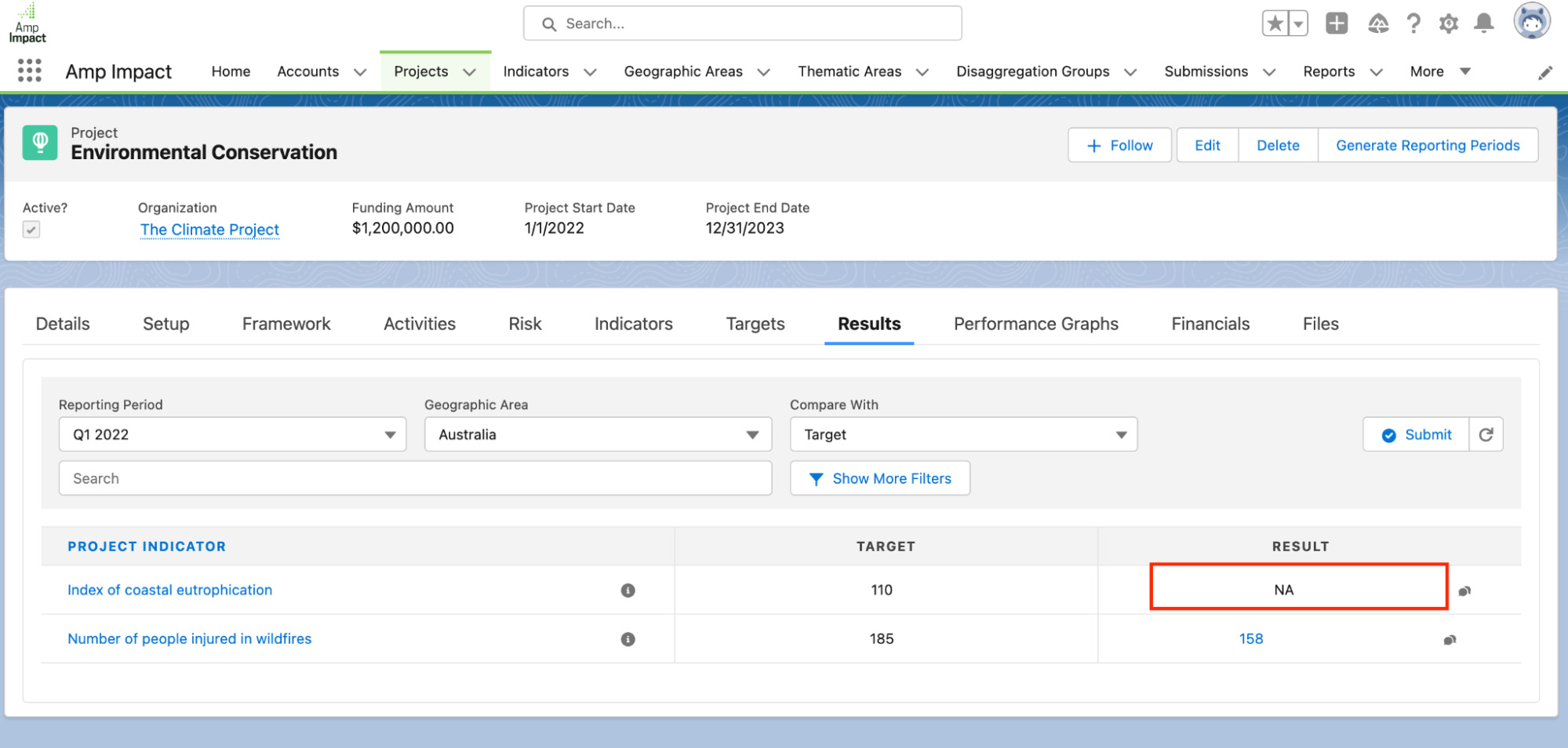 Improved Usability for IATI Reporting
To improve the usability of the IATI XML Generator, the following updates have been made:
1.Sample help text to provide guidance to users on which fields feed into the IATI XMLs (see IATI Setup Guide)
2. Clear documentation of the mapping between the Amp data model and the IATI standard (see IATI User Guide)
3. Generating an error log when the generated XML fails to pass the IATI Validator to help users understand what went wrong
4. Simplified data entry for tracking organization roles in projects and their related transactions
Automation: Optimization of the Reporting Period scheduler flow
The earlier Fornax release introduced the ability to schedule reporting periods based on the duration of a project and its reporting frequency/ies. In this release, the flow that schedules reporting periods has been updated with the following improvements:
1. Ability to create baseline reporting periods
2. Prevent the creation of duplicate records
3. Allow the user to input values into the flow to define the reporting period schedule (i.e. not rely entirely on project field values
4. Match the labels of reporting periods to the time period (e.g. a reporting period's label will be "June 2022" instead of "M6".
Added Custom Setting to toggle structure of Geographic Areas in dropdown on Set Targets & Add Results Visualforce Page
Finally, users can now toggle the structure of Geographic Areas between hierarchy and non-hierarchy in the dropdown on the Set Targets & Add Results Visualforce pages via Custom Settings. (Using the non-hierarchy structure is recommended if you have created more than 50,000 geographic areas, which can cause the Visualforce page(s) to fail to load due to Salesforce governor limits).


For Existing Amp Impact Customers
If you are seeking to upgrade your system to the Amp Impact Indus and need support, please reach out to your Account Manager/Customer Success Analyst for more information or, alternatively, kindly contact us via [email protected].