Earlier this month, Vera Solutions hosted our third annual (and second virtual) global Amp Impact summit! The four-hour virtual event brought together Amp Impact clients, partners, and staff from around the world to connect, collaborate on the Amp Impact roadmap, and share best practices for strengthening accountability and data-driven program delivery in the social sector.
Since initially launching Amp Impact in 2017, we've remained committed to building a community of practice around Amp Impact and developing the product in consultation and collaboration with customers and partners.
The Spring '21 Summit provided an opportunity for us to convene our diverse community of data-minded change-makers, receive input into the product's direction and roadmap, and discuss a range of important topics – from technology rollout and change management to best practices in monitoring, evaluation, and learning (MEL) to long-term system ownership and governance. The Spring '21 Summit featured an inspiring talk from Salesforce.org's Ursula Stewart on the importance of place-based philanthropy, a fireside chat with Timothy Fives, Senior Manager of Global Knowledge and Information at Catholic Relief Services, and peer learning discussions led by industry experts from Acumen Solutions, Attain Partners, Miracle Foundation, Salesforce.org, and Vera Solutions.
Learn how Amp Impact – a 100% native Salesforce app – provides a single source of truth for portfolio and impact data.
Place-based Philanthropy with Ursula Stewart
The Spring '21 Summit kicked off with an inspiring lightning talk from Ursula Stewart, the Grantmaking and Program Management Industry Advisor at Salesforce.org. With more than 35 years of experience in grantmaking, Ursula shared her reflections on the difficulties facing the social sector as a result of the COVID-19 pandemic and shed light on how — collaboratively — we all can approach the many social problems that drive our organizations' missions forward.
To respond to these challenges, Ursula introduces the concept of place-based philanthropy, an philanthropic approach that targets a specific location—be it a neighborhood, municipality, or even multiple counties—upon which to focus charitable resources and make a transformative impact. Throughout the talk, Ursula stresses the importance of collective action – both in our approach to philanthropy and in our use of technology – to create a more equitable world.
Digital Capacity Building with Timothy Fives
Timothy Fives is the Senior Manager of Global Knowledge and Information at Catolic Relief Services. Over the past two years, Timothy has been one of the key contributors driving Catholic Relief Services's use and adoption of Salesforce and Amp Impact across more than 100 countries and more than 1500 users. In this fireside chat with Vera Solutions' Katrina Seidel, Timothy shares how he has approached digital capacity building at CRS to get the most value out of a global data management platform. He provides actionable insights when it comes to aligning teams around a technology platform, creating an organization-wide vision for digital transformation, and powering through the challenges of change management.
Peer Learnings Sessions led by Industry Experts
The heart of the Spring '21 Summit included two hours of peer learning sessions facilitated by industry experts from Acumen Solutions, Attain Partners, Miracle Foundation, Salesforce.org, and Vera Solutions. This provided participants the opportunity to deep dive into a range of topics that we engage and grapple with in our day-to-day work.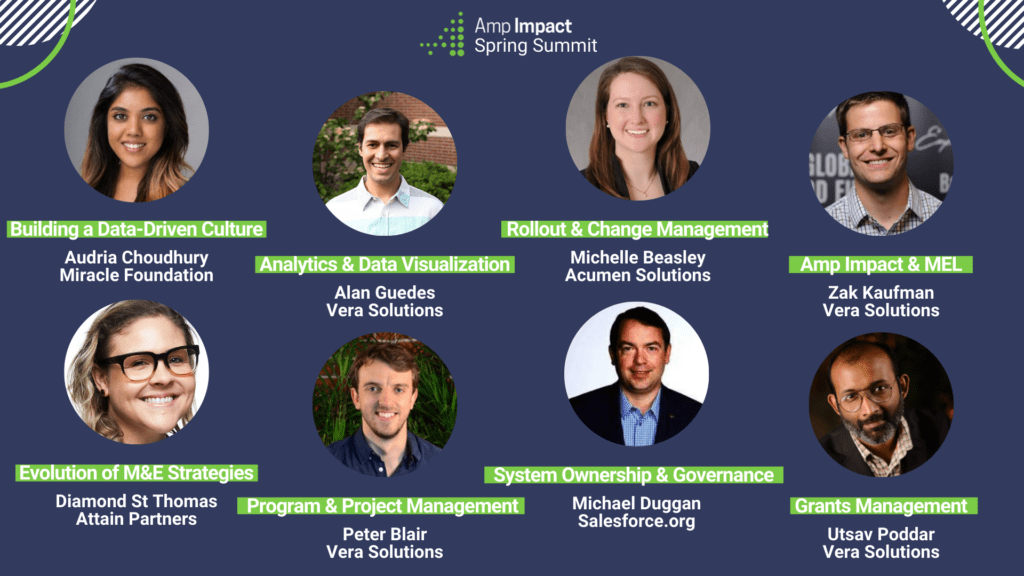 Within breakout groups, participants discussed eight topics for building, implementing, and operationalizing digital technologies:
Analytics and Data Visualization led by Alan Guedes, Director at Vera Solutions

Amp Impact and Grants Management led by Utsav Poddar, Director at Vera Solutions

Amp Impact and Monitoring, Evaluation, and Learning (MEL) led by Zak Kaufman, Co-founder and CEO at Vera Solutions

Amp Impact and Program/Project Management led by Peter Blair, Director at Vera Solutions

Building a Data-driven Culture led by Audria Choudhury, Program Impact Manager at Miracle Foundation

Evolution of M&E Strategies led by Diamond St. Thomas, Consultant at Attain Partners

Long-term System Governance and Ownership led by Michael Duggan, Nonprofit CXO Strategic Industry Advisor at Salesforce.org

Rollout and Change Management led by Michelle Beasley, Engagement Manager at Acumen Solutions
For recordings of key takeaways from the peer learning sessions, please contact [email protected].
Amp Impact Roadmap Highlights
At Vera Solutions, we are deeply invested in developing the product alongside our users to meet a wide range of impact measurement and portfolio management needs. In this presentation, Vera Solutions' Gabi Espinoza and Zak Kaufman walk through the key highlights from the Amp Impact Electra (Winter '21) release and what to expect in Amp Impact's upcoming Fornax (Summer '21) and Gemini (Fall '21) releases. Because each new release begins with research and listening, we then dispersed participants into breakout groups, providing a forum for users and implementation partners to share their priorities for Amp Impact's development.
Thanks and Acknowledgements
We'd like to extend a heartfelt 'thank you' to everyone who joined us for the Amp Impact Spring '21 Summit. We are grateful to have such an amazing community around us who is willing to share thoughtful and honest feedback that will help shape the product's direction and inform how we can better support our customers and partners. For Amp Impact customers and partners, look out for future opportunities to connect, share, and learn from one another as we seek to strengthen and grow Amp Impact, its footprint, and its community in the years ahead.
Want to learn how you can get involved in the next Amp Impact gathering?