This is the first in a series of posts discussing Vera's learnings and key takeaways from ICT4D 2017.
Vera recently attended the ICT4D Conference in Hyderabad, India, where more than 1000 attendees from the technology, development, academia, and funder communities convened under one central theme: Harnessing the Power of Data for the Sustainable Development Goals. We were proud to be a part of an event dedicated to information sharing and relationship building, with an overarching focus on data-informed decision-making for development. Our next post will discuss some of our key takeaways from ICT4D 2017, but, until then, here's a snapshot of our conference week: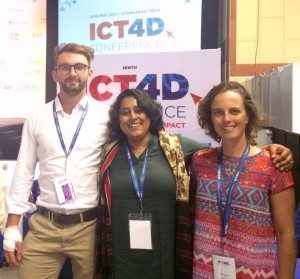 There's No App for That: Preparing for a Tech Implementation
Technology is only as good as the support that surrounds its implementation. Vera presented on this key tenet alongside three of our partners, FMCH, Liberty Asia, and Pollinate Energy. The panel discussed common challenges and pitfalls facing the social sector when it comes to the implementation of new technology and identified guiding questions organizations can use to mitigate risk at every stage of the process. Interested in learning more? Reach out to Vera's Support & Innovation team.
Big Data. Big Problems. Big Solutions!
Along with Catholic Relief Services (CRS) and Accenture, Vera presented on a panel discussing best practices and experiences with bringing multiple data systems in a central source. The panel and audience shared the common experience of the nonprofit sector as to the lack of storage and integration of data, which limits decision and learning capacity. Vera shared strategies on how to approach this challenge, including questions to ask when considering a data warehousing solution.
Stay tuned for our next post where we'll discuss our observations and learnings from ICT4D 2017.