This is the second in a series of posts discussing Vera's learnings and key takeaways from ICT4D 2017. Read the first post here.
Vera recently returned from ICT4D 2017, which was a whirlwind of conversations about how technology can better serve organizations working in international development. Over the course of the conference, there was a lot of buzz about the different technology tools that can be used to help organizations and individuals around the world, but two resounding messages from our time at ICT4D were:
1) Don't reinvent the wheel — search for the right stack of existing tools. Whether conducting a research study, running cash-based programs, or tracking beneficiaries in programs around the world, there are already existing technology tools that can respond to your organization's needs. Rather than rebuild what exists, focus on understanding the ICT4D landscape, selecting the right tool (or stack of tools), and building the resources, strategy, and support required to ensure a successful implementation.
2) Technology is only as powerful as it's used. If your organization's new technology tools aren't being used, they're worthless – no matter how many features they have. While the technology that you choose is only one of many factors of a successful tech implementation, we've noted some key considerations to keep in mind when selecting new tools to support your work:
Flexibility

: We often pick a technology to address a specific need, but needs change over time, and your technology ought to be able to change too. Designing from day one with flexibility in mind — and knowing that change will come, whether that's wanting to collect new data, introducing a new business process, changes in organizational structure, staffing, or communication preferences — saves time, money, and headaches down the road.

Scalability

: Sometimes the only change that your technology needs to be ready to handle is that your programs are growing. Scalability is rarely something that can be slotted in after the fact, and so ensuring that the tech you're employing is ready to scale before you scale is important.

Ease of use

: To ensure successful adoption, your technology should be powerful and user-friendly — for the end user as well as the team leading the implementation. The more user-friendly, enjoyable, and helpful a given tool is, the more it's going to do for you and your organization, as we saw from a variety of case studies presented throughout the conference. The most compelling tech success stories were of implementations that looked beyond the needs of HQ and were also designed to support the day-to-day reality and work of field staff.
Alongside these key messages, many organizations we spoke with at ICT4D shared some of the challenges they face across all of the tools they're using:
1) Keeping data secure
International development practitioners frequently deal with sensitive data about their beneficiaries. As a result, it's vital that their privacy be respected – by way of strong data security policies. But not every tool is designed with enterprise-level data security in mind, and trying to ensure the security of their data can be a challenge. Be sure to consider your plan for data security before implementing a new tool.
2) Sharing data well
International development organizations work towards a set of common goals, so there is huge value in sharing data to help the sector collectively do better work. Organizations like IATI, along with research institutions have established data standards which will help facilitate greater data sharing. NetHope has launched an Open Humanitarian Data Repository where organizations can share data surrounding humanitarian crises, such as the Ebola outbreak in West Africa or the Nepal earthquake in 2015. However, when organizations struggle to trust, understand, and use their own data, they are less likely and less able to share that data externally.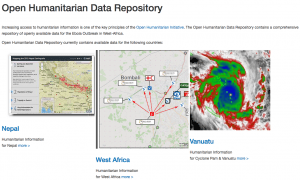 3) Ensuring quality feedback loops
When organizations first start to leverage new technologies, especially mobile ones, the flow of data is often in one direction, from the field to a more central office for analysis. Now, many organizations are prioritizing quality feedback loops, so that individuals based in field offices and headquarters are able to make data-informed decisions faster and better understand how their work fits into the bigger picture.
4) Data standardization
Global organizations often struggle to standardize their data in a way that is useful for both the field offices and headquarters. Working across different teams in different countries tends to lead to localized data collection and reporting processes, resulting in data which cannot be aggregated or compared across geographies. Organizations need tools and processes which allow field-based staff to efficiently capture and use data in a way that serves their local needs and fits into global organizational standards.
At Vera, we work with our partners to navigate these same priorities and challenges. ICT4D 2017 was an opportunity to learn about the ways other organizations have approached similar challenges and goals, and we look forward to applying these insights in our mission to better amplify the impact of the social sector.