Vera's Allison Blajda and Alan Guedes recently attended the 2016 MERL Tech conference in Washington, DC. The event provided an opportunity for attendees – ranging from funders and program implementers to technology providers and other development practitioners – to showcase their work and discuss the future of technology tools for monitoring, evaluation, research, and learning.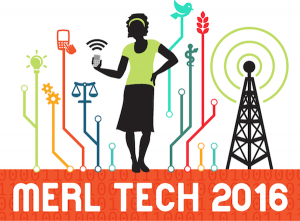 At Vera, we're in the business of "Good Data." We use the power of technology to help social sector organizations more effectively collect, manage, and use data to make informed decisions about their operations and programs. Our focus is on ensuring that the organizational data – "small data" as some call it – produces timely, meaningful insights about what's working, and what needs work.
The 2016 MERL Tech conference gave us an opportunity to learn more about the successes and challenges of other organizations in the global development community – how our friends and peers are using technology in an effort to collect and use "good data", and the challenges that remain in implementing MERL initiatives and systems. It also touched on the future of Big Data and how the sector can engage with information that is already available.
The conference brought together a diverse group of development practitioners from around the world and included sessions on Increasing Innovation in MERL Tech, What it Means to be Responsible in MERL, Big Data for MERL, Implementing New Technologies, and Lessons from Teaching MERL Tech Courses. Attendees were also given the chance to choose from a variety of hands-on workshops in mobile applications, GIS mapping, participatory video making, data visualization techniques, and other MERL tools.
"We don't need more data, we need data that we will actually use." – Maliha Khan
Throughout the conference, speakers and attendees acknowledged the tension organizations face as they navigate the world of tech and an industry push to use Big Data, while simultaneously trying to balance the need to collect and manage their small data: high quality information that informs day-to-day decision-making about their programs and services.
The conference explored definitions of Big Data, and how it can be used by the global development community to better understand the context of the places and people that we work with. As a follow-up to a 2015 MERL Tech talk, Social Impact's (SI) Kerry Bruce discussed how SI, Georgetown University, and the Global Fund to End Slavery are using Big Data to predict the occurrence of human trafficking among foreign workers in the Philippines. While this type of analysis is critically important for allocating resources and targeting interventions, it cannot be done without the building blocks of accurate, timely data.
For many organizations, the reality is that the data that would allow them to better understand the individuals they work with, and how to most effectively implement their programs, remains challenging to collect and manage in a timely manner, particularly across multiple countries and programs. While the global development community has made progress towards a more data-driven culture, MERL Tech 2016 included plenty of candid conversations between implementers, donors, and tech providers about failures to effectively use M&E tools and data to make decisions.
So what should we, as MERL Tech professionals and organizations, do?
In her presentation, Taming the Big Data Beast, Panthea Lee of Reboot referred to the data that we collect from individuals and programs as "downstream data". She, and many others, talked about the importance of understanding the ethnography behind quantitative numbers and urged us to remember that including more indicators in our programs does not equal more impact or better decision-making.
These conversations remind us that collecting and using "downstream data" to amplify our collective impact requires much more than the latest tool or technology; it requires appropriate questions and indicators, effective processes, responsible consent mechanisms, and thoughtful staff who can use data to inform their programmatic decision-making. When this type of system is in place, the right technology can be an enabler of both better real-time data and better real-time decision making.
While we can't ignore the potential of Big Data and new analytic methods to transform the field of global development, we also cannot be seduced into thinking that numbers, technology, or analytics will solve the challenges of implementing and managing effective feedback loops. As a sector (from implementers to partners to funders), we need to be just as excited about infrastructure, operations, and processes as we are about new apps and visualization tools – just as committed to small data as we are to Big Data, ensuring that it is all good data.