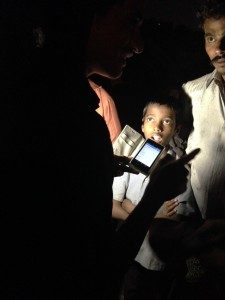 1.3 billion people globally lack access to modern energy services like electricity and clean cooking facilities. In India, the world's third largest emitter of CO2, more than 300 million people depend on fossil fuels – like kerosene, which negatively impacts health and contributes to climate change – for light. Since 2012, Pollinate has been working to improve the lives of India's urban poor by offering affordable, locally manufactured clean energy solutions. Pollinate's local salespeople, called Pollinators, sell solar lights to low-income customers in Bangalore and Hyderabad.
Like many growing businesses, Pollinate found tracking critical information on stock levels, customers, and sales increasingly difficult as they began to scale up. After an introduction from the Salesforce Foundation, Vera and Pollinate started building an application to manage the supply chain from suppliers to customers (and backwards, when a defective light requires a warranty return), record sales, and track impact.
Upon the system's launch, Pollinators abandoned their pens and notebooks and starting recording sales on Android phones. Pollinators capture data offline and sync to the Salesforce database when they regain a stable Internet connection. With a few clicks, sales managers can track each Pollinator's daily sales, customer payments, and commissions.
Typically, Pollinators sell lights on an installment basis, and a customer often makes several payments for one product. Ben Merven, one of Pollinate's co-founders, described attempting to track these payments on paper and Excel as "a nightmare. We had no way of linking a customer who bought a light to the five payments on that light." Pollinators now link each installment to its appropriate sale record when collecting payments.
Before adopting the system, Pollinate's management would spend half a day shifting data into a single Excel sheet and performing a series of complex operations to determine how many lights were sold in a given week, only to repeat the process when new sales data arrived.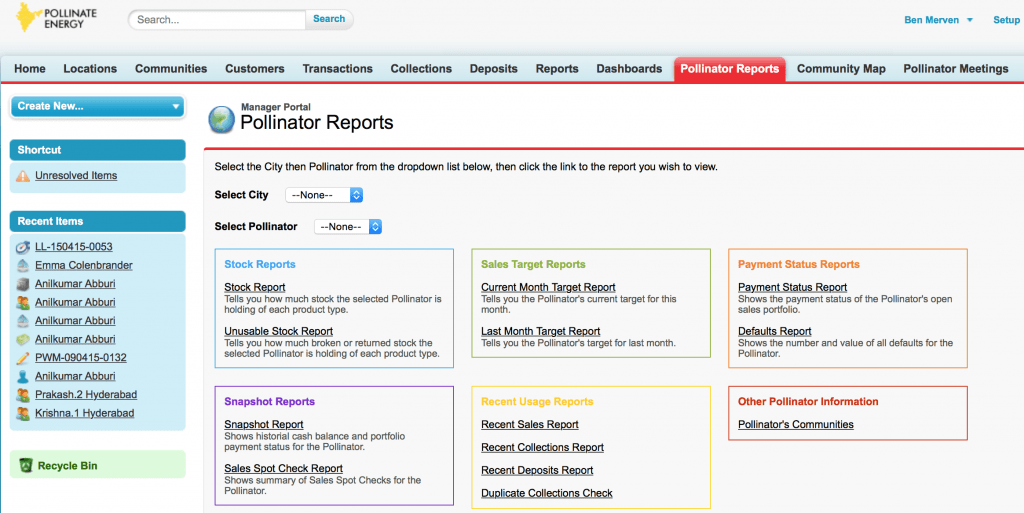 The real-time data pumping into Pollinate headquarters through Salesforce solves that problem and boosts organizational efficiency. Weekly meetings between Pollinators and sales managers are targeted and data-driven, thanks to each Pollinator's reports portal. Managers view a Pollinator's cash balances down to the rupee, facilitating a results-based discussion about stock levels, default rates, recent sales, and other key indicators. A year ago, these conversations were based on labor-intensive data extraction or the Pollinators' best guesses.
"When Pollinate first started, paper forms and all, it felt a bit like viewing the world through frosted glass," Ben says. "With time we're close to the glass disappearing altogether."
Pollinate now monitors its impact with much greater precision. They link quality spot checks to a particular sale for a particular customer and light. They also track aggregate performance, looking at trends in default rates or commission earnings among Pollinators. In Ben's words, "the biggest thing Salesforce allows us to do – which we hadn't been doing – is connect initial customer sale data with impact assessments further down the line. The system helps us fulfill our mission and demonstrate that we're fulfilling it."