Over the past few months, we've witnessed how the COVID-19 pandemic is fast-tracking digital transformation around the world. Public health services, such as the UK's National Health Service, are
turning to more telemedicine resources
to cope with the new demand. In the private sector, cloud meeting and team collaboration providers have
increased capacity and availability
of their products and services.
The social impact sector is no exception to this trend. As organizations scramble to manage the crisis within their own organizations while continuing to support

the communities they serve, many are turning to technology to safely and effectively drive their programs forward. Today, we're highlighting six incredible organizations who are adapting to the world's new normal and leveraging digital tools to deliver on their missions in a safe and responsible way.
The BOMA Project empowers women in the drylands of Africa to establish sustainable livelihoods, build resilient families, graduate from extreme poverty, and catalyze change in their rural communities. One of their interventions focuses on delivering mentorship and coaching for women entrepreneurs.
Due to social distancing restrictions, mentors cannot visit their program participants. Instead, BOMA mentors are leveraging Interactive Voice Recognition (IVR) technologies to provide remote mentoring support to more than 12,000 women enrolled in BOMA's Kenya and Uganda programs.
"IVR technologies allow businesswomen to receive training content on their feature phones at relevant moments in time. We are also exploring ways to use SMS technologies to train mentors on the fly," says John Stephens, Executive Director of The BOMA Project.
Watch this video to learn how BOMA is using Salesforce and TaroWorks to monitor program performance and inform decision-making.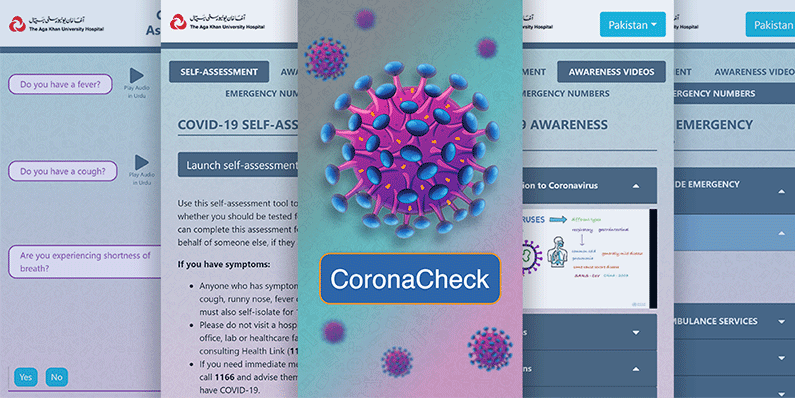 The Aga Khan University
is part of the larger Aga Khan Development Network, which focuses on health, education, culture, rural de​velopment, institution-building, and the promotion of economic development.
In response to the pressures that the pandemic has placed upon the public health resources in Pakistan, The Aga Khan University and Hospital have launched CoronaCheck, a mobile application which allows users to check their symptoms with an in-home screening tool. The tool uses an interactive chatbot, driven by AI, and outlines helplines available to the public. The tool also features educational videos in Urdu to counter the unverified information about COVID-19 circulating around social media.
You can download the app from the Google Play Store, and learn about our technology implementation journey with the Aga Khan Foundation here.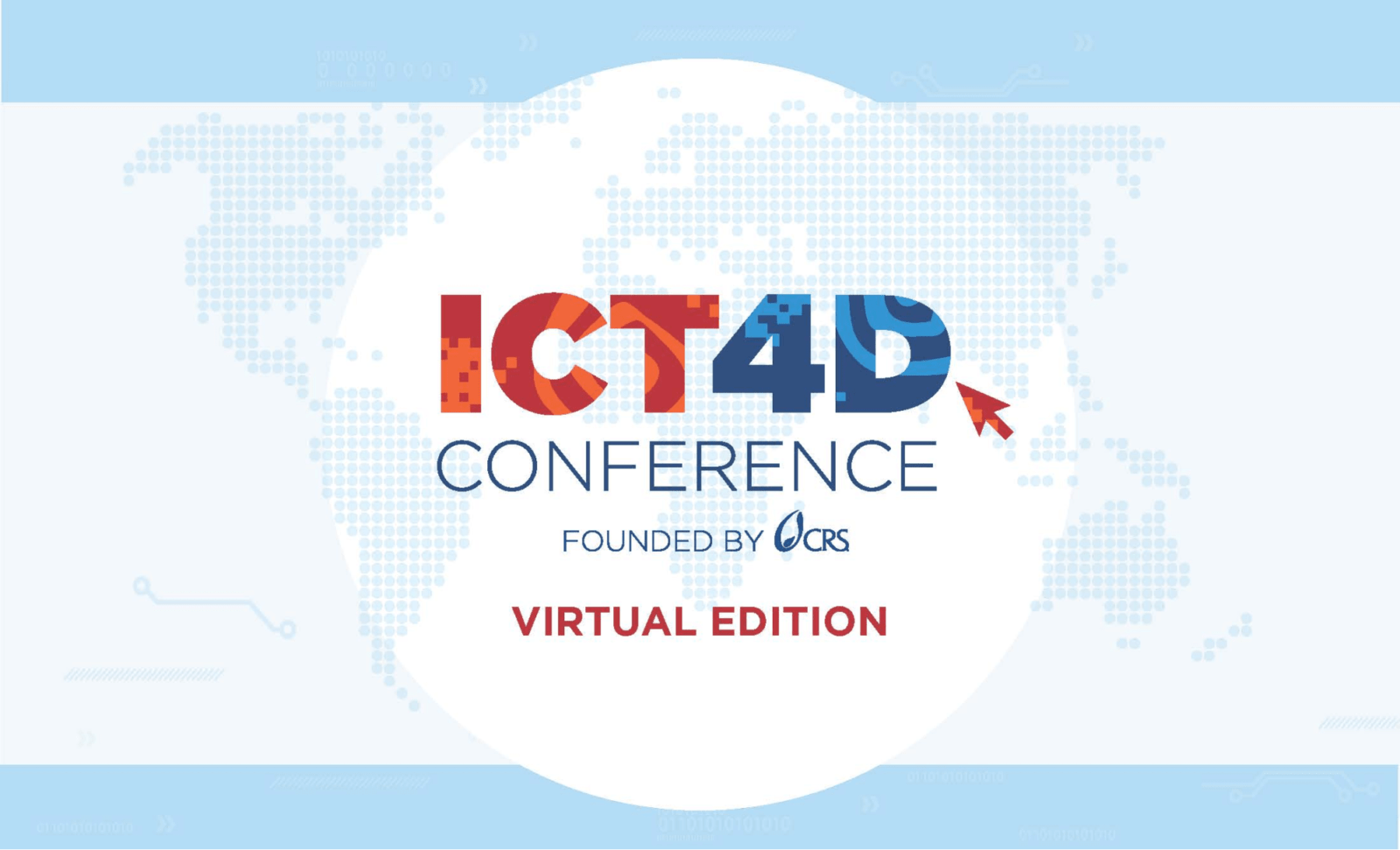 Before the pandemic,
Catholic Relief Services
(CRS) had been planning to hold its 12th Information Communications Technology for Development (ICT4D) Conference in Abuja, Nigeria. However, given the pandemic and its travel restrictions, CRS has decided to move its conference online, as a series of virtual events held over the next several months.
It promises to be a valuable source of information and knowledge for the sector at this incredibly uncertain time. The conference kicked off with a webinar:
Lessons learned from Digital Applications for Disease Monitoring and Preparedness
. Make sure you don't miss out on this opportunity for learning and collaboration, and find out more about the program
here
.
International Confederation of Midwives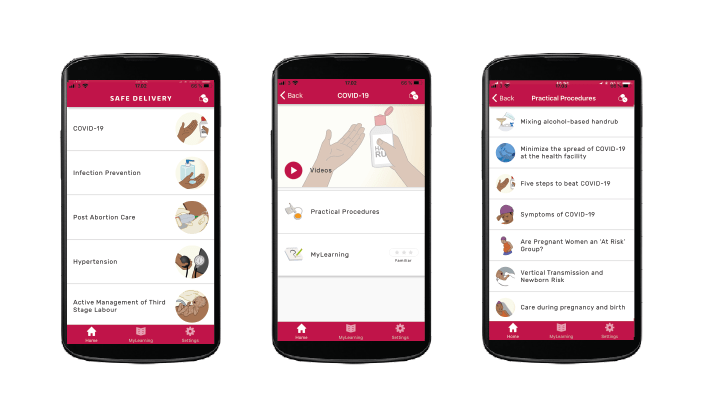 The
International Confederation of Midwives
(ICM) advocates for the profession of midwifery globally. In light of the health risks that mothers and newborns now face around the world, the ICM has collaborated with Maternity Foundation, University of Copenhagen, Laerdal Global Health, and the United Nations Population Fund to launch a new module in a mobile application to equip midwives in low-resource settings to protect themselves, mothers and newborns.
The mobile application, Safe Delivery App, is already in use by health personnel in 40 countries worldwide. The app is free to download and can be used offline once downloaded. It provides checklists and guidelines to help midwives around the world in their work.
As students around the world have quarantined at home, educators have stepped up to the momentous task of teaching remotely. In Brazil, the
Lemann Foundation
(or Fundação Lemann) has partnered with a consortium of private, public, and nonprofit organizations to meet this challenge, by finding innovative solutions to support remote learning.
Solutions range from a WhatsApp integration, allowing for educational content to be pushed to mobile devices for children who don't have computers, to weekly YouTube playlists with educational content adhering to national learning standards. Find out more about the solutions
here
.
Apollo Agriculture is a technology company based in Nairobi, Kenya that helps small-scale farmers maximize their profits. When the pandemic hit during planting season, Apollo Agriculture faced the challenge of shifting their 150 in-person call center to remote work.
They chose ZeroTier, a "cloud" network virtualization platform. Beginning with a pilot, they rapidly scaled up to the whole organization in days. They also made sure to provide mobile internet bundles and hotspots to make sure agents had sufficient internet access.
Apollo Agriculture Founder and CEO was a
Mulago Foundation
Rainer Arnhold Fellow in 2017.
Read more about how Apollo Agriculture is going remote here.
In these uncertain times, we're motivated to see our partners use digital technology to keep serving their communities and develop new program delivery mechanisms. There is no doubt that the pandemic will continue to challenge our work globally, but Vera remains committed to doing our part to help social-impact organizations find the digital solutions that continue to enable their incredible work.
We'd love to hear from you about how your organization is using technology in the face of the crisis, and if you have ideas of how Vera can help.