In March, Zak Kaufman and Aditi Patel attended the second annual MERL Tech London conference to connect with leading thinkers and innovators in the technology for monitoring and evaluation space. In addition to running an Amp Impact demo session, we joined forces with Joanne Trotter of the Aga Khan Foundation as well as Eric Barela and Brian Komar from Salesforce.org to share lessons learned in using Salesforce as a MERL Tech solution. The panel included representatives from Pencils of Promise, the International Youth Foundation, and Economic Change, and was an inspiring showcase of different approaches to and successes with using Salesforce for M&E.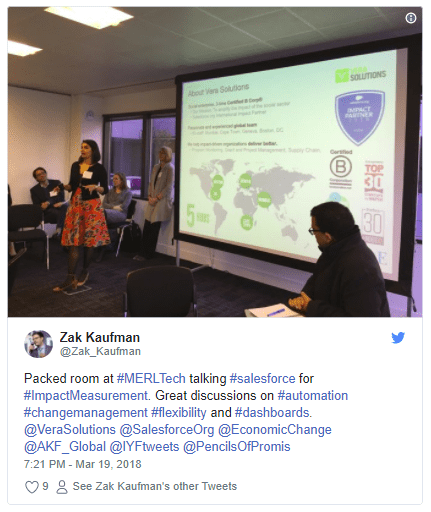 The event packed two days of introspection, demo sessions, debates, and sharing of how technology can drive more efficient program monitoring, stronger evaluation, and a more data-driven social sector. The first day concluded with a (hilarious!) Fail Fest–an open and honest session focused on sharing mistakes in order to learn from them.
At MERL Tech London in 2017, participants identified seven priority areas that the MERL Tech community should focus on:
Responsible data policy and practice

Improving data literacy

Interoperability of data and systems

User-driven, accessible technologies

Participatory MERL/user-centered design

Lean MERL/User-focused MERL

Overcoming "extractive" data approaches
These priorities were revisited this year, and it seemed to us that almost all revolve around a recurrent theme of the two days: focusing on the end user of any MERL technology. The term "end user" was not itself without controversy–after all, most of our MERL tech tools involve more than one kind of user.
When trying to dive into the fourth, fifth, and sixth priorities, we often came back to the issue of who is the proverbial "user" for whom we should be optimizing our technologies. One participant mentioned that regardless of who it is, the key is to maintain a lens of "Do No Harm" when attempting to build user-centered tools.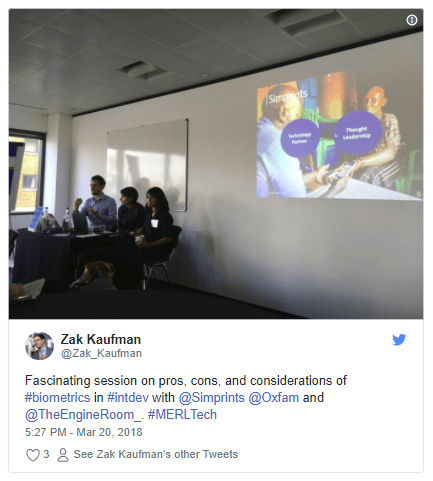 The discussion around the first and seventh priorities naturally veered into a discussion of the General Data Protection Regulation (GDPR), and how we can do better as a sector by using it as a guideline for data protection beyond Europe.
A heated session with Oxfam, Simprints, and the Engine Room dove into the pros, cons, and considerations of biometrics in international development. The overall sense was that biometrics can offer tremendous value to issues like fraud prevention and healthcare, but also enhance the sector's challenges and risks around data protection. This is clearly a topicwhere much movement can be expected in the coming years.
In addition to meeting dozens of NGOs, we connected with numerous tech providers working in the space, including SimPrints, SurveyCTO, Dharma, Social Cops, and DevResults. We're always energized to learn about others' tools and to explore integration and collaboration opportunities.
We wrapped up the conference at a happy hour event co-hosted by ICT4D London and Salesforce.org, with three speakers focused on 'ICT as a catalyst for gender equality'. A highlight from the evening was a passionate talk by Seyi Akiwowo, Founder of Glitch UK, a young organization working to reduce online violence against women and girls. Seyi shared her experience as a victim of online violence and how Glitch is turning the tables to fight back.
We're looking forward for the first MERL Tech Johannesburg taking place August 1-2, 2018.