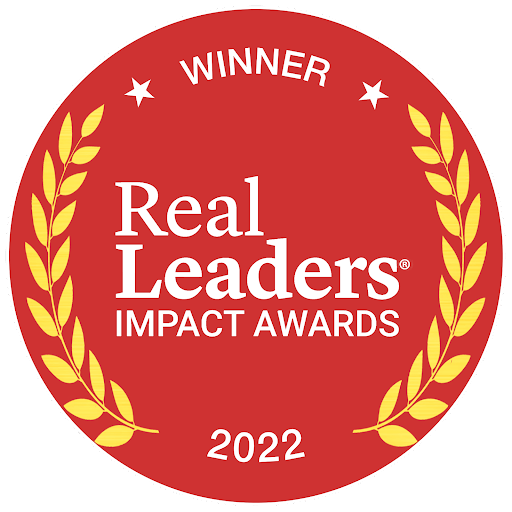 March 2, 2022 – Last month, Real Leaders®️ unveiled its 2022 Top Impact Companies, and Vera Solutions was honoured to make the list for a second time. The magazine releases the list annually, "recognizing the world's top impact companies who are leading the way in business as a force for good".
"Business leaders across the globe are rapidly discovering that to be competitive – and to grow and thrive – they must forgo shortsighted thinking in favor of a farsighted vision that takes into account their company's social and environmental impact," said Mark Van Ness, Founder of Real Leaders. "We are excited to welcome new and old companies alike to the impact movement, and into the Real Leaders Impact Awards community."
Real Leaders evaluates companies based on their "force for good", considering revenue, growth, and impact. The 2022 list includes a diverse group of companies of all sizes including CVS Health, Tesla, Moderna, Oatly, Warby Parker, and the Global Good Fund.
"We're thrilled to be recognized in this way again and surrounded by so many amazing businesses in the Real Leaders community," said Vera Co-founder and CEO, Zak Kaufman. "The award is a testament to not only the transformational products and services our team delivers for social impact organizations across the globe but also Vera's commitments to environmental sustainability, staff wellbeing, and good governance."
Vera Honored as Best For The World for the Second Year

---

Vera Makes Environmental Commitment to Offset Our Carbon Emissions

---

The Data Dilemma: Making Measurement Matter

---

Vera Solutions Gives Back Through Values-based Employee Recognition Program
A virtual ceremony was held on February 24, 2022 to honor the winners and featured a keynote from Peter Diamandis, founder and executive chairman of the XPRIZE Foundation and executive founder of Singularity University.
About Vera Solutions: Vera Solutions is a global social enterprise and Certified B Corporation driven to amplify the impact of the social sector using cloud and mobile technology. Vera works with nonprofits, grantmakers, multilateral organizations, and social enterprises to deliver solutions that save them time, money, and headaches. Since 2010, Vera has served over 360 organizations, and Vera's flagship product–Amp Impact–is now used in over 150 countries to manage and track the impact of over $4 billion of international development programs and grants. With services and products centered on the Salesforce Platform, Vera blends social sector and technical expertise to tailor flexible, scalable solutions that transform the way social impact organizations collect, manage, analyze, and utilize data.
About Real Leaders: Real Leaders is a membership community for impact leaders with a global media platform dedicated to driving positive change. Founded in 2010, Real Leaders recognized early on that businesses bore a responsibility to be as cognizant of their impact on employees, society, and the planet as they are on their bottom line. Real Leaders is a B Corporation, member of the UN Global Compact, and independently owned.