Have you heard the latest announcement from Salesforce? We're excited to share three powerful ways Amp Impact can extend capabilities of the new Nonprofit Cloud product. Having taken an advisory role in the product suite development, we have some key takeaways on how organizations can continue to drive efficiencies using Salesforce and where the new Nonprofit Cloud product can add the most value.
Let's take a deeper dive into three key areas where Amp Impact and Nonprofit Cloud for Programs can mutually enhance each other's offerings.
1. Extending Amp Impact with Nonprofit Cloud to track grassroots programs, service delivery, and case management
Nonprofit Cloud integrates with Amp Impact to unify data and provide tracking for grassroots programs and service delivery. Notably, this could already be done with existing Salesforce.org products (including the free, open source Program Management Module), but Nonprofit Cloud takes service delivery functionality further, leveraging the same Omnistudio and Business Rules Engine components used in other Salesforce industries.
While Amp Impact covers project and program-level workplanning, financial management, risk management, results-based management, narrative reporting, resourcing, and impact measurement, the new Nonprofit Cloud for Programs product covers case management, participant management, dynamic assessments, and service delivery.
The two products nicely complement one another's features, and adding simple Lookup Relationships from the new Program and Benefit objects to Amp Impact objects like Project and Thematic Area can enable nonprofits to effectively track grassroots delivery within the context of grant-funded projects and programs. This allows nonprofits to more effectively manage resources and track progress toward meeting their goals, while relying on high-quality point-of-service data.
2. Aggregating data from Nonprofit Cloud to Amp Impact
With granular service delivery data being tracked in Nonprofit Cloud for Programs, organizations will soon be able to set up aggregated and calculated Indicators in Amp Impact to automatically bring accurate results up to the appropriate level for sharing with funders, management, partners, and other stakeholders.
For data to aggregate, organizations just need to set up the Aggregation Settings for a Project Indicator (eg Number of Training Hours Completed), specifying the source object (eg Benefit Disbursement), what filters to apply (eg Disbursement Status = Completed, Benefit Name = Training), what date field to determine the Reporting Period from (eg Actual Completion Date), and what field to determine the Geographic Area from (eg a custom 'Location' field or a lookup from an NPC object to Amp's Geographic Area object). Then users can manually aggregate the data on-demand or schedule aggregations to take place on a regular cadence. Note that, for organizations using the existing Program Management Module (PMM) product, this aggregation functionality already works with PMM.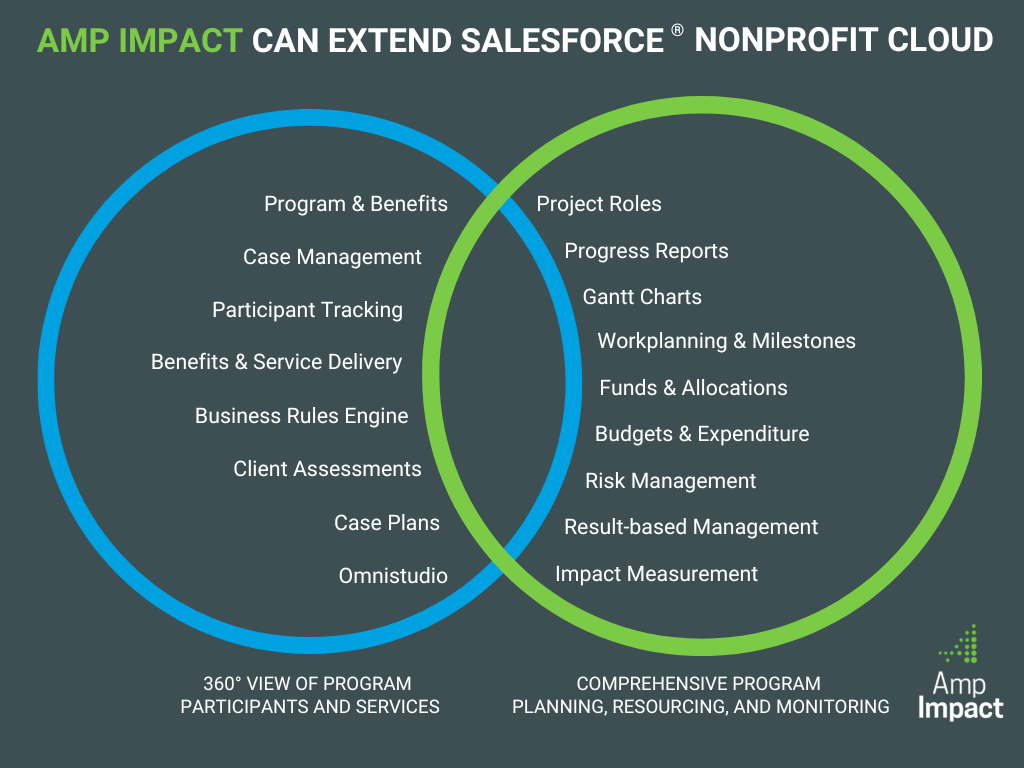 3. Embedding Amp Impact features in the new Nonprofit Cloud pages
Following the Amp Impact Jarvis release, Nonprofit Cloud users will be able to embed Amp Impact features in Program and Benefit pages. This will give them the ability to plan, track, manage, and report on program impact directly within Nonprofit Cloud. Some examples of ways organizations will be able to use Amp Impact within Nonprofit Cloud include:
Tracking program progress and goals: use Amp Impact's Framework functionality to gain insights into program progress versus goals and objectives, providing the ability to proactively course correct as needed to ensure programs remain on track

Measure program impact: make evidence-based decisions with an impact first mindset using Amp Impact's robust capabilities for indicators, targets, and results

Plan and track program milestones and activities: Amp Impact's workplanning functionality allows building drag-and-drop gantt charts to plan and track delivery of activities. Users will be able to embed it in NPC program pages to visualize program activities over time.
Amp Impact already integrates with existing Salesforce products
As a native Salesforce App, Amp Impact already provides extended capabilities when integrated with existing Salesforce.org products, such as PMM and NPSP, including grant management, workplanning, budgeting, risk management, and impact measurement.
The new Nonprofit Cloud will be no different. Salesforce's initial release provides a central solution for program and case management that represents an interesting step up from existing Salesforce.org products by using tools from other Salesforce industry products, like Omnistudio and Business Rules Engine.
It's worth noting that Amp Impact additionally integrates with all other Salesforce products, such as Salesforce Marketing Cloud, Service Cloud, and Tableau, providing flexible options when deciding the best scalable solution suite.
New innovation is happening all around us
For years Salesforce has been bringing out triannual upgrades and releases. This year is no different. Shortly following the new Nonprofit Cloud release is our next Amp Impact release, Jarvis, coming next month. In addition to enhancements to Amp Impact's budgeting, workplanning, and Submissions modules, Jarvis will include features to strengthen integration with Salesforce's new Nonprofit Cloud for Program Management.
Vera Solutions' continued commitment to the Nonprofit Sector
With over 12 years of experience working with nonprofits, Vera has been a leader in developing program management and impact measurement solutions on the Salesforce Platform. In addition to accolades outside the Salesforce ecosystem, Vera was named Salesforce.org's Product Partner of the Year in 2019 and 2022 in recognition for the important role Amp Impact has played in advancing the ecosystem. Vera also received a Partner Innovation Award in 2021, specifically in recognition for the company's commitment to equality and sustainable development. Currently over $8.5 billion of programs, grants, and projects are managed on Amp Impact, driving towards collective delivery of global UN Sustainable Development Goals. This figure is expected to grow to over $12 billion in 2023, and Vera remains committed to strengthening the product in collaboration with our partners and customers.
Vera Solutions' commitment to continued alignment with the future of Salesforce Nonprofit Cloud
As a long-time Salesforce International Impact Partner, and now a Salesforce Summit Consulting Partner, we've been dedicated to the Salesforce ecosystem for more than 12 years. We continue our commitment in aligning our innovation efforts with those of Salesforce in order to best serve the nonprofit sector. As such, we are constantly evaluating new features and enhancements to the Salesforce platform and how they can be leveraged to support our clients' missions.