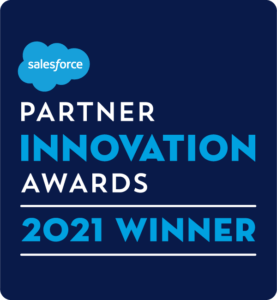 Oct 14, 2021 – Vera Solutions announced that it has been named a recipient of the Salesforce Partner Innovation Award in the "Lead" category, showcasing leadership in the Salesforce ecosystem.
For this innovative work, Salesforce has recognized that Vera Solutions has demonstrated excellence in Equality and Sustainable Development. As a Partner Innovation Award recipient, Vera Solutions joins a group of Salesforce consulting and ISV partners recognized for their achievements in the Salesforce ecosystem.
The award recognizes Vera Solution's continued success in the Salesforce Partner Program and dedication to not only customer success but also to advancing the Salesforce ecosystem. A Consulting Partner since 2011 and ISV Partner since 2016, Vera delivers Salesforce-centered technology services for social-impact organizations around the world while also developing Salesforce-based apps like Amp Impact and Many2Many that are used by Salesforce customers and partners alike.
Salesforce partners like Vera are part of the growing Salesforce economy, which according to a new study by IDC*, is projected to produce more than 9 million new jobs and $1.6 trillion in new business revenue by 2026. The study finds that Salesforce is driving massive gains for its partner ecosystem, which will see $6.19 in gains for every $1 Salesforce makes by 2026.
**​​IDC White Paper, sponsored by Salesforce, "The Salesforce Economic Impact," doc #US48214821, September 20, 2021
About Vera Solutions
Vera Solutions is a global social enterprise and Certified B Corporation® providing cloud and mobile solutions that help social sector organizations better track their impact, streamline their operations, and create feedback loops that put data in the hands of those who need it. Founded in 2010 out of a health education nonprofit in South Africa, Vera Solutions is inspired by the organizations and individuals we work with – social sector professionals who crave more information that's both reliable and easy to use. We launched Amp Impact in 2017 as a common denominator solution for nonprofits, grantmakers, and impact investors to better understand their impact and drive more efficient, cost-effective programs. Amp Impact is now used globally in more than 100 countries to manage data for over $1.5 billion in development programs and grants. Learn more at https://ampimpact.org/.