On April 15, Vera Solutions and Salesforce.org hosted the inaugural Amp Impact Summit in Amsterdam to bring together a passionate group of professionals for an afternoon focused on strengthening accountability and data management in the social sector. We were inspired to see organizations of different shapes and sizes (from iNGOs to impact investors to grant-makers) come together to connect, share common challenges, and learn from each other.
Since initially launching Amp Impact on the
Salesforce Appexchange
in 2017, Vera has remained deeply invested in developing the product in consultation and collaboration with customers to meet a wide range of impact measurement and portfolio management needs. The Summit provided an opportunity for us to meet with global users, share the vision behind Amp Impact's creation and continued development, receive input into the product's direction, and begin to establish a community amongst Amp Impact users passionate about advancing both their organizations and the product.
Moreover, the Amp Impact Summit provided a platform for users to form connections with each other and share challenges, opportunities, and successes they've experienced. Collaboration is key to achieving our respective missions, and attendees exchanging numbers and hugging goodbye at the end of the day showed us an eagerness for more opportunities to come together and work together.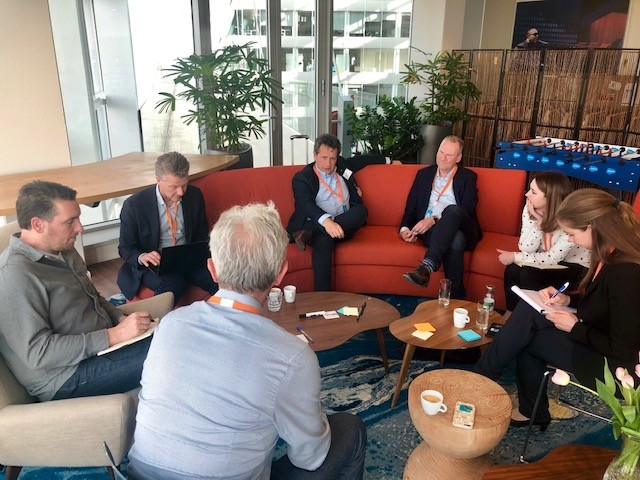 Shaping the Future of Amp Impact Together
With many current and future Amp Impact adopters in one room, we wanted to focus on the Amp Impact Roadmap. First, we shared our plans for upcoming features and enhancements and introduced the logic model which drives Vera's vision for Amp around three areas of impact:
Increased

efficiency

of social sector organizations

Increased

effectiveness

of programs

Stronger

accountability

of organizations to their stakeholders
We announced some exciting new product features (coming in the Spring 2019 release!) which will enhance Amp Impact's ability to manage Logframes and track program budget and expenditure, including:
Budget download and upload

Logframe enhancement

UX improvements

We then opened the floor to all participants to workshop setting to ideate new features and improvements that would be most useful. Just as our customers have shaped the product features to this point, we continue to rely on their feedback to steer our product's direction to have maximum impact.
Roundtables: Key Topics and Questions to Consider
As Amp Impact is part of a much larger conversation around responsible data management, social accountability, and technology for monitoring, evaluation, and learning (MEL), we thought it important to provide a setting for attendees to openly discuss challenges and learnings across these areas. Participants split into roundtable groups to engage in discussion on the following six topics.
1.
Amp Impact & Project/Program Management (Implementation Planning, Financials)
: We dove into the challenges of managing a global portfolio of projects and programs and the benefits of Amp Impact for tracking activities and informing program decision-making. Some questions to consider:
Which internal and external stakeholders do you need to consider in structuring your system?

How do you ensure all information is accessible by the right people at the right time?
2.
Amp Impact & MEL (Indicator Management, Results, LogFrames)
:
We discussed the indicator management features needed to achieve the outputs, outcomes and objectives of their MEL strategy and understand how they can use Amp Impact to disaggregate data. Some questions to consider:
What features are most useful for indicator tracking?

How can you use MEL tech to continually evaluate and improve your framework?

How can technology help get data back to end users and share more broadly?
3.
Integrations (connecting Amp Impact with mobile apps, ERPs, etc.)
:
We considered how implementers can make use of the Salesforce ecosystem available to them by using Amp Impact. Some questions to consider:
Which data sits in each system?

What is the volume of the data that sits in each system?

How does the data get shared?

How do you think about data modeling for long-term success?
4. Rollout and change management (strategies for maximizing user adoption and satisfaction):
We reflected on experiences with technology preparedness, change management, and user adoption when rolling out new technology on a global scale. Some questions to consider:
Who do you need to involve in the system design?

How early is too early to test the system?
5. Models for sharing and permissions (internal and external):
We covered the types of permissions, visibility, and actions necessary to maintain system integrity while enabling various users to be able to generate value by performing the tasks required by their job functions. Some questions to consider:
How can we set up a structure from the start that allows us to evolve and scale later on?

How do you deal with complexities of involving all stakeholders guaranteeing privacy?

How can organizations find the balance between ease of use of the system (adoption) versus data protection/security?

How should we manage sharing/permissions for large volumes of users (distributed group of users including external users)?
6. Alignment, Collaboration & Standardization:
We delved into what (if anything) organizations are currently doing to understand their contribution to the overall sector. Questions to consider:
How can we better share our results and what areas of collaboration, alignment, and standardization can help us collectively move our impact needle?

How do we shift the emphasis from "reporting" (which is often considered a burden) to "performance management" (which implies managing data and incorporating feedback loops)?
It's evident that there is a hunger for more spaces like these to connect, share, and learn. Having worked with nearly 300 social sector organizations, we have learned a lot over the years, but still have so much more to learn. We're excited to continue playing a role to bring organizations together to share learnings in an effort o meet our common goals. It was clear at the end of the day that there is a widespread desire for an ongoing platform for organizations to continue to collaborate on these topics. We plan to launch an online Amp Impact Community later this year to help meet that need. Stay tuned for further updates in the coming months!
Acknowledgements and Thanks
We would like to thank Salesforce.org for opening up their beautiful space at the Edge.

And, thanks to all of those who boarded early flights or bicycled in from offices around the Netherlands, for taking time out of your busy schedules to contribute to this conversation.