When it comes to impact measurement, we often hear from our mission-driven clients, "We had no idea this could all be done in Salesforce!" The reality is that many organizations have become accustomed to data silos and assumptions that Salesforce is limited to fundraising or CRM data, that financial data should only reside in ERP systems, or that impact data should live in its own set of tools or platforms. Luckily, there is a massive, growing movement for impact measurement on Salesforce – with an increasing number of organizations now building their digital strategies around collecting, managing, analyzing, and disseminating impact data.
This blog aims to demystify impact measurement on Salesforce, sharing lessons learned from more than twelve years imagining, designing, implementing, and even productizing impact-first solutions on the Salesforce platform. Follow along as we unpack the what, why, who, when, and how behind meaningful impact measurement – and join the conversation around how we can collaboratively improve strategies, practices, processes, systems, and tools for impact measurement on Salesforce.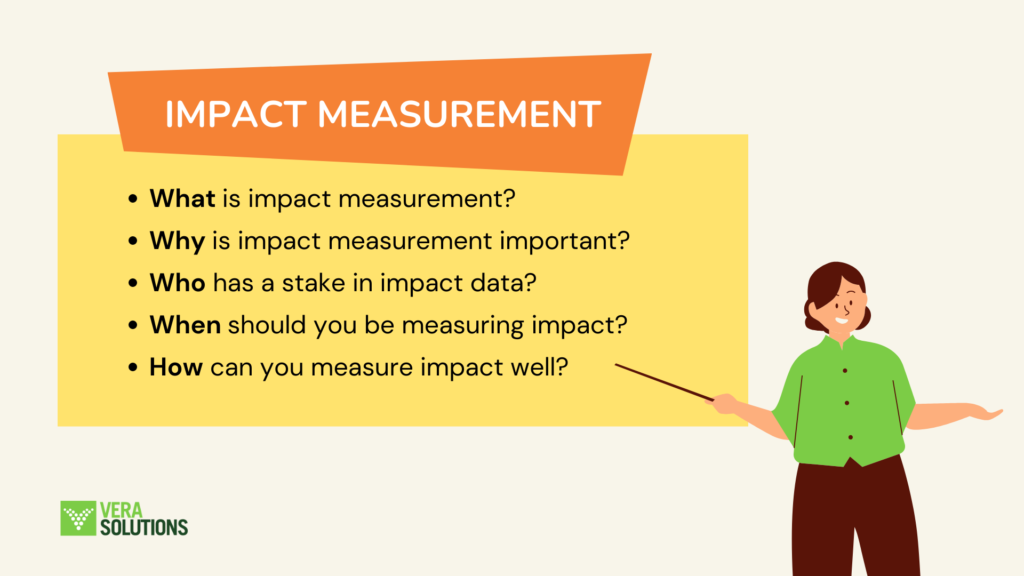 What is impact measurement?
In the private sector, successful companies use real-time data on revenues, costs, and profit to drive efficiencies and continually improve their products or services. In the social sector, meanwhile, we often struggle to understand how we are progressing on our missions – to measure and monitor our 'impact'.
A quick note on terminology. Like many, we use the term 'impact measurement' synonymously with 'Monitoring, Evaluation, and Learning' (MEL), though we're mindful that different terms abound (M&E, MEL, MERL, MEAL, impact management). The challenge in calibrating terminology in this space stems from the widespread use of the term 'impact', coupled with the multiple meanings of 'impact'. It is referred to:
Folks whose roles focus on the latter two areas tend to dislike the broad use of 'impact', while the general public tunes out the more academic meanings. For the sake of this article, we adopt the broad definition – in order words, we include all data serving to document changes in outputs and outcomes broadly under the umbrella of 'impact data'.
While each organization and each program has its own impact measurement / MEL needs––from tracking beneficiaries and service delivery to centralizing data on output and outcome indicators across a portfolio of grants, projects, programs, or investments to conducting outcome or process evaluations––impact measurement ultimately comes down to asking and answering questions about the reach and effectiveness of programs or interventions. Briefly, these questions need to consider:
Scale/reach (i.e. how many individuals, households, communities, hectares?; who specifically and where?)
Depth/effect

(i.e. how much change observed per individual, household, community, hectare; usually considering a baseline and a counterfactual of what change would have been observed without the program/intervention)

Time

(i.e. over what period is/was the change observed)
To answer these questions, you collect, capture, manage, and analyze impact data.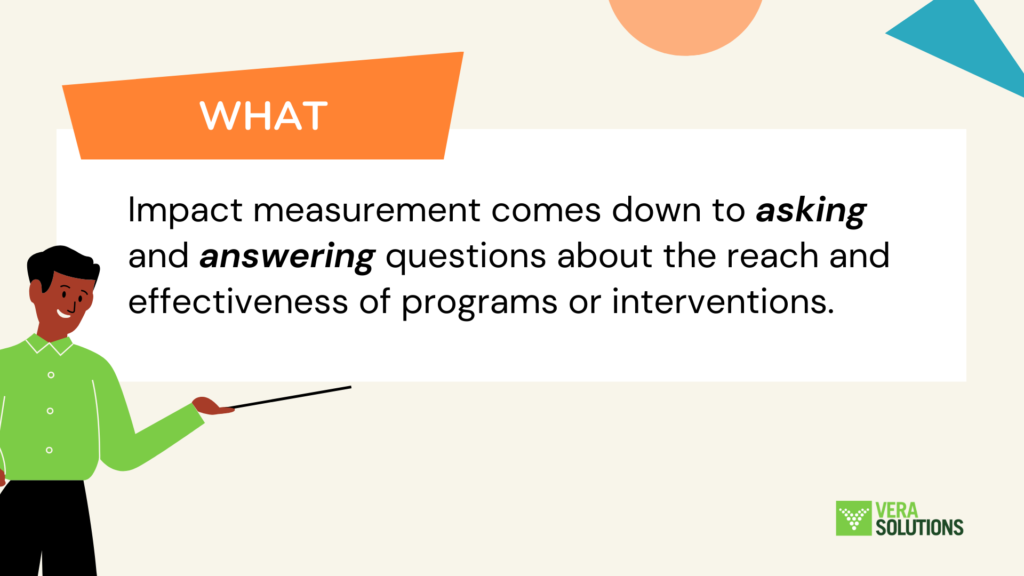 Why is impact measurement important?
Global initiatives like the Sustainable Development Goals (SDGs), International Aid Transparency Initiative (IATI), and IRIS+ tell us that the world cares more about impact than ever before. But these accountability mechanisms account for only part of the reason why you should be rigorously measuring the impact of your work. Learning from the data is also vital. When done well, impact measurement generates evidence and learning about programs or interventions, which, in turn, enables you to:
PROVE you've done what you said you'd done.
IMPROVE what you do so you can increase impact.
Therefore, 'good' impact measurement requires strong feedback loops within and between organizations to turn learnings into better programs, better services, and better results for the people you serve.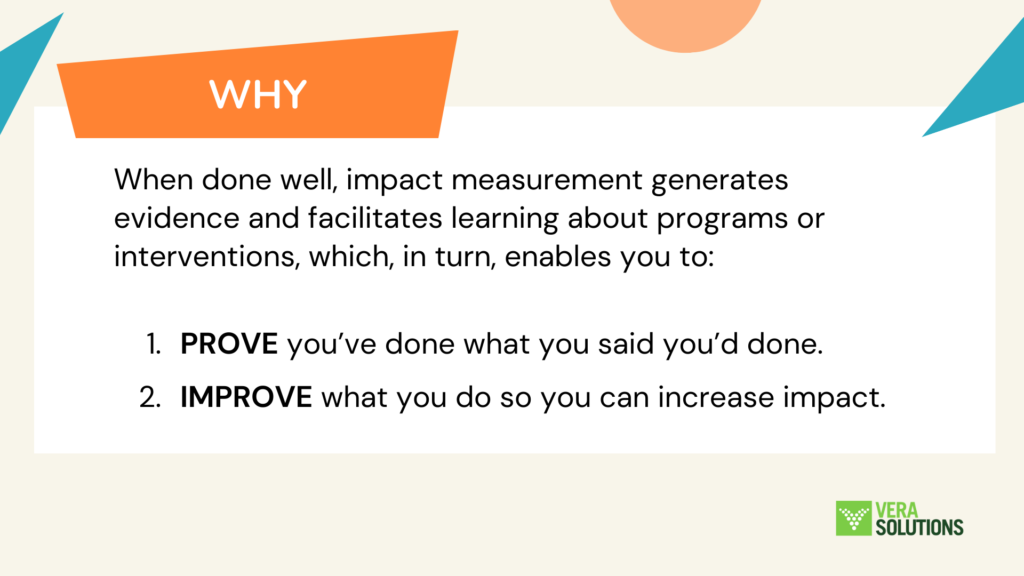 Who has a stake in impact data?

In the social sector, "accountability" is often regarded as synonymous with "donor reporting." But it's important to realize that many different stakeholders have a stake in impact data. Just as you must be accountable to funders, you equally need to be accountable to staff, partners, and the people you serve.
Here are the key stakeholders who you should be considering in your impact measurement strategy:
Funders / Donors

Board / Advisors
Staff and Prospective Hires
Partners, Networks, Accelerators
Participants / Beneficiaries
Customers / Prospective Customers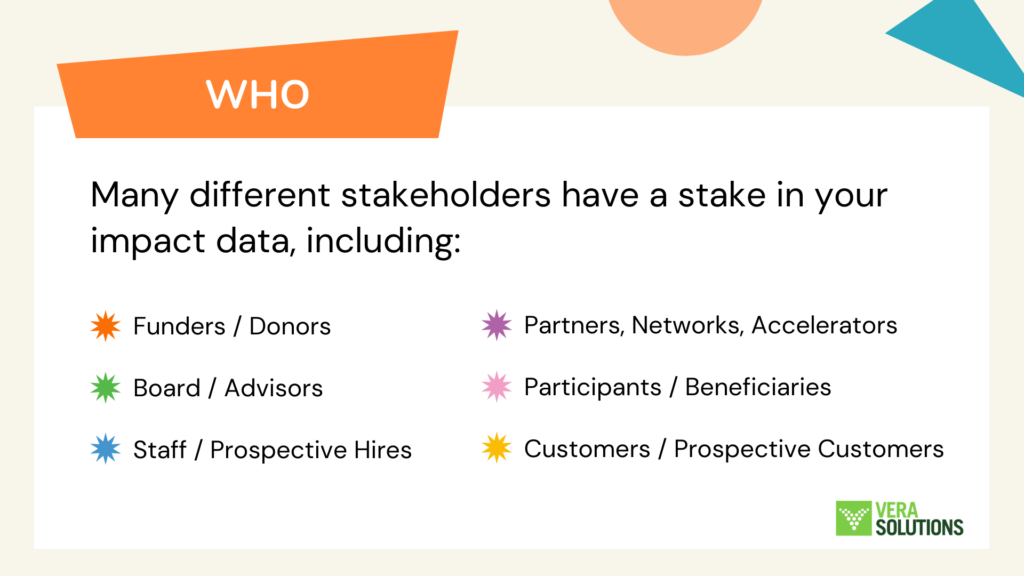 When should you be measuring impact?
While impact data are often reported on a monthly, quarterly, or yearly basis, effective impact measurement requires a continuous learning and improvement mindset. According to Andrew Means, Senior Director of Global Impact Data Strategy at Salesforce.org, organizations must continuously ask themselves: "How can we actively manage our programs today to improve the impact that we'll have tomorrow by learning what we did yesterday." This requires consistency, discipline, and rigor – as well as reliable, accessible, and accurate data.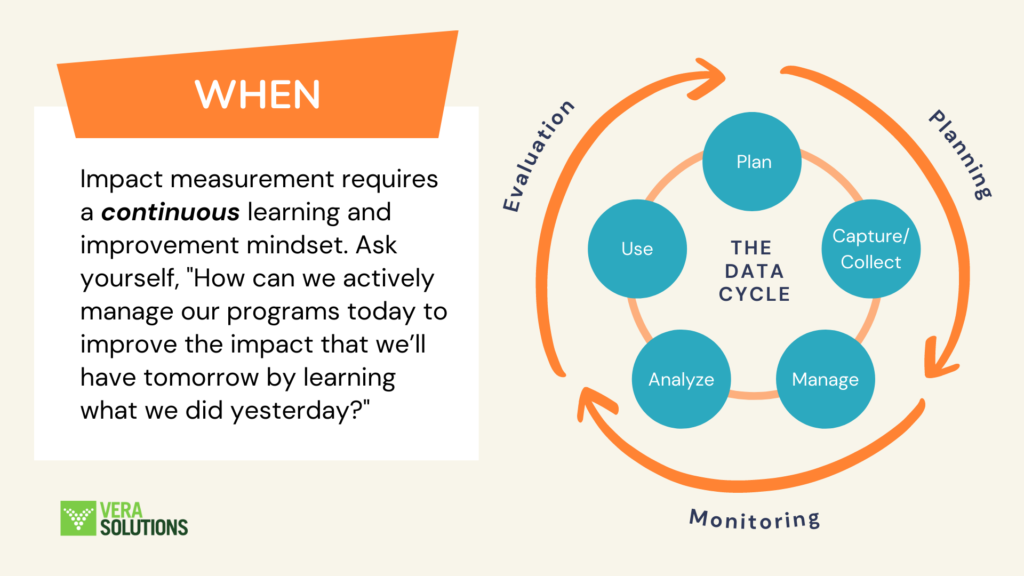 How can you establish and sustain healthy impact measurement?
To measure impact–that is, to turn questions into evidence and evidence into insights–you need accurate, reliable, and consistent data. This is where the data cycle comes in. You need to plan what data you're going to collect, capture data according to this plan, manage the data in a usable (and secure) system, analyze the data appropriately, and use the insights you glean to drive learning and improvement.
It's important to note that 'good' impact measurement doesn't happen overnight. It requires diligence, ongoing investment, and a willingness to accept–and act on–bad news. In our experience working with 365+ organizations across 60+ countries, we've identified four core pillars that organizations need to establish and sustain healthy impact measurement practices:
Sound Strategy: The first step to impact measurement is defining a sound Theory of Change and Logical Framework, along with SMART indicators that will provide an objective sense of success or failure.

Suitable Methods: Next, you need sensible, consistent instruments for collecting data on your defined outputs and outcomes. When measuring effects, you need to use appropriate methods that minimize selection and information bias and suit the level of evidence you seek to generate.
Strong Systems: Once tools are developed and standardized, you need processes and a platform to manage day-to-day data flow and analyze results. Your technology platform needs to have powerful features that save time, extensive flexibility to evolve with program needs, and userfriendliness for all levels of digital literacy. For other key considerations, check out our blog on the 10 criteria to consider in choosing a technology platform.
Sufficient Capacity: Finally, you need people with the right skills and adequate time for data collection, management, analysis, and planning. You should never underestimate the number of capable-person-hours required for each function. The more you invest in capacity-building, the more rigorous evidence you will have.
Putting it all together on Salesforce
When we founded Vera Solutions in 2010, most organizations were handling impact data on paper and Excel. We saw countless hours and resources wasted manually inputting data from paper to Excel, transferring data from spreadsheet to spreadsheet, and tediously building reports. Over the years, mobile data collection has become more commonplace and Salesforce has gradually emerged as a go-to platform for impact data management.
Over the last twelve years, the Salesforce platform has consistently risen to meet our clients' myriad impact measurement needs. It has powerful built-in features for data collection, management, analysis, and visualization, security you can trust, and exceptional flexibility to evolve as your needs evolve. Salesforce also has an unparalleled ecosystem of nonprofit users and partners, and the platform is ever-innovating with new impact measurement products, tools, and Trailheads. But perhaps where Salesforce soars the most over the competition is in its interoperability. With an extensively documented set of APIs and a wide range of plug-and-play integrations, Salesforce brings data and teams together across the data cycle to provide a single source of truth for your entire organization.
Here are some common ways that you can extend the power of Salesforce to meet your unique impact measurement needs:
To track individual beneficiaries, perform case management, capture feedback surveys, and/or improve service delivery, you can boost the data collection capabilities of Salesforce with tools, such as TaroWorks the Salesforce.org Program Management Module (PMM), Mogli, Exponent Case Management, FormTitan, FormAssembly, and more.
To manage indicators, build logframes or results frameworks, drive results-based management, capture narrative assessments, and carry out integrated work planning, budgeting, and risk management, you can leverage Amp Impact.
To directly engage with program/grant recipients, collaborate with partners, and/or share data-based insights with internal and external stakeholders, safely and securely open up your database with

Salesforce Experience Cloud

.
To aggregate and visualize data for a holistic oversight of portfolio impact, extend Salesforce and Amp Impact analytics with
Tableau
,
Tableau CRM
, or
Power BI
.
The bottom line: Salesforce provides a centralized platform and dynamic ecosystem for all your impact measurement needs. In doing so, it creates a central source of truth and bidirectional data flow between program staff, country offices, head offices, and funders – ensuring that vital insights are in front of the people who need them most.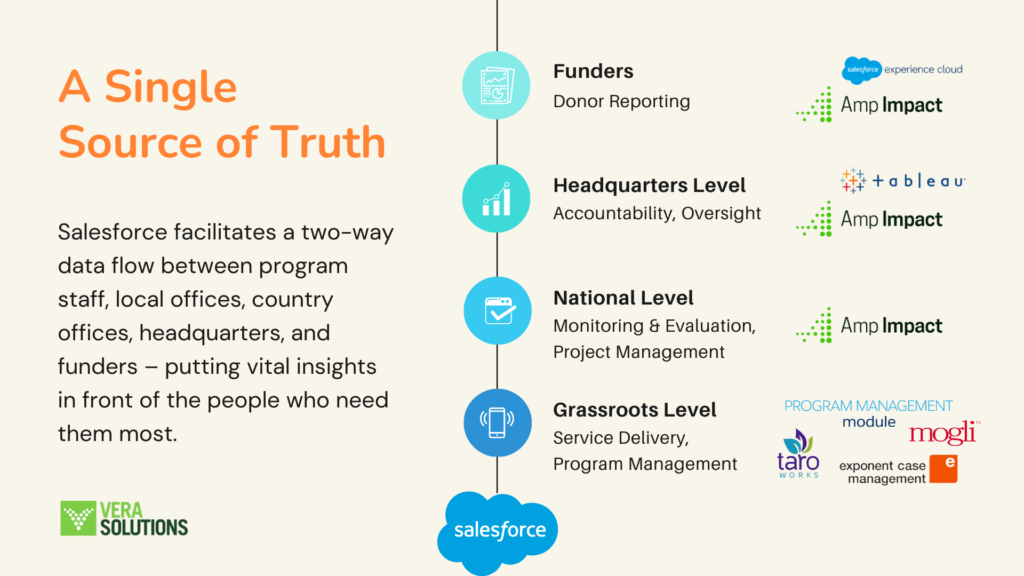 Vera Solutions provides flexible and scalable solutions that empower organizations to become more transparent, accountable, and effective. Vera Solutions has worked with more than 365 organizations, strengthening their systems and building their capacity to collect, manage, analyze, and utilize data – whether for impact measurement, project and grant management, or CRM. Get in touch with us to find out how we can assist in your system needs and save your organization time, money, and headaches.