Salesforce.org has just released a whole slew of new products and feature enhancements that have generated a lot of excitement here at Vera. One of these, the Program Management Module (PMM), has been in the works for a while – we are delighted to see it brought to life and hope it helps many more nonprofits realize the benefits of using Salesforce for program management.
On the surface, the PMM may sound redundant or even competitive with Amp Impact – in fact, it's quite the opposite. Whereas Amp Impact offers a portfolio management and portfolio-level impact measurement solution (using logframes, indicators, targets, and results), the PMM is focused on tracking individual beneficiaries and their engagement with programs and services. For organizations working across multiple geographies, tracking at both of these levels is crucial, and data can automatically 'roll up' from the PMM objects into Amp Impact's Indicators and Results. Moreover, both tools are 100% native to the Salesforce Platform, meaning users of both tools can benefit not only from their interoperability but from a seamless, consistent user experience.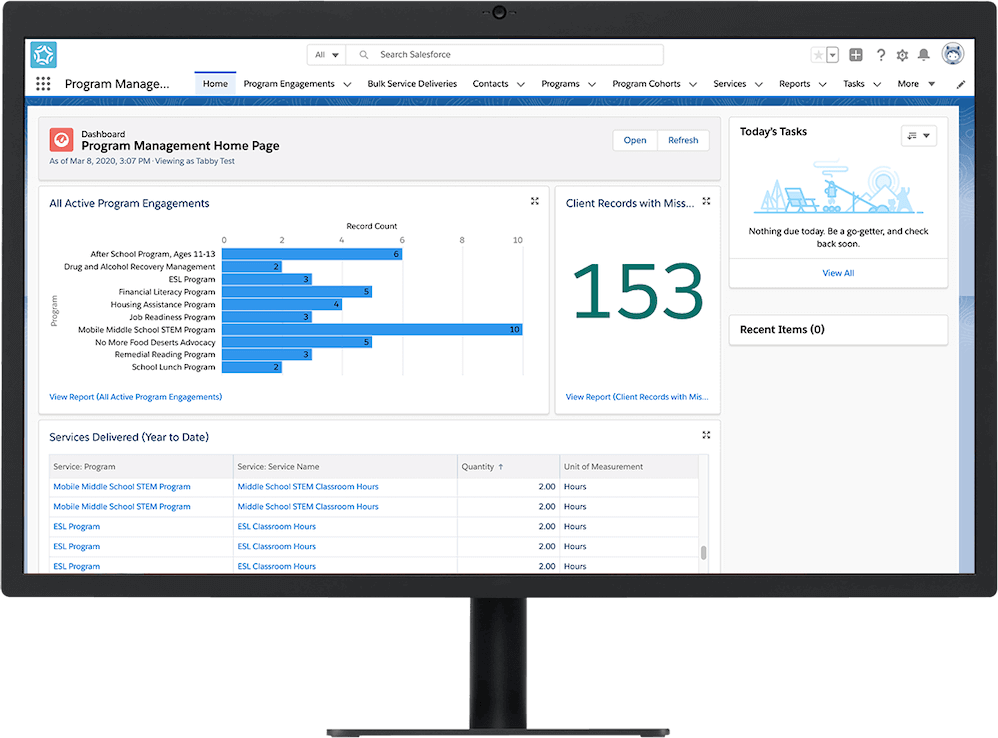 The PMM is a managed package that provides the data architecture, interface, and automation to track programs, program engagements, cohorts, and service delivery in Salesforce. It was developed with a view to offer nonprofits a standard framework for on-the-ground program management alongside other products in the Nonprofit Cloud.
At the outset, we can see at least seven ways in which the PMM will break down barriers for nonprofit data management.
1. It sets standards for service delivery in the sector.
Building on an established technology platform used by more than 47,000 nonprofits across the globe, the PMM is an early attempt at setting standards for client engagement / service delivery data in the sector. The PMM data model is based on the needs and inputs of nonprofits trying to grapple with disparate data in order to trace their program delivery and answer key questions on a daily basis. As many organizations struggle with diffused, disconnected program and monitoring and evaluation (M&E) data, the PMM provides a useful starting point that reflects a common-denominator across many types of service delivery organizations.

The data architecture allows you to capture basic identifying details about your programs (e.g. program name, focus area, target population) and about those who benefit from them. It contains functionality to segment program participants by cohorts and track how they engage with different program offerings. Out-of-the-box reports answer questions such as how many clients have enrolled across programs and how many services have been delivered to date.
2. It sweetens the deal for nonprofits already on the platform.
If you are a nonprofit already using Salesforce, the PMM may very well be a welcome addition to the suite of tools in your toolbox. You may already be using the Nonprofit Success Pack (NPSP) for donor management and the PMM, like Amp Impact, is made to work seamlessly with it. In fact, the PMM is now included with NPSP, though you do not need to use the NPSP to leverage the PMM as it can also be installed separately.

Should you choose to add the PMM to your Salesforce instance, you can rely on all the great benefits of using Salesforce in the first place – robust upgrades and maintenance, a flexible user interface, powerful reporting capabilities, and the opportunity for further customization or integration.

The PMM comes out-of-the-box with automation that can easily be customized or extended by a System Administrator with 'clicks not code'. Giving your team a leg-up, the PMM includes automation to standardize record names and dates based on common nonprofit use cases, while leaving you the option to personalize the attributes for your organization. Naturally, you can always work with a consulting partner to help ensure a successful implementation and rollout.
Get in touch to learn more about Vera's consulting support offerings.
3. It solves a critical piece of the M&E puzzle for nonprofits.
Program management on Salesforce is by no means new territory for us at Vera. We have worked with dozens and dozens of organizations – like the
Aga Khan Foundation
,
Camp Harbor View
,
RefugePoint
, and
Norwegian Refugee Council
– to implement solutions that bolster program management practices, provide a unified view of their data, and support data-driven decision making.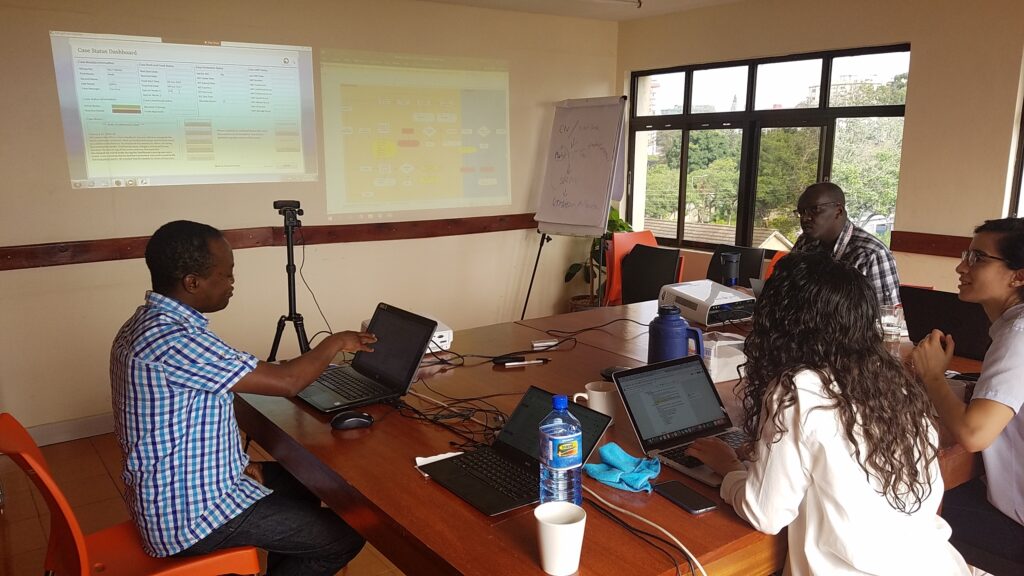 Organizations with existing program management solutions on the platform may not be affected by this announcement, but for those who have not yet taken a step towards tracking their grassroots service delivery or outreach, the PMM could be a valuable piece of the puzzle to add to their already existing data management and M&E systems. From our nearly ten years of experience building program management solutions on Salesforce, we expect the PMM will shorten the timelines and reduce the upfront investment required to design, build, and rollout a Salesforce-based solution to manage and track service delivery.
4. It provides widespread possibilities for integration.
We've already spoken above to the complementarity and integration potential offered by the PMM and Amp Impact. We see great yin-yang potential for these two tools, as PMM data from frontline program delivery can feed into impact indicator results across geographic and thematic areas in Amp Impact.
Beyond Amp Impact, there are many other independent software vendors (ISVs) offering tools on the Salesforce AppExchange – from form builders to document generation to mobile data collection, providing you with a buffet of choices to cover all of your requirements. You could integrate the PMM with intake forms on FormAssembly, collect beneficiary survey responses using Salesforce Surveys, generate client printable profile PDFs using Conga Composer, map your program delivery data using MapAnything or Geopointe. The possibilities are virtually endless, and that's what makes the Salesforce ecosystem so powerful.

The PMM is also optimized to work with Salesforce.org's other new innovation – Case Management, which is a paid product that introduces a data model and features to create sophisticated case plans for individuals and track your clients' progress throughout their engagement with your organization.
5. It eases data entry for field practitioners.
A key feature of the PMM is Service Delivery Tracking and related data architecture. Think of services as your activities – whether that is delivering food parcels, running group sessions, or building homes. You may have multiple services in each of your programs, and you would want to see which of your clients receive which services over time. This can become a tedious, error-prone process for data entry personnel. If you are running after-school programs for children in different locations, for example, you may have hundreds or thousands of children for whom you want to capture attendance every day.

Enter the PMM Service Delivery Tracking functionality, which allows you to create Service Delivery records in bulk within a single user interface. Now you can quickly look up your clients, choose the program engagement that is relevant, and indicate their attendance or whether they have received a service at a given point in time. Then you simply add more clients in the same view, rely on the auto-save functionality, and quickly get a job done that may otherwise take hours.
6. It expands the conversation for nonprofits using Salesforce.
Salesforce is well-known for their community-driven ecosystem and the nonprofit branch of this ecosystem has always been the cornerstone of the NPSP. Every year, Salesforce.org hosts multiple
community sprints
to involve nonprofits, consultants, and ISV partners in contributing to ideation, prioritization, and development of their open-source solutions. This is a powerful instrument to ensure that these tools remain relevant to and updated for the organizations that already use them or may use them in the future. Furthermore, this approach allows for the contributions of a vast network of experts in different domains to contribute to both functional and technical assets.
If your organization uses the PMM, you will be sure to have a stake in the conversation about how the product grows and evolves, as with the NPSP. In fact, if you are already a Salesforce user, you can already follow and join the conversation in the
PMM Group in the Power of Us Hub
.
7. It's available at no extra cost.
One of the most attractive aspects of the new PMM is that, like its donation management counterpart, it is entirely free to use. If you're thinking, well that's great but I will still need to purchase Salesforce licenses, then you are right, but Salesforce.org offers nonprofit and education institutions 10 free Enterprise Salesforce licenses for life and further deep discounts on other Salesforce products! Also, the PMM (like Amp Impact) works on Salesforce Platform licenses, which are considerably less costly than the Enterprise licenses required for fundraising or case management functionality.
Start benefiting from the Program Management Module today!
The value-add of the PMM for nonprofits using Salesforce is clear and we're excited to see organizations start to benefit from this highly anticipated development. Now that there are some universal standards set for program data management, we expect to leverage the PMM with clients for whom it is appropriate and who haven't yet dived into managing service delivery data on Salesforce. We are particularly excited to see how the PMM can provide grassroots delivery tracking capabilities in conjunction with Amp Impact's portfolio-level impact measurement and program, project, and grant management functionality.
Contact us to learn more about how your organization can start benefiting from the new PMM.