Kai Cowger is a Consultant for Vera Solutions based out of Boston. Prior to joining Vera's North America team, he spent three years working in Uganda, first as a Global Health Corps fellow with the Ruhiira Millennium Villages Project and later as the Regional eHealth Specialist for sites across East and West Africa. Kai holds a Bachelor's degree in Biology, with a concentration in Community and Global Health, from Macalester College.
Since childhood, I have been fascinated with beauty. I find beauty in the way brush strokes pull and demand emotion, and the way harmonies heal and re-focus my mind. I find beauty in how flocks of starlings dance like a conductor's baton.
As a teenager, I began to record the beauty I saw in the world around me in countless journals. Naming and categorizing songbirds, emotions, places, and things. This process brought me out of the intangible world of metaphor, and into the world of science. Science, at its core, seeks to explain the state of our world today. That is what I had done my entire life; describing the world in all its beauty is, in fact, a form of science. Thus, during university I pursued a degree in Biology in an honest effort to gain a deeper understanding of my world and what I found beautiful.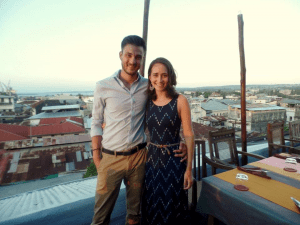 While firmly on the pre-medicine track, I realized I had borne witness to health disparities across the world — in India, for example, where I worked in a free HIV clinic for underserved populations — but never aided efforts to change the health climate of my local community. Therefore, in 2012, I joined, the Minnesota Department of Health (MDH) as an intern in the Vaccine Preventable Diseases unit. There, I supported epidemiologists in collecting data from physicians, school nurses, and parents about symptoms of pertussis that had swept through the suburbs of Minneapolis. It was there that my love of using data for social change began, albeit entirely by accident.
While at the MDH, I would make hundreds of telephone calls and faxes collecting data about the lives of children, in an attempt to pinpoint the timing and location of infection. Then, I would sit for hours on end, entering this data into a database. I loved the human aspect of this process — calling physicians and visiting schools. I was, after all, strongly considering medicine as a career. But I hated the task of entering data, for I saw nothing of the input and ultimately felt insignificant. The data I was collecting seemingly fell into an inaccessible black box, and I began to question whether the hours I spent on data entry were making an impact in my local community.
One day, a PhD student pulled me aside to ask if I would like to see her work on the pertussis outbreak in real-time. Unassumingly, I agreed and spent the next half of the day glued to her computer screen as she showed me time-lapse animations of the Twin Cities region. Data points on a map, representing positive cases of pertussis, danced around the screen, starting in small towns, traveling down major highways, and exploding upon reaching the city. Like blood passing through arteries and finding their home at the heart, the map used my seemingly insignificant hours of work to produce a mesmerizing, evolving portrait of pertussis in modern America.
This work supported the rapid response team at the MDH with the nearly real-time information they needed to find and vaccinate children in communities most likely to be affected next from the disease. By the end of my time at the MDH, I felt like I was able to make a positive contribution to my local community without necessarily being a practitioner. I then knew that public health was the field where I could achieve the most impact, especially if I utilized data and technology.
After graduation, these experiences led me to a three-year experience in Southwest Uganda. First, through the Global Health Corps fellow program, I worked as a Quality Improvement Coordinator of health data from clinics and community health workers (CHWs), and then as a Regional East and West Africa eHealth Consultant. My goal was to make sense of the millions of data points from health centers and community health workers that were sitting stagnant and unused. Frequently reflecting upon my time at the MDH, I did my best to create feedback loops, performance metrics, and visualizations of data that brought to life the voices of mothers, children, and communities hidden within Excel spreadsheets. They deserved to be heard and I knew I would devote my life to bringing a microphone to the communities that deserve to be heard the most.
Unfortunately, life-saving data in rural, hard-to-reach communities of Sub-Saharan Africa are often buried under the collapse of a weakened data infrastructure. Nurses report the lack of water at their health centers, but paper-based reporting structures lose this data within reams of paper in filing cabinets. CHWs report running out of anti-malarial tablets on their mobile phones, but lack of service and hard-to-interpret surveys result in the inability to save the lives of babies suffering from malaria. Like grains of sand tossed into the sky, voices crying out can be lost and muffled in the airwaves.
After years on the ground, what eventually led me to Vera was the realization that I could not improve an organization's data collection and use by myself. The scale of the challenges in our world require a conductor of much larger size and ability. I needed to build upon my strengths, learn new skills, and surround myself with individuals just as passionate, driven, and committed to making the world a better place. Vera brings together catalyzers from all walks of life to build systems that work. A snowflake is weak, but bind enough together and you have an avalanche. That is what we are at Vera; we are building an avalanche of social change by helping organizations that do good in this world become better at what they do.
We amplify impact. We put puzzle pieces together. We loosen the gears. And I think that's something beautiful.