Lexa Koenig joined Vera as a Fellow in July 2014. Since then, she has transitioned to a Consulting role and leads projects benefiting social impact organizations from Vera's Cape Town hub. Lexa strives to climb as many of Cape Town's beautiful hiking trails as possible in her free time. The interview below is the latest in an ongoing series highlighting our team's respective paths to Vera.
What led you to Vera?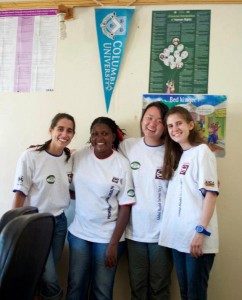 From a young age, I knew I wanted to work on issues related to inequality in an international context. During high school, I went on a group trip to rural Tanzania and that trip had a tremendous impact on me. I remember meeting students in primary school who were a little younger than my brother and feeling confused and upset by how little they had in comparison. It informed my view of inequality and helped me to better understand my role in the world. It also guided my path in college.
I went to university in the U.S., but was determined to contribute on a global scale. I volunteered with non-profit student groups, worked in a malaria research group, and took courses in global health and development. Of my university experiences, the most formative was my work with GlobeMed, a student-led non-profit that partners with local organizations addressing health issues in low-resource settings. As the co-president of the Columbia chapter, I became deeply involved in fundraising and worked closely with our partner organization in rural Uganda, which focused on HIV prevention and education.
After working with GlobeMed for two years, I visited our partner in Uganda and had the opportunity to interview community members about the organization's programming, as well as the changes they'd like to see in their communities. While it was clear that the partner organization was already thinking about data collection and management, the ways in which data was collected and analyzed seemed inefficient and, occasionally, lacked purpose. At the time, I could recognize our partner's data collection and management needs, but did not feel like I could provide them with a solution.
A few years later I came across Vera, which stood out as a place where I could build upon my data and technical skills, work with a range of organizations (some with very similar needs to the partner organization I worked with in Uganda), and make an important impact in the sector.
Are there people along the way that inspired you to go into the social sector?
I feel very fortunate that my parents showed my brother and me a world outside of our Connecticut town and always emphasized the importance of service in our lives. This was a common theme in my family: my great grandmother wrote a book about fundraising by mail and my mom worked for non-profits while I was growing up, teaching parenting classes. She eventually went on to become a therapist working with families in low-income communities. My parents always encouraged me to participate in community service.
When I was 13, I was actually required to do community service for my bat mitzvah. I worked at a school just 10 miles away, but it felt much more distant in terms of access to quality education and social services. I was an after-school tutor for six months and I remember being surprised by the different lives my students had only a town away. I credit my parents for encouraging me to contribute to under-served communities from a young age.
It sounds like service has been a core value for your family for generations. Have you ever been challenged on your path of service?
Definitely. When I was applying to jobs out of college, many people in my social circle were applying to jobs in investment banking or consulting, or following a more traditional pre-med/pre-law track. It was tough for me to veer away from that, not only because those careers provide clear-cut paths, but also because, from a societal perspective, those career pathways qualify you as a "successful person". That was hard for me, because I've always been driven to succeed and part of me sought that sort of validation from others.
I received some pushback from friends, and even family, for pursuing a "non-traditional" career in the social sector, but I ultimately felt (and feel) that if I wasn't going to be fulfilled by my work then what's the point of doing it? In the end, I realized there are three main criteria for what I want in my work life: 1) passion 2) impact and 3) life-long learning. Being at Vera has allowed me to tap into all three of these areas and I'm very grateful for the opportunities I've had here.