Lead developer and technical architect, Nadeem Shaikh, discusses his path to Vera's Mumbai hub. Before he developed the coding standards we live by, Nadeem was an independent branding and web presence consultant and also worked as a web solutions specialist. A Shah Rukh Khan fan who lives and breathes cricket, Nadeem received his MBA from IIPM. The interview below is the latest post in an ongoing series highlighting our team's respective paths to Vera.
What led you to Vera?
I was referred by a friend who was already working at Vera. It was a small office then and I was new to the sector, trying to understand how and why social organizations and non-profits use data systems. It was an interesting puzzle, one that I wanted to explore and learn more about.
Who inspires you?
My mom; her name is Nargis, which means a daffodil. Daffodils are the first flowers to appear as Spring strikes. Like a daffodil, my mother taught me to never be afraid to try something for the first time, even if the outcome was unclear. As years passed, I learned that it's a good feeling to be the first one do something successfully — and the first person to fail at something (Why not? It means you tried!).
Growing up, she taught me the value of treating people with respect and consideration, the importance of always striving to do the right thing, no matter what the obstacles are, and, most importantly, the value of failing. She would often say, "You are not meant to succeed all the time. Failure prepares you for success, so prepare yourself to cherish your failures more than you cherish your successes." Her teachings and guidance have motivated me to choose paths that allow for the maximum positive impact. When I read about Vera and met the people who worked at Vera, I realized that Vera's values resonated with the values that I wanted to inculcate into my professional life. Being a part of Vera gives me the platform to help make the world around me better byte-by-byte.
How do these values relate to your work at Vera?
At Vera, we work with organizations in the social sector. In my view, the reason it's called the "social sector" is because the people who work for, with, and in this sector are called to display a sense of respect, empathy, and companionship for each other. That's what we do at Vera: we work closely with our clients from the time they envision a data system, until their vision is turned into a reality, and beyond. It's important that each client relationship is built on trust and respect so that each and every client we work with realizes the care, effort, and intention that goes into each and every system we develop. We succeed only when our clients succeed, period.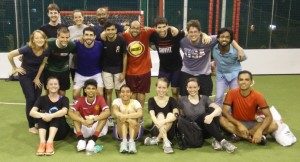 Is there a problem, local or global, that you really want to solve? How does this relate to your work at Vera?
I believe that technology, when developed with simplicity in mind, can be the greatest boon to an organization, its people, and its processes. I aspire to develop solutions that solve problems with simple and innovative technology. Yes, there are times when you need to develop a complicated piece of technology to solve a particular problem, but that doesn't mean that the end users need to feel, see, or experience this complexity. The art is to keep their interaction simple. This is what Vera Solutions allows me to do: architect, design, and develop solutions that solve some of the world's most pressing problems, such as:
Developing an integration that helps farmers save money to grow more maize in rural Africa just by sending an SMS;

Building solutions that help organizations track their impact and results across time, and around the globe; and

Bringing a system to life that tracks, manages, and measures boda boda leases in Uganda, which provides independence and job security to many families in the region.