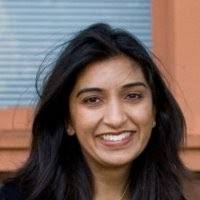 Vera Solutions is pleased to announce that Shalinee Thakur, a finance and strategy expert with over a decade of experience in technology for social good, has joined Vera's Board of Directors.
Shalinee has worked at the crossroads of Salesforce and social impact since 2009, when she first joined Salesforce.org's Finance and Operations team. In 2015, she moved from San Francisco to London to expand the reach of Salesforce.org's Europe, Middle East, and Africa (EMEA) division as VP of Strategy and Operations.
"Shalinee is a natural leader with a deep understanding of the operational and financial needs of mission-driven organizations," says Vera Co-founder and CEO Zak Kaufman. "We are thrilled to add her expertise to our Board and look forward to working with her to strengthen Vera's product growth strategies, financial systems, and operational efficiency."
Shalinee earned her MBA from the Marshall School of Business at the University of Southern California and her BA from UCLA. During her MBA, Shalinee was accepted to the competitive Broad Foundation summer residency, which placed her in a development and strategy role for Pittsburgh Public Schools. After completing the MBA, Shalinee's passion for community development only grew while working for NCB Capital Impact–where she created access to capital on low-cost lending projects in community health centers and charter schools–before joining Salesforce.org.
Meet the other members of Vera's Board.