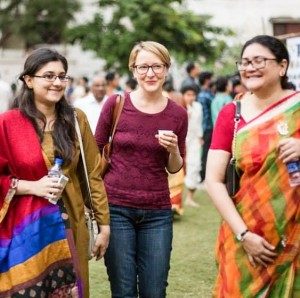 Vera is pleased to welcome Alethea (Tilly) Josephson as our India Country Director and the newest member of the growing Vera team. Tilly joins Vera from the Salesforce.com Foundation, where she was the Regional Lead for the Asia Pacific region, responsible for bringing salesforce.com's innovative 1/1/1 philanthropic model to life by leveraging its people, technology and resources to improve communities worldwide. In this role, Tilly worked with partners (including Vera) to enable nonprofits and social enterprises to design and implement powerful data systems, disbursed more than $5M in nonprofit product donations and regional grants, and led the Foundation's expansion across the Asia Pacific region.
Vera India Country Director, Tilly Josephson (center), at an event in Hyderabad with colleagues from Salesforce.com Foundation India.
"We're thrilled to have Tilly joining our team in Mumbai," said Vera CEO Taylor Downs. "Her deep knowledge of salesforce.com, strong management track record, and alignment with Vera's core values of innovation, social service, and critical thinking position her to take the work of our rapidly growing Vera India team to the next level." Tilly joins Vera with the full support of the Salesforce.com Foundation, with which she will retain close ties as we work to further our common mission of using technology to improve the efficiency and effectiveness of social service organizations.
"I couldn't be more excited about joining the Vera team," says Tilly. "I was attracted to Vera for its deeply ethical culture and thoughtful approach to helping NGOs and social enterprises operating in complex environments improve program delivery and better measure impact. Vera has an outstanding reputation for understanding clients' needs and finding the most cost effective, appropriate ways to collect better data. As the new India Country Director I hope to nurture and grow our team of talented consultants and force.com experts and to carry on Vera's tradition of excellence in providing best-in-class cloud and mobile solutions to more organizations improving lives and communities in India and throughout Asia."
Please join us in welcoming Tilly to the Vera community on Facebook and Twitter.