Coming out of Dreamforce '23, there's been buzz, curiosity, and confusion about the new Salesforce Nonprofit Cloud. Salesforce announced the suite of new industry products earlier this year and, this month, will release the final two modules. With many questions coming from the 50,000 nonprofits already using Salesforce and thousands more considering Salesforce, we wanted to share some of the ones we're getting asked most often about the new Nonprofit Cloud (NPC), what it means for Amp Impact, how NPC compares cost-wise to other Salesforce licensing options, and which products best fit the needs of different organizations. This piece doesn't focus on NPC for Fundraising because partners that are more focused on that domain will surely publish their own deep dive articles in the coming weeks.
It can be hard to cut through the noise and to navigate the universe of Salesforce products and licenses, so we hope the below in-depth FAQ helps. At Vera, we're committed first and foremost to amplifying the impact of the social sector, and that starts by ensuring customers are well informed in their technology choices. So we've worked to make this piece as thorough, informative, and clear as possible. Grab a coffee or tea and read on!
Salesforce for Nonprofits Strategy
1. Why is Salesforce changing its product strategy for nonprofits? Was there something wrong with NPSP?
Salesforce have pointed to (a) benefits in moving objects and features into the Salesforce "core" platform, (b) being able to innovate faster by leveraging "common components" used in other industries, like Public Sector, Higher Education, and Health, and (c) covering the whole 'nonprofit value chain' from fundraising to impact. The strategy also aligns with how Salesforce approaches other industries–like automotive, retail, manufacturing, etc–by providing templated functionality on-top of the core platform that tailors Salesforce to common use cases. Salesforce seems to remain quite positive about NPSP, recognizing it's a great product that's used by thousands of organizations.
2. Is Salesforce going to stop supporting NPSP, PMM, and Outbound Funds?
Salesforce has been clear that they will continue to support customers using NPSP, PMM, and Outbound Funds. That said, Salesforce for Nonprofits (aka Salesforce.org) is now directing innovation efforts into Nonprofit Cloud, so we expect NPSP, PMM, and Outbound Funds won't see much love when it comes to new features or enhancements coming from Salesforce. To borrow a quote from a recent presentation that Salesforce gave: "Nonprofits using these products can continue using these products."
3. What is Salesforce Nonprofit Cloud for Programs?
The first NPC product to get released in 2023 was Nonprofit Cloud for Programs. Blending the best parts of the PMM and the existing Public Sector Case Management Solution, NPC for Programs provides strong functionality for tracking participants, managing cases, creating care plans, conducting participant assessments, managing referrals, and more. The solution is particularly geared at Human Service organizations but can also be a fit for other nonprofits delivering programs to individuals or cohorts.
4. How does NPC for Programs differ from Amp Impact's program and project management functionality?
While the two products might sound similar based on their names and taglines, digging under the surface shows that, in fact, they are entirely complementary. Amp Impact is used for higher-level planning and management of programs and projects across their delivery lifecycle–from designing a Results Framework to building workplans to budgeting, allocating funds, identifying and managing risks, and monitoring progress. NPC for Programs, meanwhile, is used to track individual participants and cohorts, track their program participation and attendance, plan their care, and assess them individually.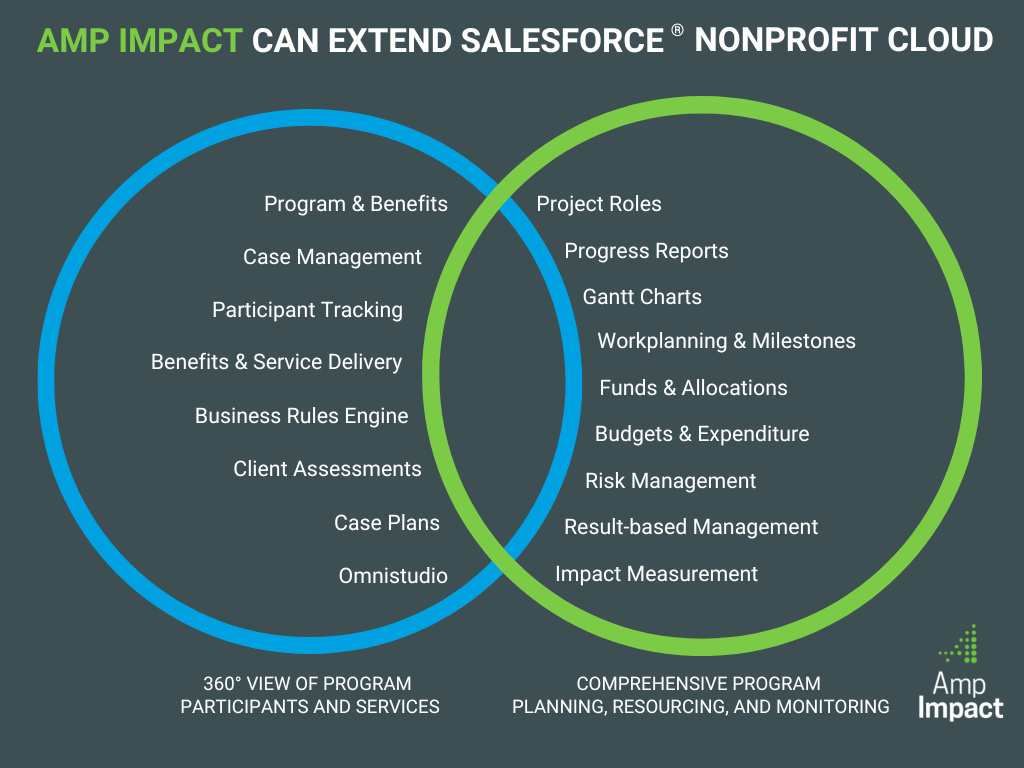 5. Do NPC for Programs and Amp Impact work together? Do I need one or both?
Amp Impact can extend NPC for Programs and vice-versa – the products are mutually compatible. Organizations using both Amp Impact and NPC for Programs can aggregate program engagement data from NPC to Indicators and Results managed in Amp Impact. They can also use NPC to track granular, participant-level delivery of projects and programs they've planned using Amp Impact. Think of Amp Impact and NPC for Programs like a mobile phone and a smartwatch – you can use them separately or you can connect them together and they enhance the value of the other. Smaller organizations managing one or more local programs likely don't need Amp Impact's program/project management functionality, while larger enterprise nonprofits may need Amp Impact but not yet be able or ready to shift all of their participant data management onto Salesforce.
6. What is Salesforce Nonprofit Cloud for Grantmaking?
Launched in July 2023, NPC for Grantmaking is actually Salesforce.org's fourth grants management product. It's sold separately from the rest of Nonprofit Cloud and designed for organizations that make outbound grants. Like all Salesforce-based offerings, it's flexible and configurable, and like all GMS solutions, it's designed to manage the grantmaking lifecycle.
One of our partners, Idealist Consulting, recently published a good piece summarizing the history of Salesforce's grantmaking products. In the 2010's, Salesforce positioned NPSP as a 'grants management' solution (in that you could configure grant management processes on-top of it). In 2019, they acquired roundCorner and, with it, roundCorner's foundationConnect product, which Salesforce recently announced they will retire in January 2026). In 2021, after recognizing the usability flaws of foundationConnect (antiquated code, built on the Opportunity object, unintuitive grantee experience, etc.), they announced the community-built Outbound Funds Module was coming into their suite of products for nonprofits, maintaining it as a free, open-source solution. Shortly after, they announced a new paid product, Salesforce Grants Management, which was essentially -Outbound Funds with a few Screen Flows on-top of it. This year, they've shifted gears and focused on the new NPC for Grantmaking product, leveraging work previously done in Public Sector Solutions and building into the core platform, as with the rest of Nonprofit Cloud.
7. How does Nonprofit Cloud for Grantmaking compare to Amp Impact?
In comparing any technology solutions, it's important to cut through the marketing noise and focus on three questions: Does this tool meet my needs today? (features, friendliness, security) Will this tool meet my needs in the future? (flexibility, interoperability, ecosystem, innovation) How much does the tool cost? (setup, licenses, maintenance) Some organizations might not have the time to do that homework or might rely on consultants to advise them, and there are some great consulting partners in the Salesforce ecosystem that can help with this. Worth noting that you can use both NPC for Grantmaking and Amp Impact together – it need not be an 'either-or' decision. Here's a balanced look at the two currently available products across these three questions (today, future, cost).
1. Today (advantage Amp Impact): Launched in July 2023, NPC for Grantmaking is generally less mature than Amp Impact. For simple use cases, NPC for Grantmaking seems a good fit (cost considerations notwithstanding). For grantmakers with advanced application and/or reporting processes, both products can work, but NPC for Grantmaking will require more customization than Amp Impact. When it comes to impact reporting, Amp Impact meets requirements out-of-the-box that otherwise would require heavy customization on NPC for Grantmaking. In other use cases, both products can meet a need in slightly different ways. To illustrate this, let's look at how each product solves for a common use case: the need for different application templates for different funding programs (see below).
In Amp Impact, this need can be met by a Grant Manager without relying on a Salesforce Administrator or Consultant for configuration changes. They can simply clone a Submission Template, modify the sections/questions as needed, and link the new template to their new Call for Proposals.

Here's a demo video

walking through the Submissions functionality, from Template to form completion.

In NPC for Grantmaking (or Outbound Funds), the Grant Manager will need to define the requirements for the Salesforce Administrator, then new fields need to be added, Screen Flows and Omnistudio components need to be updated, and the changes need to be tested and deployed before they're available in production.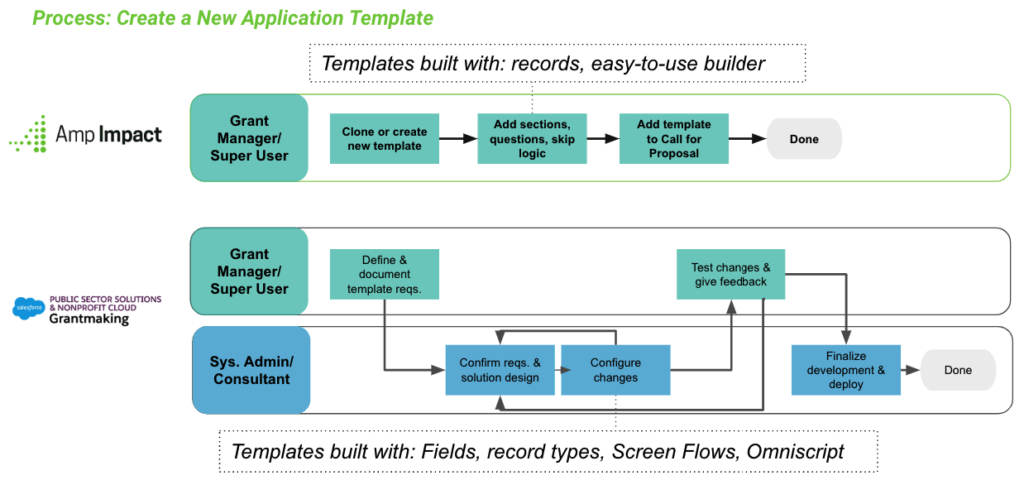 In this use case, the Amp Impact Submissions functionality (which can also be used for progress reports, due diligence, capacity assessments, etc) allows a business user to get a job done in 30 minutes that would otherwise take at least a day or two using NPC for Grantmaking. On the other hand, the industry common components allow administrators and consultants to configure solutions that might otherwise need 3rd-party apps. A good example is document generation – NPC for Grantmaking customers can generate documents like grant agreements using Omnistudio Document Generation whereas Amp Impact customers typically do so either with 3rd-party tools like PDF Butler or DocuSign for Salesforce.
2. Future (toss up): Both Amp Impact and NPC for Grantmaking are very flexible since they're built on the Salesforce Platform. Both also benefit from three major releases per year, with customers helping to inform the roadmaps of both products. For now, Amp Impact has a larger ecosystem of customers around it (over $9bn of programs and grants are managed on Amp Impact in 150+ countries); both have a good ecosystem of partners with expertise in grantmaking solutions–eg Exponent Partners, Idealist Consulting, Sputnik Moment, Vera Solutions. Salesforce has a larger engine behind it and an advantage in being able to build directly into core; Vera is smaller, arguably able to maneuver more quickly, and doesn't need to design for other industries' needs.
3. Cost (advantage Amp Impact): Whereas NPC for Grantmaking requires special licenses that are not available as part of the P10 license donation program, Amp Impact can work with any Salesforce licenses, including lower-cost Platform licenses. To illustrate the approximately 2x difference in license pricing, we can look at list prices for two different hypothetical grantmakers:
Small: 10 staff, $10M portfolio: Amp Impact would cost about $12,500/year (including SF licenses). NPC for Grantmaking would cost about $21,000/year.
Large: 50 staff, $150M portfolio: Amp Impact would cost about $54,000/year (including SF Platform & Experience Cloud licenses). NPC for Grantmaking would cost about $105,000/year.
It's of course important to get a sense of estimated setup and maintenance costs to make a fully informed decision when it comes to NPC for Grantmaking, Amp Impact, or both.
8. What is Salesforce Nonprofit Cloud for Outcomes Management?
The first release of NPC's new Outcome Management module (released mid-October 2023) provides a data model for Outcomes and Indicators as well as an Impact Strategy Omnistudio component that lets users visualize the relationship between Outcomes and Indicators. This came across as big news and got some primetime keynote attention during Dreamforce. For organizations unfamiliar with Amp Impact and those who hadn't yet considered addressing their monitoring, evaluation, and learning (MEL) needs with Salesforce, this may have been an eye-opener. In its first release, the product's functionality remains quite limited, but we expect Salesforce will build out more functionality in 2024.
9. How does NPC for Outcomes Management compare with Amp Impact?
The NPC for Outcomes Management data model is broadly aligned with Amp Impact's, though the terminology varies slightly. Organizations managing complex programs/projects across many geographies will likely find Amp Impact a more mature and better-fit solution for meeting MEL needs. Smaller organizations managing only a few programs and/or working in only one or two geographies likely don't need Amp Impact's more advanced functionality, and may find value in the NPC feature for designing an Impact Strategy. Nine of the notable current differences between the two products are explained below, though it should be noted that both NPC products and Amp Impact see continuous improvement through three releases a year and this comparison is focused on the products available in October 2023. Contact us if you'd like to walk through a more detailed breakdown or get advice on how to best meet your specific needs.
1. Granularity of Result records: In Amp Impact, Results and Targets are captured per Geography and can be further disaggregated by sex and/or other custom categories. NPC does not break down Indicator Results this way.
2. Hierarchical Objectives, Indicators, and Programs/Projects
Amp Impact provides the ability to nest Objectives under parent Objectives (eg Outputs under Outcomes), to nest Indicators under parent Indicators (eg from grouping Indicators together), and to nest Programs/Projects under parent Programs/Projects (eg for grouping Projects under a Program). NPC does not provide this functionality out-of-the-box, though it could be configured.
3. UI and UX for building a framework:
NPC provides a relational viewer to visualize linkages between Outcomes and Indicators, whereas Amp Impact provides a tabular view for Objectives, Sub-Objectives, and Indicators.
Amp Impact provides functionality for copying a framework from another program/project.
Amp Impact makes it easier to see Results vs Targets within a Framework.
4. UI and UX for targets and results:
In NPC out-of-the-box, targets and results need to be entered into via the native Salesforce interface (one pageload at a time). This may mean 50+ pageloads for a project, depending on the number of indicators.
In Amp Impact, Targets are entered across all Indicators and Periods for a Program/Project in an Excel-like tabular interface.
In Amp Impact, Results are entered across all Indicators for a Program/Project in an Excel-like tabular interface that auto-calculates sums and performance.
5. Excel download/upload
In Amp Impact, Targets can be entered into an Excel template and uploaded.
In Amp Impact, Results can be entered into an Excel template and uploaded.
NPC does not provide functionality for users to download/upload Outcome or Indicator-related data using Excel templates.
6. Aggregated and Calculated Indicators:
Results in Amp Impact can be auto-aggregated from any object in or connected to Salesforce. This feature was recently enhanced in the Amp Impact Kalausi release.
Results in Amp Impact can be auto-calculated from the Results of other Indicators (eg for composite indicators or calculated a ratio).
NPC does not offer auto-aggregation or auto-calculation of Indicator Results.
7. Experience Cloud compatibility:
Amp Impact is fully compatible with Experience Cloud (allowing Objectives, Indicators, Targets, and Results to be viewed and managed in portals by partners, grantees, or donors).
NPC for Outcomes Management is not yet available for external users in Experience Cloud.
8. Ability to break down Objectives/Outcomes:
Amp Impact provides the ability to breakdown Objectives with Activities, manage workplans in a Gantt chart, and identify/manage Risks for each Objective.
In NPC, Outcomes can be linked to Activities.
9. Terminology: These differences are largely immaterial. NPC terms are listed first, Amp Impact's second.
Impact Strategy vs Framework
Outcome vs Objective
Indicator Definition vs Indicator
Indicator Performance Period vs Target
Indicator Result vs Result
10. Did Vera know this Outcomes Management module was coming?
Yes – all partners were under NDA and thus could not speak openly about any of the new Nonprofit Cloud products until they were announced by Salesforce. Vera participated in the Partner Design Program–as one of a handful of partners invited to help inform the new Programs product–which Salesforce mentioned during the Dreamforce keynote. We did and continue to do our best to encourage Salesforce to steer its efforts into building products that are additive to the ecosystem, solving use cases not already solved by AppExchange products like Amp Impact.
11. If Salesforce has this Outcomes module, why would a new customer want/need Amp Impact? Is Amp Impact worth the investment?
In terms of features/functionality, there remain lots of reasons to invest in Amp Impact. Question 9 walks through the functional differences between NPC for Outcomes and Amp Impact when it comes to meeting MEL needs (i.e. UI/UX differences, ability for users to download/upload using Excel, ability to aggregate and calculate Results, ability to disaggregate, etc). Amp additionally provides functionality for program/project management that complements what NPC offers (see questions 4-5).
In terms of license costs, Amp Impact (when used on top of Platform licenses) typically ends up costing between 80% and 40% less than NPC.
In terms of risk mitigation, Amp Impact is more established and widely trusted at this point. It's worth keeping an eye on adoption of the new NPC products and how quickly Salesforce introduces new features in upcoming releases.
12. My organization is an Amp Impact customer, should we be moving to NPC for Outcomes?
As outlined in questions 5 and 7, all Amp Impact functionality works with NPC for Programs, Fundraising, and Grantmaking, so organizations that want NPC can continue to use Amp Impact for MEL while starting to use NPC for other purposes and access to industry common components. From what we've seen so far, moving MEL functionality entirely off Amp Impact to NPC for Outcomes Management would come with significant migration effort and significant trade-offs for end users. Read through questions 4, 6, and 9 for detailed breakdowns of key product differences – don't assume that Salesforce products are inherently more mature or advanced just because they're built by a bigger company. Reach out to your Vera Account Manager or Customer Success Manager if you have any concerns, doubts, or questions.
13. How much does Nonprofit Cloud cost and how does it compare to other Salesforce licenses?
As of October 2023:
The published price for Nonprofit Cloud Enterprise Edition licenses is $720 per user per year.
Salesforce Enterprise Edition licenses (without Nonprofit Cloud features but full NPSP, Sales, and Service Cloud functionality) sell for $432 per user per year.
Lightning Platform Starter licenses (which offer full platform functionality with up to 10 custom objects but not NPSP, Sales, or Service Cloud) sell to nonprofits for $72 per user per year. It's worth noting that these cheaper licenses work with many AppExchange products – for example, all of Amp Impact's features work with Lightning Platform Starter licenses.
So while Nonprofit Cloud comes with additional pre-configured features and access to the 'industry common components' (like Omnistudio), it does come with a higher price than standard Salesforce Enterprise Edition (67% more expensive) and Lightning Platform Starter (10x more expensive).
14. Are Power of Us license donations (aka P10 licenses) still available with Nonprofit Cloud?
Yes, 10 free licenses including Nonprofit Cloud for Programs can be donated to an eligible nonprofit. This is part of Salesforce's 1-1-1 model. Salesforce publishes information on the P10 application process and eligibility criteria here. Salesforce does not give donated licenses for Nonprofit Cloud for Grantmaking, so grantmakers should keep this in mind when making decisions about which product(s) to choose and forecasting costs.
15. Do Amp Impact users need Salesforce Nonprofit Cloud licenses?
No. All Amp Impact users do need a Salesforce license, but the most basic licenses (eg Lightning Platform Starter for internal users and Customer Community Licenses for external users) work fine with all Amp Impact features. Salesforce Nonprofit Cloud licenses also work fine with Amp Impact licenses. Amp Impact works with all Salesforce licenses, with standard 'Business Accounts', and with 'Person Accounts' (on which NPC is built).
16. Do Amp Impact objects count against Salesforce license object limits?
They don't! This means that users with, for example, the more basic Lightning Platform Starter licenses can have:
Full access to Amp Impact's objects and features for Program/Project Management, Grant Management, and/or Impact Measurement
Full access to Salesforce Accounts and Contacts (plus Chatter, Activities, Reports, Dashboards), and
Access to up to 10 additional custom objects
Access to other AppExchange apps
We'd love to help your organization make an informed decision around its technology solutions and which product(s) will be best suited to meet your staff and stakeholders' needs over the long run.
Zak Kaufman, Co-Founder and CEO of Vera Solutions. He's worked for 15+ years at the intersection of the social sector and technology, leading program evaluations in Southern Africa and Latin America and architecting M&E, grant management, and program management systems for 75+ funders and implementers. Zak holds a PhD and MSc in Epidemiology from the London School of Hygiene and Tropical Medicine and has been recognized as a Marshall Scholar, Truman Scholar, Forbes 30 Under 30 Social Entrepreneur, Global Good Fund Fellow, MO-100 Top Impact CEO, Bluhm/Helfand Social Innovation Fellow, and in the Meaningful Business 100.