Have you had a chance to read the recent announcement from Salesforce on the new Nonprofit Cloud for Grantmaking? As we've gotten hands-on with this new Salesforce.org offering, we have identified four ways in which Amp Impact can bolster Nonprofit Cloud for Grantmaking and provide organizations with opportunities to improve efficiency, gain insights into grant performance, and enhance the grantee experience. While Nonprofit Cloud for Grantmaking offers a step up from Salesforce.org's existing Grants Management and Outbound Funds offerings, Amp Impact solves numerous use cases and common grantmaker needs above and beyond what the Salesforce product offers, so it's important to understand how the two products can work together to provide the best overall solution for managing grants and collaborating with grantees.
1. Impact Reporting and Analysis
Amp Impact extends Salesforce Nonprofit Cloud for Grantmaking by providing outcome and impact reporting functionality that enables grantmakers to view the impact of their funding for a single grant, a grant program, or across their entire portfolio.
With Amp Impact's Impact Reporting functionality, grantees can set targets for grantmaker- and grantee-defined indicators during the application process, and then report results throughout the life of the grant. They can also use Excel templates to collaborate offline with others to finalize targets or results and then easily upload them back into the system. Grantmakers can use Salesforce reports or other data analytics tools to visualize indicator results by geography, sex, or other disaggregations, by program, or across their entire portfolio to get a holistic view of how their funding has supported important outcomes.
Amp Impact can further extend Salesforce Nonprofit Cloud for Grantmaking by enabling grantmakers to manage their program frameworks in Salesforce.
Using Amp Impact Frameworks functionality, grantmaking teams can define how their funding and other types of support to grantees will achieve their desired objectives, and can outline how they will measure progress towards these goals using indicators. They can identify how individual grants are contributing to some or all of these objectives, and track progress towards achieving them using grantee indicator results. Grant-level Frameworks can also be collaborated on by grantees using Experience Cloud.
Amp Impact's Risk Management functionality with Salesforce Nonprofit Cloud for Grantmaking, allows grantmakers to proactively identify and monitor risks for individual grants, a grant program, or across their portfolio.
Grantmakers can work collaboratively with grantees to identify risks and develop mitigation strategies to support grantees' ability to achieve their desired outcomes with the funding they've received. Amp Impact also facilitates setting risk appetite, assessing risks over time, and planning and tracking specific risk mitigation and response actions.
Amp Impact can also extend Nonprofit Cloud for Grantmaking by enabling organizations to easily manage templates for grant application forms, grantee narrative reports, assessments and evaluations, and other forms used throughout the grant lifecycle.
The Submissions functionality in Amp Impact provides a flexible form builder that non-system admin users can use to manage, clone, and modify form templates, facilitating quick template updates and flexibility across grant programs. Whereas most grantmaking systems (including Nonprofit Cloud for Grantmaking) require system administrators to make changes to form templates, Amp Impact's Submissions functionality is controllable by non-admin users, like Portfolio Managers.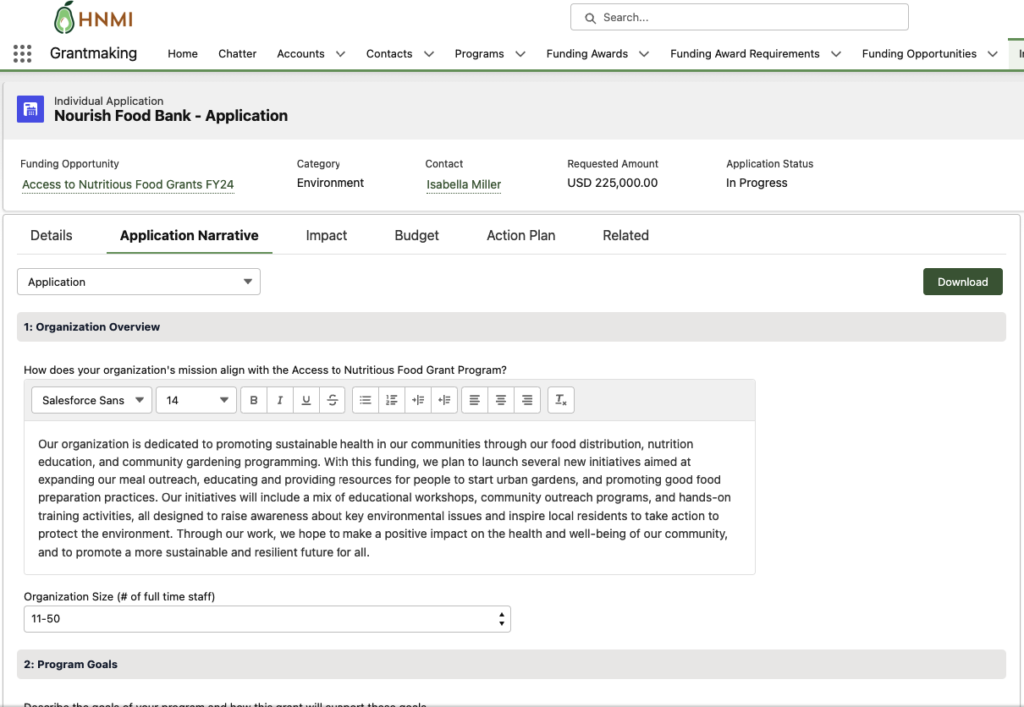 Amp Impact and Salesforce Innovations

As a Salesforce AppExchange Solution, Amp Impact already provides extended capabilities when integrated with existing Salesforce.org products, such as Outbound Funds, PMM, and NPSP. Salesforce's latest innovations for nonprofits, such as Nonprofit Cloud for Programs and Nonprofit Cloud for Grantmaking are no different. Amp Impact features are compatible with any standard or custom objects, so they can be used on Nonprofit Cloud products, other Salesforce.org products, or solutions built on the Sales or Service Cloud. Amp Impact's objects can easily be connected to Nonprofit Cloud objects to achieve a seamless experience for end users. All Amp Impact features are also fully available in Experience Cloud, so grantees and grantmakers can effectively collaborate on grant-level data.
It's worth noting that Amp Impact additionally integrates with all other Salesforce products, providing flexible options when deciding the best scalable solution suite.
Vera Solutions' commitment to continued alignment with the future of Salesforce Nonprofit Cloud
With over 12 years of experience working with nonprofits, Vera has been a leader in developing program management, grant management, and impact measurement solutions on the Salesforce Platform. In addition to accolades outside the Salesforce ecosystem, Vera was named Salesforce.org's Product Partner of the Year in 2019 and 2022 in recognition for the important role Amp Impact has played in advancing the ecosystem. Vera also received a Partner Innovation Award in 2021, in recognition for the company's commitment to equality and sustainable development. Currently over $9 billion of programs, grants, and projects are managed on Amp Impact, driving towards collective delivery of the UN Sustainable Development Goals. This figure is expected to grow to over $12 billion in 2023, and Vera remains committed to continually strengthening the product in collaboration with our partners and customers.
Vera Solutions' continued commitment to the Nonprofit Sector
As a long-time Salesforce International Impact Partner, and a Salesforce Summit Consulting Partner, we've been dedicated to the Salesforce ecosystem for 12+ years. We continue our commitment in aligning our innovation efforts with those of Salesforce in order to best serve the nonprofit sector. As such, we are constantly evaluating new features and enhancements to the Salesforce platform and how they can be leveraged to support our clients' missions.