In the pursuit of the United Nations' Sustainable Development Goals (SDGs), innovative approaches leveraging digital solutions and collaboration are essential. Amp Impact, a powerful platform built on Salesforce, plays a crucial role in providing organizations time-saving features and actionable insights to advance progress on the SDGs. This blog explores how Amp Impact empowers organizations across 150 countries, fosters collaboration, and contributes to sustainable development by tracking projects contributing to all 17 SDGs.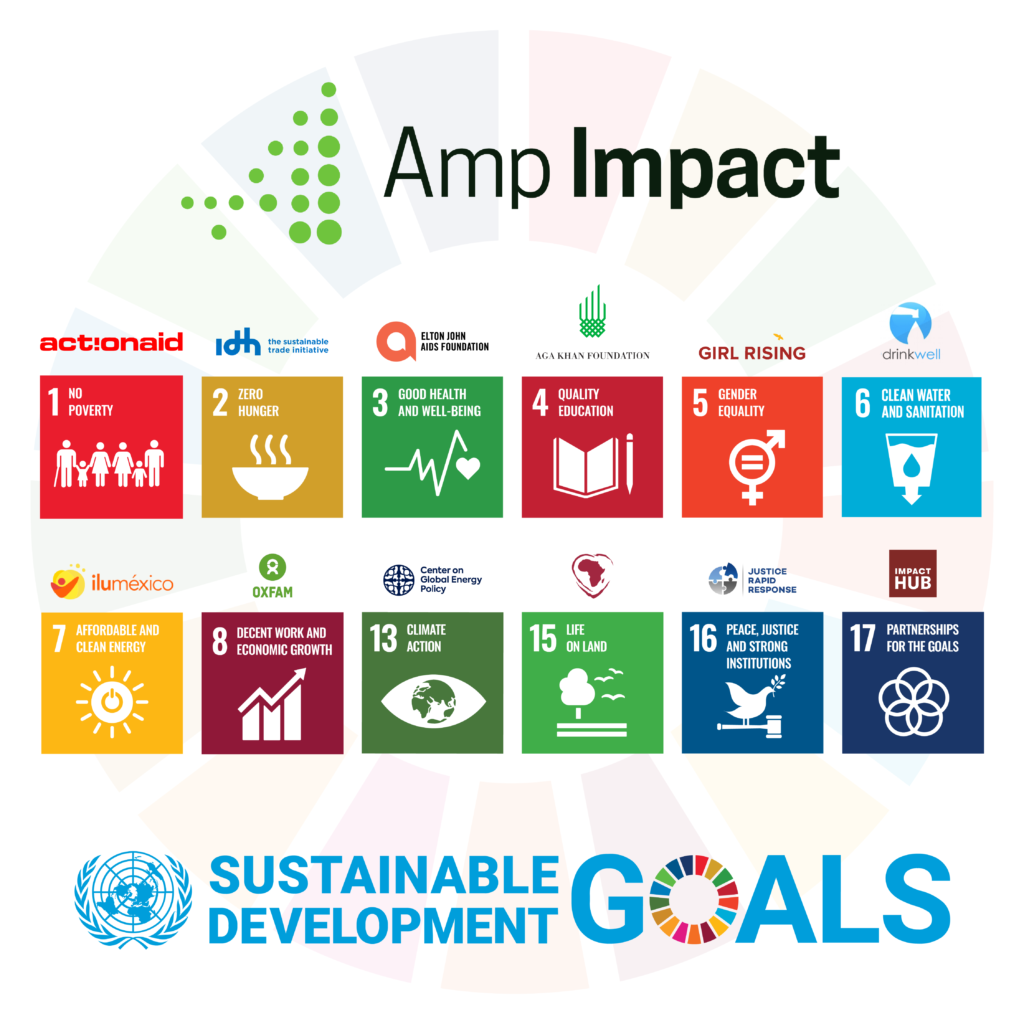 Digital Solution for Sustainable Development:
Amp Impact is a digital solution that enables organizations to manage, track, and measure their programmatic contributions to the SDGs. Built on the reliable and extendable Salesforce platform, Amp Impact offers a user-friendly interface that is accessible and available worldwide. With over 7,000 monthly users across 150 countries, Amp Impact has already demonstrated huge potential to drive sustainable development globally.
SDG-Aligned and Impactful:
Amp Impact's primary objective is to advance progress on the SDGs. By tracking project- and program-level contributions to the 17 SDGs, Amp Impact helps organizations keep an eye on progress while facilitating internal and external accountability. Perhaps Amp's biggest impact is in improving data access, ensuring staff at all levels have access to the data they need to make informed decisions. This, in turn, helps them design and run more effective projects and programs while also facilitating reporting and analysis.
Wide-Reaching and Scalable:
Scalability is a key feature of Amp Impact's effectiveness. Its adoption by 85+ organizations across 150 countries demonstrates its applicability and adaptability in diverse regions and sectors. Currently, Amp is used to track over $9 billion of programs annually, with that figure expected to more than double in the next year. Because Amp Impact is native to the Salesforce platform, its data model and features can easily be extended to handle organization-specific needs, like workflows, partner portals, analytics, and more. Since these configurations can be done on Salesforce with 'clicks not code', implementation and ongoing maintenance is less complex, risky, and costly than custom development.
Replicable and Multi-Regional:
Amp Impact addresses common challenges faced by organizations in their pursuit of sustainable development. As a solution that is relevant globally, Amp Impact can be comfortably used at all levels of an international NGO or multilateral organization – from field offices to country offices to regional bureaus to headquarters. This global relevance has made Amp Impact a reliable solution for large NGOs like Catholic Relief Services, and the Aga Khan Foundation. Funders like the Elton John AIDS Foundation, and Women's Fund Asia also use Amp Impact to streamline grantmaking and grantee reporting. It is actively used across all regions and has already been implemented in 150+ countries and in numerous languages.
Driving Collaboration and Transparency
The strength of Amp Impact lies in its collaborative nature, bringing together actors from global organizations across departments as they adopt a data-driven culture, standardize processes, and ensure data consistency for reporting purposes.
Bringing together a community of practice
The Amp Impact Community brings peer groups from diverse organizations together during bi-annual summits, both virtually and in person. Our Amp Impact Summits provide opportunities for organizations –of all sizes, across multiple regions and outcome areas– a space for connecting, sharing experiences, and learning best practices. Different perspectives, structured breakout groups, and comprehensive representation from multiple sectors bring new ideas to life. Read more about our latest Amp Impact Summit HERE.
Amp Impact saves social impact organizations time and headaches by providing a single, central platform for managing their program, project, and impact data (often in conjunction with their funding, fundraising, resourcing, or risk data). Users can connect projects or programs to the 17 SDGs and/or SDG targets they contribute to, align program strategy across geographies and departments, streamline their project lifecycle, and monitor performance using standard and custom indicators. Amp Impact aligns with the NGO reference model, was built in line with the Principles for Digital Development, and contributes significantly to the pursuit of a more sustainable and inclusive future for all.
Get in touch with us to learn more about how your organization can manage your program, project and impact data.