What a day last Friday's Amp Impact EMEA Summit was. Picture this: dozens of attendees from 20 organizations gathered 26 floors up at Salesforce Tower, enjoying an inspiring view across London, as they dove into an agenda that promised inspiration and innovation.
As a marketer, it's always a pleasure to provide opportunities for people to come together, collaborate, share experiences, and realize they are not alone on their journey.
This was one of those WOW moments. It could not have happened without the energy and excitement of a strong team of trailblazers dedicated to helping our customers reach their goals. My first shout-out goes to all the Verites at the event, facilitating our peer learning groups, guiding discussions, and getting ideas flowing.
My second shout-out goes to our partners, who supported us before and throughout the day, notably Salesforce: Tara Keogh, Mark Shoemaker, Michael Duggan, and Mike Wolff, as well as Christian Paré from Merkle and Elaine Chang from TaroWorks in facilitating our group discussions.
My last, but by no means least shout-out goes to Staci Frost and Nelien Ribeiro Coache from the Aga Khan Foundation who so very kindly shared their digital transformation journey with Vera and Amp Impact over the past 6 years.
All of this of course to set the stage for our inspiring, yet humble customers. Throughout the day, what struck me most was the passion to drive change through innovation. The desire to make a difference is one thing, the complexity behind it is quite another.
A final big big thank you goes to all our inspiring customers for making the time to come together with the aim of connecting, sharing, and learning.
"Let's do it again" - in-person collaboration for impact
There's something truly special about coming together face-to-face–especially after everything we all faced these last few years–to exchange ideas and forge meaningful connections that transcend virtual interactions. As we gathered at the 2023 Amp Impact EMEA Summit, the energy in the room was contagious.
Throughout the day, participants engaged in thought-provoking discussions focused on various aspects of Amp Impact as a product and digital transformation best practices more generally. From roll-out strategies to building a data-driven culture, every session provided valuable insights into harnessing technology to make our organizations more effective, efficient, and informed.
But it's not just about knowledge sharing; there was also an air of excitement surrounding peer group collaborations. Participants exchanged experiences, challenges and best practices related to system ownership, integrations with third-party tools, analytics, and visualizations – all aimed at maximizing their impact with Amp.
A Welcome, history of Amp Impact and the future with Vera Connect
The flow of the day at the Amp Impact EMEA Summit 2023 was carefully planned to ensure maximum engagement and collaboration. We started by setting the scene. Zak shared the history of Vera Solutions and Amp Impact, highlighting its journey from a idea sprung out of common needs observed across large NGOs to a powerful solution for portfolio management and impact measurement being used in over 150 countries to manage billions of dollars of development programs. Looking to the future, Zak summarized Vera's strategy as: Better, Bigger, and Beyond. Making our products Better; growing our community Bigger, and thinking Beyond–beyond Amp, even beyond Salesforce–to drive innovation for the sector. Salesforce.org's EVP and CRO Mike Wolff shared a few words about the importance of the Vera / Salesforce partnership and our shared commitment to helping customers strengthen the critical work their organizations do.
This was shortly followed by Meg sharing a glimpse into our new customer portal Vera Connect. Built on Salesforce Experience Cloud, the portal promises to enhance our customers' experience with Amp Impact even further, opening up new possibilities for learning, collaboration and innovation.
The transformation journey of the Aga Khan Foundation
Staci and Nelien from the Aga Khan Foundation gave an in-depth presentation about AKF's remarkable transformation journey using Amp Impact first for their Global Reach System to track the reach of AKF's programs across 18 countries and later for their Award Information Management System (AIMS) to overcome a number of challenges for pipeline and grant management. They gave a live demo of AIMS, which sparked great questions and showcased not only how Amp Impact features can be used for grant management but also how they can be extended with automation, analytics, and more.
The journey wasn't just about implementing new technology solutions but about organization-wide change. The Aga Khan Foundation understood that true transformation requires a holistic approach. They have been working closely with stakeholders at all levels to build a culture of data-driven decision-making and implement more effective ways of working together.
Through this collaborative effort, they have been able to standardize and streamline their pipeline process, cut across countries, units, themes, and implementing agencies. They also dramatically improved their reporting capabilities for a deeper and more accurate analysis. By continuing to leverage Salesforce and Amp Impact, they are working to standardize and streamline their grant management process and integrate their system with other platforms.
This transformation journey serves as an inspiring example for organizations looking to maximize their potential through technology adoption. By embracing tools like Amp Impact, nonprofits can unlock new possibilities for collaboration across sectors while driving positive change in our world.
Working through the product roadmap and ideation sessions:
The product roadmap serves as a guidepost on this journey towards transformational change. It outlines key features and enhancements that Vera is prioritizing for expanding Amp Impact's functionality and value to meet evolving needs in the nonprofit sector.
Working through the product roadmap and ideation sessions is always an exciting and collaborative process. We encouraged out-of-the-box thinking and welcomed innovative ideas from all participants. These sessions provided a platform for individuals to share their visions for Amp Impact's future direction.
During these sessions, we delved into various Amp Impact functional areas (Indicators, Frameworks, Workplans, Budgets, etc). We discussed new features that can enhance its capabilities, improve user experience, and ultimately drive greater impact for our clients. From automation to reporting functionalities to AI, all ideas were carefully considered and evaluated.
Through collaboration and open dialogue, we uncovered unique perspectives that will shape the roadmap ahead, taking into account feedback from our clients, partners, and industry experts to ensure that Amp Impact remains at the forefront of technology for good.
As we worked through these roadmaps and ideation sessions together with our clients and partners at the summit, we fostered a sense of shared ownership over Amp Impact's development. This collective effort ensures that our solution remains relevant, impactful, and aligned with the goals of those who rely on it most – nonprofits making a difference around the globe.
Peer Group Collaboration Round One
One of the highlights was the first Peer Learning Group session. It provided an opportunity for participants to come together and discuss various topics related to implementing Amp Impact. The discussions focused on Rollout and Change Management, MEL and Indicator Management, Logframes and Results, Program and Project Management, as well as building a Data-Driven Culture.
During these sessions, participants shared their insights, challenges, and success stories when it came to implementing Amp Impact in their organizations. The diverse perspectives brought forth different approaches and strategies that proved valuable for everyone involved.
The discussions around rollout and change management shed light on effective ways to

introduce new technology within an organization. Participants talked about the importance of clear communication, training programs, and stakeholder engagement throughout the process.
MEL (Monitoring, Evaluation & Learning) and indicator management were also key areas of focus during these conversations. Attendees shared best practices for defining indicators that align with organizational goals while ensuring local ownership and accurate data collection methods.
Logframes (Logical Frameworks) are essential tools in planning projects effectively. Participants discussed how Amp Impact supports this process by providing structured framework functionality for setting goals, objectives, outcomes, outputs, and activities.
Program and Project Management topics explored how Amp Impact can streamline processes such as budgeting, resource allocation, timeline tracking, and activities monitoring. Attendees exchanged experiences on leveraging features like dashboards, timelines, and Gantt charts, to optimize efficiency in managing a portfolio of projects or programs.
Lastly, in building a data-driven culture, attendees discussed the importance of top-down stakeholder management as well as challenges with change management, training and overall ownership across organizations.
Participants highlighted examples where they used Amp Impact's reporting capabilities to inform strategic decisions, such as identifying trends, prioritizing interventions, and measuring impact over time.
The emphasis was not just on collecting and managing data, but utilizing it effectively to drive positive change and productive stakeholder engagement, from donors to program managers to beneficiaries.
Peer Group Collaboration Round Two
During the second round of Peer Learning Group discussions, we covered areas such as long-term system ownership and governance, integrations with third-party tools and mobile data collection tools, analytics and visualization, outgoing grant management, and connecting with ERP systems.
During these sessions, participants had the opportunity to share their experiences and insights on how they have tackled challenges related to these aspects. It was interesting to see organizations brainstorming innovative solutions and sharing best practices with each other.
One key takeaway from these discussions was the importance of long-term system ownership and governance. Organizations recognized that sustainable impact requires a continuous commitment to managing their technology platforms effectively. They discussed strategies for ensuring ongoing support, training, and maintenance of their systems.
Integrating with third-party tools and leveraging mobile data collection methods emerged as another crucial topic. Participants explored different ways to streamline data collection and aggregation processes while maintaining accuracy and efficiency. They shared success stories of implementing mobile technologies in remote areas where access to traditional data collection methods may be limited.
Analytics and visualization was also a hot topic. Organizations emphasized the need for actionable insights derived from data analysis in order to inform decision-making processes effectively. They exchanged ideas on creating meaningful dashboards that provide real-time updates on program performance, as well as different tools currently used and what could be possible in future with AI.
Outgoing grant management received significant attention as well. Participants discussed strategies for streamlining grant application processes, tracking funds disbursed accurately, monitoring project progress efficiently, and evaluating outcomes effectively.
Connecting ERP systems with Amp Impact was a topic that sparked great conversations among attendees. ERP integration allows organizations to ensure smooth and efficient data flow between financial management systems, program / project / grant management systems, and impact measurement systems. Key areas identified included data and process ownership, governance, and cross-functional collaboration.
The feedback from our customers at the Amp Impact EMEA Summit 2023 was overwhelmingly positive, with many people saying 'Let's do it again.'
Everyone who completed the survey felt their goals of attending the event were met. Key goals included networking with peers, sharing their goals and experiences, and learning from other organizations how they are using the platform.
The Aga Khan Foundation's journey was extremely relevant to attendees, which had been quite clear as the session was extended with numerous practical questions from attendees about AKF's various stages of implementation and growth.
The main highlights of the peer group discussions were related to MEL, Indicator Management, Results & Logrames, Rollout and Change Management, Systems Governance, Work and Resource planning, Analytics and Data visualizations as well as financials.
One of the most common responses was the value of transparency and openness from all organizations in sharing what works and what challenges are experienced. Many recognized their own organizational challenges in hearing from peers.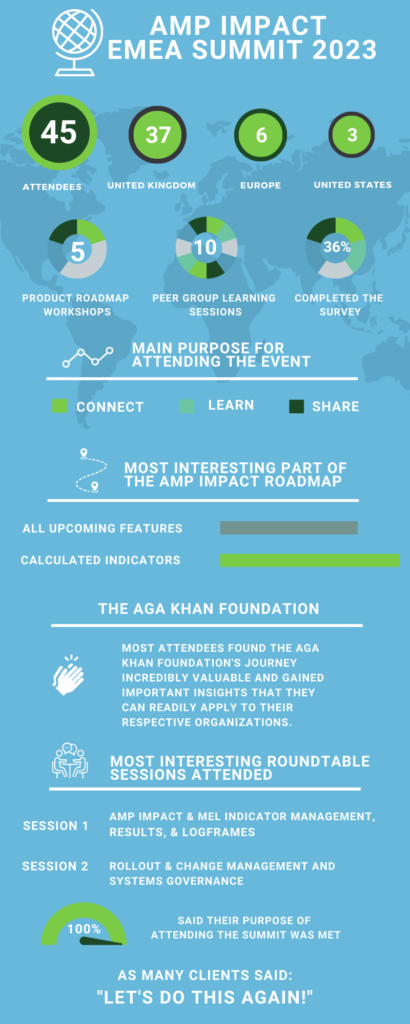 Cannot wait to do it again
It was heartening to witness firsthand our clients sharing their success stories with prospects and with each other. It speaks volumes to the strength of the platform, the community, and the potential for further impact. The enthusiasm in their voices when they said "You should be using Amp Impact" spoke volumes about how this platform has made a difference in their work.
With such positive feedback from customers at our summit, we are excited about what lies ahead for Amp Impact and look forward to future events where we can continue connecting with clients and partners alike.