This week, Vera is celebrating International Women's Day by highlighting the work of some of our partners who work to advance the rights, health and livelihoods of women and girls around the world. Today, we're profiling I-Care, an organization working to improve women and girls' access to menstrual hygiene management in East Africa.
In Kenya, many menstruating girls miss three to five days of school each month because they can't afford effective sanitary pads. Without knowledge about healthy menstrual hygiene practices or the means to implement them, women and girls lose the ability to conduct their daily lives with confidence. I-Care produces high quality, affordable, and reusable sanitary pads and provides training to equip young women and girls to live freely and take charge of their lives.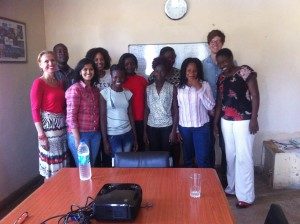 I-Care and Vera are currently building a web and mobile application that will efficiently track and manage the distribution of pads in schools and work spaces around Kenya. On a recent visit to their Kisumu headquarters, we spent time with I-Care's dedicated staff, tracing the pads' movement from stockroom to customer, learning about warehouse procedures, taking a deep dive into sales processes, and visiting a local school during a pad distribution day.
The application we're building will provide the data management and analysis tools I-Care needs to scale effectively. I-Care is already doing amazing work, and we can't wait to see the how the system helps them scale their operations further. Please support them at www.icarepads.com.