In May 2013, the U.S. Pharmacopeial Convention (USP) established the Center for Pharmaceutical Advancement and Training (CePAT) in Accra, Ghana. Through CePAT, USP aims to improve access to quality medicines in Sub-Saharan Africa. To this end, staff conduct trainings for local regulators and industry and also provide quality control testing services to assist government institutions, manufacturers, and distributors in ensuring the quality of pharmaceutical products.
Results of studies like the 2010 Survey of the Quality of Selected Antimalarial Medicines Circulating in Madagascar, Senegal, and Uganda underscore the vital importance of battling counterfeit medicines in this region. In this survey, 44 percent of Senegalese, 30 percent of Malagasy, and 26 percent of Ugandan samples failed to meet quality standards.
"With the center, we want to bring the opportunity to improve local quality assurance systems by training national regulatory agencies and quality control professionals so they can fight the problem of fake and substandard medicines in a sustainable way," said Dr. Patrick H. Lukulay, Vice President of USP's Global Health Impact Programs, when CePAT launched.
From the outset, USP recognized that rigorous data collection and impact monitoring should be central pillars of CePAT's processes. USP reached out to Vera to build a monitoring system that would provide a foundation for its expanding programs.
"Early on, we saw the importance of establishing a program that recognized the value of good data," said USP Development Manager Brent Keener. "So we wanted to set up a data system in parallel with the center's operational activities to ensure that the impact of the programs could be effectively measured."


TRACKING PROGRESS OF CEPAT TRAINING PARTICIPANTS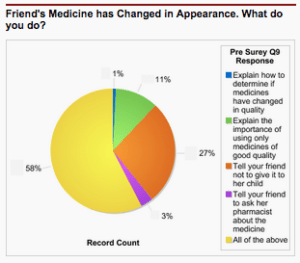 CePAT receives applications to participate in its capacity-building training programs from regulators, quality assurance authorities, and other key players in pharmaceutical management across sub-Saharan Africa. The Force.com system Vera configured helps streamline the application processes. During recruitment and training, CePAT collects a variety of information on applicants and eventual participants, who range from government officials to employees of pharmaceutical companies. This data is entered into the system to catalogue participant information.
Once accepted, participants attend trainings on quality control, good manufacturing practices, dossier evaluation, and medicine registration. These courses help trainees prevent counterfeit medicines from entering their markets and identify when they have. At the beginning and end of each round of training, USP surveys participants to determine whether they've mastered the material that enables them to be an effective first line of defense against counterfeit medicines.
USP staff use the Force.com application to track information about participants and their performance in CePAT training modules, allowing USP to monitor participant progress.

MONITORING AND TRACKING QUALITY OF MEDICINE
Additionally, Vera designed the system to track results of quality control tests administered by CePAT's quality control staff. The staff assess medicine samples from a range of manufacturers and international organizations, including the Ghanaian Food and Drug Authority. These tests determine the identity, content, and quality of medicines being manufactured in or entering local markets. This information informs the potentially life-saving recommendations USP makes to regulators, distributors, and government officials in sub-Saharan Africa.

"We know our program is really young," said Mr. Keener. "But by tracking CePAT's work from the beginning, we are able to show the center's growth to USP headquarters, as well as show the world the valuable work we are doing."
Tracking each of these tests in USP's Force.com system allows Accra-based and global USP staff to monitor trends in quality of specific medicines from specific sources.
"CePAT has quickly become a regional leader in providing capacity building and technical assistance in the quality control of pharmaceuticals in Sub-Saharan Africa," Mr. Keener said. "As such, USP hopes to amplify the center's influence across the continent, as well as globally, and the system Vera has provided has allowed CePAT to track its progress and report trends back to USP and other interested stakeholders. Without this system, the center would not have been able to operate with such legitimacy and esteem."