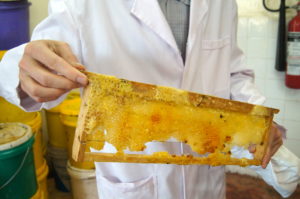 More than seventy-five percent of Kenya's population lives in rural areas, where many families rely on smallholder farming for both food and income. Honey Care Africa is a social enterprise working throughout East Africa to help smallholder households increase their incomes through commercial honey production. Working with both traditional beekeepers and smallholder farmers, Honey Care provides access to the loans, training, and markets necessary for farmers to start their own profitable beehives.
Through its Business in a Beehive program, Honey Care provides farmers with microloans and materials to start producing honey for a guaranteed commercial market. The organization then purchases the honey from its farmers, deducting a small amount for each harvest in repayment for the initial loan. Honey Care transports the honey to Nairobi, where it is processed, packaged and sold for commercial consumption. The two brands of honey produced by Honey Care's more than 5,000 farmers can be found in grocery stores throughout East Africa, generating an estimated $100 and $200 in additional income annually per farmer.
To monitor its producers' hives throughout Kenya, Honey Care employs hive technicians who visit each farm and record information on the health of the hive. Data from these inspections were recorded in notebooks before being transferred to a form that was then emailed to Honey Care headquarters and entered into an Excel spreadsheet. In addition to the lag time created by this multi-step process, Honey Care headquarters had almost no way to check or verify the information they were receiving, making errors nearly impossible to catch. Although field staff were the initial point of contact in generating leads with new farmers, leads were vetted by the staff at Honey Care's headquarters, meaning that the handoff between field and headquarters staff happened over cumbersome email exchanges and text messages.
Tracking each individual farmer's loan repayments was even more difficult to accomplish manually. Each time a hive technician collected honey from a farmer, s/he had to manually deduct the farmer's repayment amount from the cost of the specific harvest. Because the amount deducted depended on both the size of the loan and the size of the harvest, this calculation was different for every farmer. "Even within the spreadsheet, to get the level of granularity that I wanted to have was very difficult," said Head of Field Operations Alexei Bezborodov. "We had no capacity to manage all that data." Honey Care needed a system that would allow them to integrate all of the information about their sales and loan repayment processes in one place.
Vera worked with Honey Care to create a Force.com-based application that could manage each part of their sales process, including vetting farmers and tracking loan repayments as well as periodic inspections to monitor the health of each hive. Instead of paper and a notebook, Honey Care's hive technicians now use the TaroWorks mobile application, a mobile survey and data collection tool that integrates directly with Salesforce, to record the data from each hive inspection via mobile phone. Each survey includes a GPS tag that gives Honey Care managers the ability to see exactly which farms their agents were able to visit and better plan collection routes. Honey Care's system automatically calculates how much each farmer owes on their loans and deducts that from the cost of their honey harvest, simplifying honey collection and loan payments. "Without our system we really couldn't do loans," says Bezborodov.
Additionally, TaroWorks has allowed Honey Care to automate its lead generation process. "Now, a member of our field staff generates leads, creates lead forms in TaroWorks, and then assigns that to a staff member to vet," said Bezborodov. "We can go from lead generation to registering a new hive seamlessly."
Most importantly, Honey Care can now shift its focus from just trying to process loans and leads to answering more critical questions about their programs. Not only can they see exactly how much income they are generating per farmer in real-time, but Honey Care can compare different regions and hive technicians to identify possible reasons for differences in the harvests. "I'm looking into the future and thinking, what more can we do?" said Bezborodov. "We have such a great platform we can build on."