Have you ever thought of coming home to no toilet? Today, 2.4 billion people lack access to basic sanitation services and more than 40% of the global population remains affected by water scarcity. Water scarcity, poor water quality, and inadequate sanitation are among the largest causes of disease in the world and they negatively impact livelihood choices, educational opportunities, and food security. According to the
United Nations
, "access to water and sanitation is a foundation for development towards health, equity, gender equality, and education."
Goal 6
of the Sustainable Development Goals (SDGs) lays out the development community's target for 2030: to achieve universal availability and sustainable management of sanitation and water.
Lima, the second driest capital in the world, is a long way from fulfilling the United Nations' ambitious goal. In the city's peripheral human settlements, approximately 2 million people do not have adequate access to basic sanitation. And, families residing in settlement areas (categorized as illegal structures by the Peruvian government) do not have access to adequate infrastructure or state resources, such as a functioning sewage system.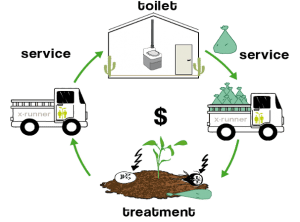 Under precarious yet long-standing living conditions, many households cope by making use of alternative solutions, such as bucket latrines and pit holes. While these practices satisfy some basic needs, they are often hazardous to households: they fill up quickly, pollute the soil and the water, can cause damage to the foundation of the house and may facilitate the spread of diseases. Such problems aggravate the pre-existing economic distress and social stigma associated with living in Lima's human settlements. Fortunately, x-runner's trucks are racing around the city to change that.
x-runner Venture is a social enterprise that delivers hygienic in-home sanitation in the peripheral areas of the Peruvian capital. X-runner installs portable "dry toilets" in houses without access to sanitation, followed by weekly pick-ups and long-term customer care. More cost-effective than building latrines, the x-runner model reduces the smell and the proliferation of insects, while improving hygiene standards within the home. x-runner's most recent satisfaction surveys reveal that their in-home sanitation systems are truly making a difference in people's lives:
93% of users say that their quality of life has improved since they began using the service

82% of the surveyed subscribers plan to continue using dry toilets in the long-term
To date, x-runner has accumulated more than 3,600 happy users. But how do they register new customers, monitor payments, and track their impact? Since its founding in 2010, the social enterprise managed their operations through a variety of online and offline systems, including paper forms, the Open Data Kit (ODK) Collect mobile app, Excel sheets, and Google Drive, making it difficult to monitor customers reached and user satisfaction. With the demand for x-runner's services on the rise and a growing number of dry toilets installed, the team needed a centralized system to track and manage their operations.
How technology supports x-runner's business from end-to-end
To meet x-runner's needs as a growing social business, Vera Solutions developed a centralized, cloud-based data management system that now serves as the operational backbone of the organization. Now, the x-runner team can access the same information across the organization whenever they need it.
From logistics to user management, x-runner's new Salesforce system is designed to track and simplify every step of their operations. Custom Salesforce objects allow the x-runner team to manage their business from end-to-end. Let's follow Paula, one of x-Runner's sales managers, as she navigates their Salesforce platform:
When a new customer signs a contract with x-runner, Paula uses

User Management

to convert a potential into an active customer and assign her/him a service plan. Based on the Service Plan that s/he selected, Paula can define how often this customer's waste will be collected.

A few days later, Paula wants to know at what stage of the households services her new user is. By clicking on the

Services

module, Paula can see whether the toilet has been installed and if the customer has received technical assistance or additional customer service.

Meanwhile, on the ground, the x-runner staff pairs smartphones with

ODK

, an offline data collection tool. Using barcode technology found on each installed toilet, the team is able to (i) identify which customer they are serving and (ii) register information such as the state of the bucket. Following the customer visit, the information logged via ODK syncs to x-runner's Salesforce system as soon as the phone is connected to the internet. Paula can then access this information from her office to estimate usage and evaluate whether the assigned service plan is meeting the user's needs.

Impact measurement is a key part of the x-runner model, and Paula wants to know whether the new toilet contributes to the family's well-being. Every time a toilet is installed two offline

Surveys

are completed. Using an offline survey tool called

Formyoula

, x-runner captures socio-economic information about the household, as well as information about the installation of the toilet, including materials used, the unique code of the toilet installed, and more. Paula looks at the Dashboard of the week's installations, as well as an aggregate of survey responses with relevant socio-economic information about new customers.

x-runner's system was built in Spanish, so Paula and her team can enter and view all information directly in their operating language.
With a centralized data management platform now in place, x-runner's race for universal sanitation just received a long-term boost.