West Africa Vocational Education (WAVE) is helping West African youth take their first steps on the road to a successful career by providing them with the vocational training and guidance they need to secure a job in an unwelcoming economy. WAVE was founded in 2013 by three MBA students at the Harvard Graduate School of Education in response to the growing unemployment epidemic leaving 50 million young West Africans without stable incomes. "A broken education system has failed to teach youth the skills that employers want and need—leaving an entire generation unprepared and unemployable," explains WAVE Strategic Programs and Business Intelligence Lead, Michael Ibonye. "By unleashing the full potential of our youth, we can improve their livelihoods, boost our economy, and build a brighter future for West Africa."

Over the past four years, WAVE has provided vocational training to more than 1,300 young men and women, of which 70% have been placed in entry-level jobs earning an average salary of 30,000 Naira (approximately 83 USD). An intensive three-week program, WAVE Academy prepares hardworking youth with the skills and resources they need to excel in the workforce. WAVE recruits participants for the program by following a cutting-edge Emotional Intelligence (EQ) testing process. Once talented candidates are selected, they are enrolled in a curated training program where they learn essential employability skills related to problem-solving, customer relations, systems thinking, crisis management, cash management, and effective communication. WAVE then leverages its partnerships with hundreds of industry-leading employers to connect top-tier alumni with quality jobs. After the completion of the program, WAVE continues to provide alumni with career support to maximize their job performance and ensure that their needs as employees are met.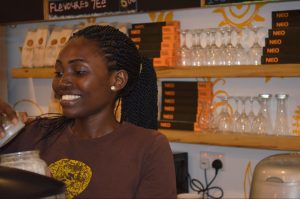 WAVE's progress to close the skills gap for job seekers is measured using data collected throughout the admissions, training, and career placement phases. The quantitative and qualitative data they collect includes recruitment testing results, admissions interview notes, program performance indicators — attendance, participation, test results — and both alumni and employer testimonials following job placement. The data collection and monitoring process used to be time-consuming, labor-intensive, and ineffectual as WAVE staff members relied on paper forms and Excel spreadsheet to record data and typically transmitted information from department to department via frequent phone calls and in-person meetings. Because the WAVE team found this type of data capture and tracking to be largely laborious and disorganized, they made the strategic decision to partner with Vera Solutions in hopes of transitioning from Excel to a cloud-based data management system.
Salesforce and Effective Data Management

Not only is the seamless accumulation of data beneficial for the WAVE staff to evaluate the success of their program, it also keeps their funders and board members informed with the most up-to-date and accurate information regarding the program's impact. With Salesforce, the WAVE operations team can run and analyze reports and create customized dashboards — all with the click of a button. In the past year, WAVE has generated reports related to "Number of Unemployed Youth Who Participated in WAVE Academy," "Network of WAVE Employer Partners by Job Sector," and "WAVE Alumni Employment Status One Year After Program," as can be seen in WAVE's 2016 Annual Report. These reports help the WAVE team determine what is working within the Academy and where there are deficiencies so that they can maximize the program's effect on the lives of young West Africans.Vera was able to leverage Salesforce, the world's leading cloud application development platform, to build a centralized data management and monitoring system for WAVE that would allow them to collect and track their data more effectively. By investing in a customized data management system, WAVE can now streamline their data related to recruitment, vocational training and career services, as well as store all of the information on the cloud.

After implementing their new centralized system, the WAVE team noticed immediate improvements in the collection and organization of data. Ibonye shares, "Information used to live in several Excel spreadsheets and it was difficult to keep track of incoming data. But with Salesforce, all information now lives in one place and everyone at WAVE — regardless of department — can access it at all stages of the process." The ability to store information on the cloud eliminates hours of unnecessary phone calls and meetings and creates more transparency within the organization.

WAVE Moving Forward

Building on the momentum WAVE has gained in the past year, the team intends to advance the capabilities of their data management system. Specifically, WAVE's operations leads are currently looking into adding a headshot feature so that employers who are looking at a trainee's records can match a name to a face, much like LinkedIn. They are also considering expanding Salesforce to include the corporate training division to create more in-depth revenue reports for the organization. As the team continues to evolve their flexible Salesforce system to fit their evolving needs, they are confident that their mission to amplify the potential of young West Africans and close the opportunity gap will be reached.