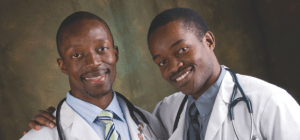 Lwala Community Alliance (Lwala) is a community-led innovator in rural western Kenya, proving that when communities lead, change is drastic and lasting. Lwala was founded by Milton and Fred Ochieng' – brothers from our community – who catalyzed neighbors to build the area's first hospital. Lwala co-runs this community hospital with the Ministry of Health and provides technical assistance to two lower-level government facilities. Core to our model is a robust Community Health Worker program, which was created from a preexisting cadre of traditional birth attendants. We track and support every pregnant mother, child under 5, and individual living with HIV in a population of 30,000. We look at the social determinants of health and conclude that it is not enough to provide stellar healthcare, so Lwala also catalyzes community effort to transform homes, fields, and schools.
Because of the success of this model, Lwala has been approached by Migori County, which represents 1 million people, to help develop its community health strategy. Over the next 5 years, we plan to partner with the Ministry of Health to design and implement a community-based strategy to impact how 1 million people access healthcare.
Lwala's Technology Challenge and Solution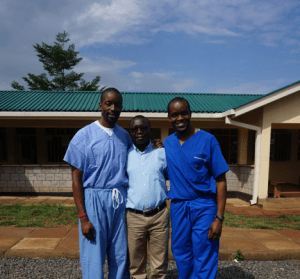 In the early years, Lwala's data capture and management structures developed gradually alongside our burgeoning programs. Staff created Excel spreadsheets to record and track performance on specific health and education indicators. Though the aggregated data we collected in these spreadsheets could provide us with total figures for participation and service provision, we struggled to understand individual involvement across our programs. By 2014, the number of clients receiving services from Lwala had more than doubled and activities at Lwala had expanded beyond the hospital to reach community members at home, school, and on their farms. The growth intensified the need to evaluate Lwala's impact on the community at an individual level – tracking every man, woman, adolescent, and child.
With the ability to track information at the most granular level, Salesforce was a natural fit for a new data management system at Lwala. The customizable, cloud-based platform enabled Lwala users in Kenya and the U.S. to share data, reports, and dashboards. An intuitive user interface eased staff training, with unique controls to restrict access and protect sensitive information. Through generous grant support from the Segal Family Foundation (SFF), Lwala partnered with Vera Solutions in February 2015 to develop a Salesforce system strategically adapted to Lwala's organizational structure and long-term goals.
Lwala's Salesforce system was designed as a hierarchy and the initial system development focused on the existing maternal and child health outreach program, where Community Health Workers enroll pregnant women and young children under 5 into home-based care. The care includes monthly household visits to monitor health progress, home-based diagnosis, treatment and education, and health facility referrals as needed. Within the system, that information capture became Person records for individual beneficiaries, who are then assigned to Households associated with one of ten locations within Lwala's catchment region. Beneficiary person and household records reflect enrollment in Lwala programs, participation in activities, and receipt of services. Additional functionality provides a human resource module to staff records.
In August 2015, Lwala launched SIMBA, our Salesforce Information Management and Beneficiary Access system, to track each woman and child under five enrolled in this program. When a woman is enrolled, a new household record with a unique 4-digit household code is created in SIMBA. Two new person records—one for the pregnant woman and one for the unborn child—are then created within that household record. Using the unique household code, data collected by CHWs on antenatal care visits, deliveries, immunizations, child illnesses, WASH (water, sanitation and hygiene) compliance, and client status are then entered and tracked in SIMBA.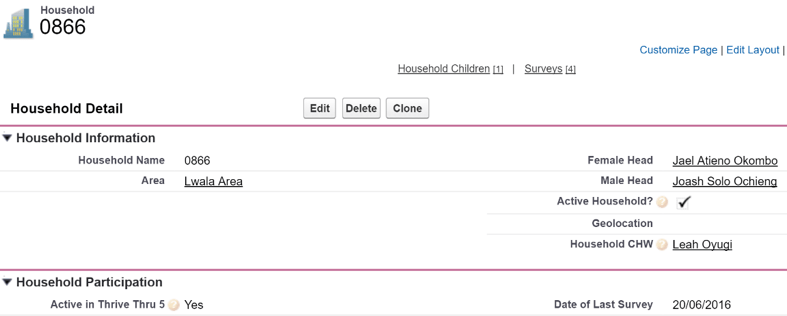 Benefits of Salesforce
The reporting and data visualization capabilities of Salesforce have provided immense value to track program indicators and demographic trends and needs of the local population. Lwala staff now use SIMBA as a tool to strategically target programmatic efforts. For example, a report on teen pregnancies highlighted geographic locations and seasons of the year with the highest rates of teen pregnancies. With this information, staff now know where and when to structure preventative programs targeting teen pregnancy. Lwala's M&E team continues to encourage adoption of the system by all program staff so that such reports and dashboards can both ease and enrich the work they are already doing. With support from Vera, Lwala staff make adjustments or additions as needed to objects, fields, and workflow automation, to enhance the system's value. At the organizational level, leadership staff in Kenya and the U.S. now have a robust tool that bridges international boundaries to assess program performance, make highly informed strategic decisions, and share results with external audiences.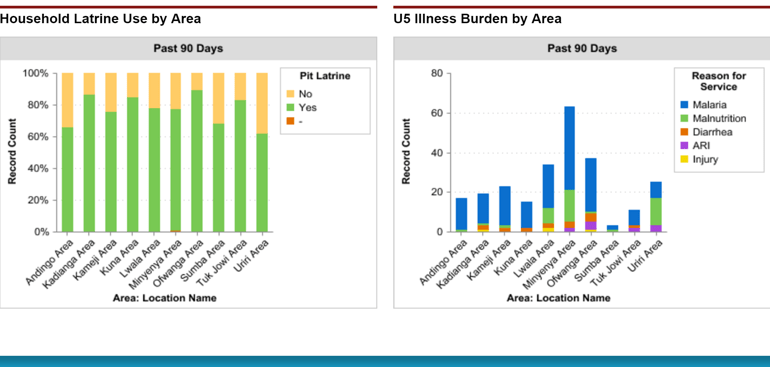 The Future of Salesforce at Lwala
To date, Lwala has shifted to track a quarter of both its program beneficiaries and key data points in SIMBA, and we aim to increase that percentage over the next couple years. We are in the last stages of building out the system to track data on HIV-positive individuals enrolled in our community-based HIV and WASH program. In conjunction with this program, Lwala is piloting mobile data collection (via simple Android tablets)—a new frontier for the strategic use of the Salesforce platform. Moving away from paper forms to tablets will allow us to respond to urgent cases in real-time, continuously analyze trends, and shift staff time from data entry to caring for community members.
In line with Lwala's mission to holistically serve and promote the comprehensive well-being of its beneficiaries, we ultimately see SIMBA capturing 100% of Lwala's data collected in the community. In the near future, we plan to link our data in SIMBA with the data in our hospital's electronic medical records system so that each patient can receive the most individualized care possible, whether at the hospital or in the community. We also plan to integrate our educational and economic programs into SIMBA over the next two years. In that same period, we will partner with the county government on their community health strategy and anticipate building out SIMBA accordingly.
Beyond that, Salesforce will become a powerful tool in engaging the Ministry of Health and reaching our ambitious goal to influence health access at a systems level. We will partner with the government on their community health strategy and anticipate building out SIMBA in line with their needs and the evolution of government electronic medical records.
We have no doubt that Lwala and SIMBA will grow together as our needs change and our geographical boundaries expand. Through such a functional and interoperable system, Lwala is gaining a clear understanding of the impact our programs have on each and every individual, thereby strengthening our capacity to provide high quality, community-wide care and support.
This post originally appeared on Salesforce.org.