Oct 28, 2021 – Vera Solutions and NetHope today announced a new partnership to advance the future of impact data. For the past 11 years, Vera Solutions has worked with 350+ orgs across 70+ countries to strengthen systems for program management, grant management, and impact measurement. NetHope, meanwhile, unites the world's largest nonprofits with technology innovators worldwide. Together, Vera and NetHope both work to make the nonprofit sector more efficient and effective. Over the next year, NetHope, Vera, and others will start to convene a working group focused on advancing the accessibility, quality, usability, and value of impact data.
Having worked with numbers of NetHope members over the years, Vera Solutions is proud to join NetHope and its 60 humanitarian NGO members in propelling innovations around impact data. Other NetHope technology partners include Salesforce.org, Microsoft, Box.org, and Cisco.
Vera will engage in four sessions at the upcoming NetHope 20th Anniversary Summit. The sessions will explore topics such as collaboration between IT and MEL departments, impact data governance and protection, and impact data sharing and publishing.
Read more about and sign up for these sessions below: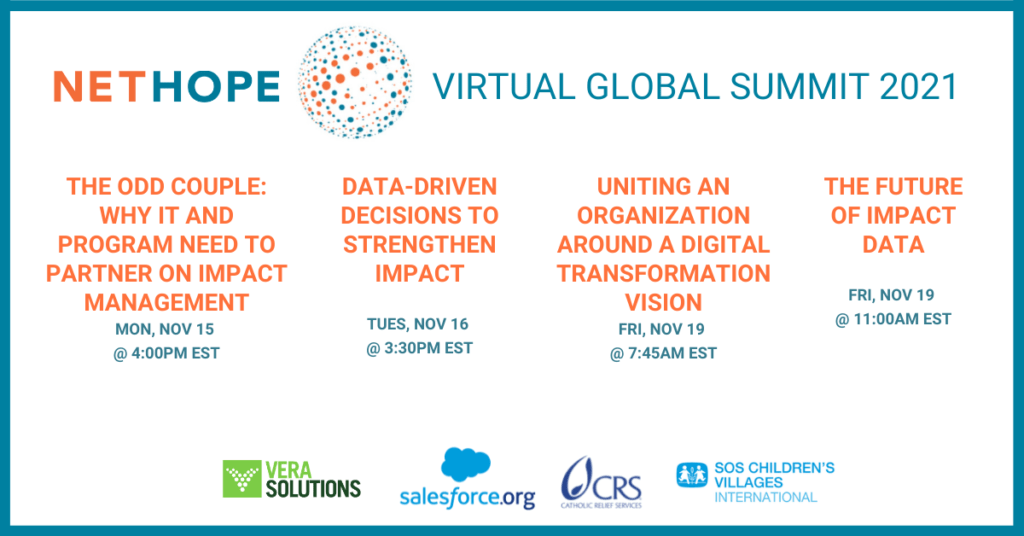 1. The Odd Couple: Why IT and Program Need to Partner on Impact Management (15 Nov, Mon): Leaders in the field will share about the strategies they use to drive greater partnerships with their program partners, discuss how technologists can drive the digital transformation of their programs, and the importance of technology in impact management.
2. Data-driven decisions to strengthen impact: How Catholic Relief Services uses their Gateway data management system to drive decision making (16 Nov, Tues): From getting data into stakeholders' hands across all levels of the organization to driving data analysis and intelligence, we'll deep dive into the role the CRS Gateway system plays in changing daily behaviors to enhance program effectiveness and organizational impact.
3. Uniting an Organization around a Digital transformation Vision (19 Nov, Fri): This roundtable discussion will shed light on CRS' and SOS CVI's learnings from landing executive change and managing internal stakeholders to addressing scope creep and aligning on a project governance structure.
4. The Future of Impact Data (19 Nov, Fri): This workshop will provide a space for organizations to share challenges and learnings on how they're tackling challenges at the intersection of technology, M&E, and program management. We'll collectively envision the future of humanitarian impact data and identify efforts the sector can take to accelerate progress in this arena.
The summit will convene 1300+ professionals around the world in 100+ sessions covering the following themes: Delivering New Impact, The Power of Partnerships, Digital Action for Climate, Sustainability, and Resilience, and more.
While the humanitarian sector has made tremendous progress over the past decade in moving from paper to mobile data collection and from documents to databases, Vera Solutions and NetHope look forward to helping the sector realize the full potential of cloud-based technology platforms for impact data.
About NetHope
NetHope empowers committed organizations to change the world through the power of technology. NetHope, a consortium of 60-plus global nonprofits, unites with technology companies and funding partners to design, fund, implement, adapt, and scale innovative approaches to solve development, humanitarian, and conservation challenges. Together, the NetHope community strives to transform the world, building a platform of hope for those who receive aid and those who deliver it. Learn more at https://nethope.org/.
About Vera Solutions
Vera Solutions is a global social enterprise and Certified B Corporation® providing cloud and mobile solutions that help social sector organizations better track their impact, streamline their operations, and create feedback loops that put data in the hands of those who need it. Founded in 2010 out of a health education nonprofit in South Africa, Vera Solutions is inspired by the organizations and individuals we work with – social sector professionals who crave more information that's both reliable and easy to use. We launched Amp Impact in 2017 as a common denominator solution for nonprofits, grantmakers, and impact investors to better understand their impact and drive more efficient, cost-effective programs. Amp Impact is now used globally in more than 100 countries to manage data for over $1.5 billion in development programs and grants. Learn more at https://ampimpact.org/.