This post originally appeared on
Salesforce.org
and is republished with permission.
By: Willy Oppenheim, Founder and Director of
Omprakash
Omprakash works at the intersection of technology, higher education, and international development to create mutually beneficial relationships between individuals and grassroots social impact organizations in over fifty countries around the world. Organizations ('Omprakash Partners') working in the fields of health, education, economic development, and environmental sustainability use the Omprakash platform to recruit talent, raise funds, and connect with each other. Meanwhile, university students and other individuals use the platform to find international volunteer and internship opportunities, receive accredited online training and mentorship, and crowdfund to support their costs of travel or the social cause of their choice. What very few of these users realize is that almost all of these services and functionalities are powered by Salesforce.
A fully web-based nonprofit founded in 2004, Omprakash started using Salesforce in 2014 with the support of Vera Solutions. Two years later, it is exciting for me, as Omprakash Founder and Director, to share with the Salesforce community how Salesforce has transformed and enriched the work we do.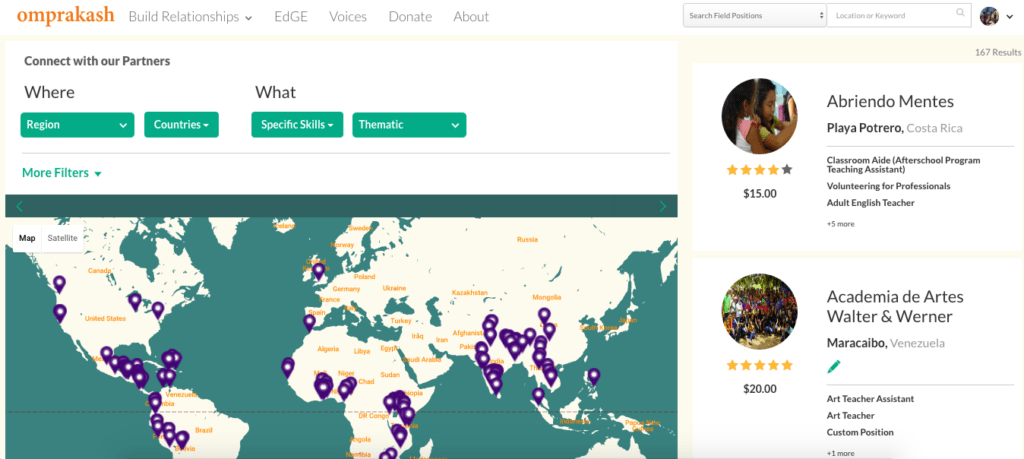 Omprakash has always been heavily reliant on digital technology for managing internal operations as well as providing key services to its users. We have never had a physical office or even a filing cabinet, but digital products such as Google Drive, Paypal, and various email-sending services have been critical to our operations since the very beginning. However, by 2014 it was becoming painfully apparent that we needed a comprehensive solution which could integrate data from across multiple platforms and user types. At this point we were processing hundreds of applications from prospective Partners, thousands of new user registrations, and over a million dollars of donations per year. We were also in the midst of launching Omprakash EdGE, our customizable online learning platform for outgoing volunteers and interns. We began to experiment with using Salesforce as an all-in-one solution for tracking user activity, sending automated emails, powering our online learning platform, and managing internal reporting and communications within our admin team. From that point until the present, we have never looked back!
To give you an idea of the many different ways that we rely on Salesforce for our daily operations, I will present a few examples of user interactions on our website.
First, let's consider what happens when a grassroots social impact organization is applying to become an Omprakash Partner. When a Prospective Partner submits an application via our website, a customized Salesforce integration creates a new 'Account' record in Salesforce. This triggers a confirmation email to the applicant, as well as automated emails to the past volunteers whom the applicant has listed as references. When those references submit their recommendations in favor of the applicant, this updates the Account record and triggers a notification to our admin team that the application is ready to review.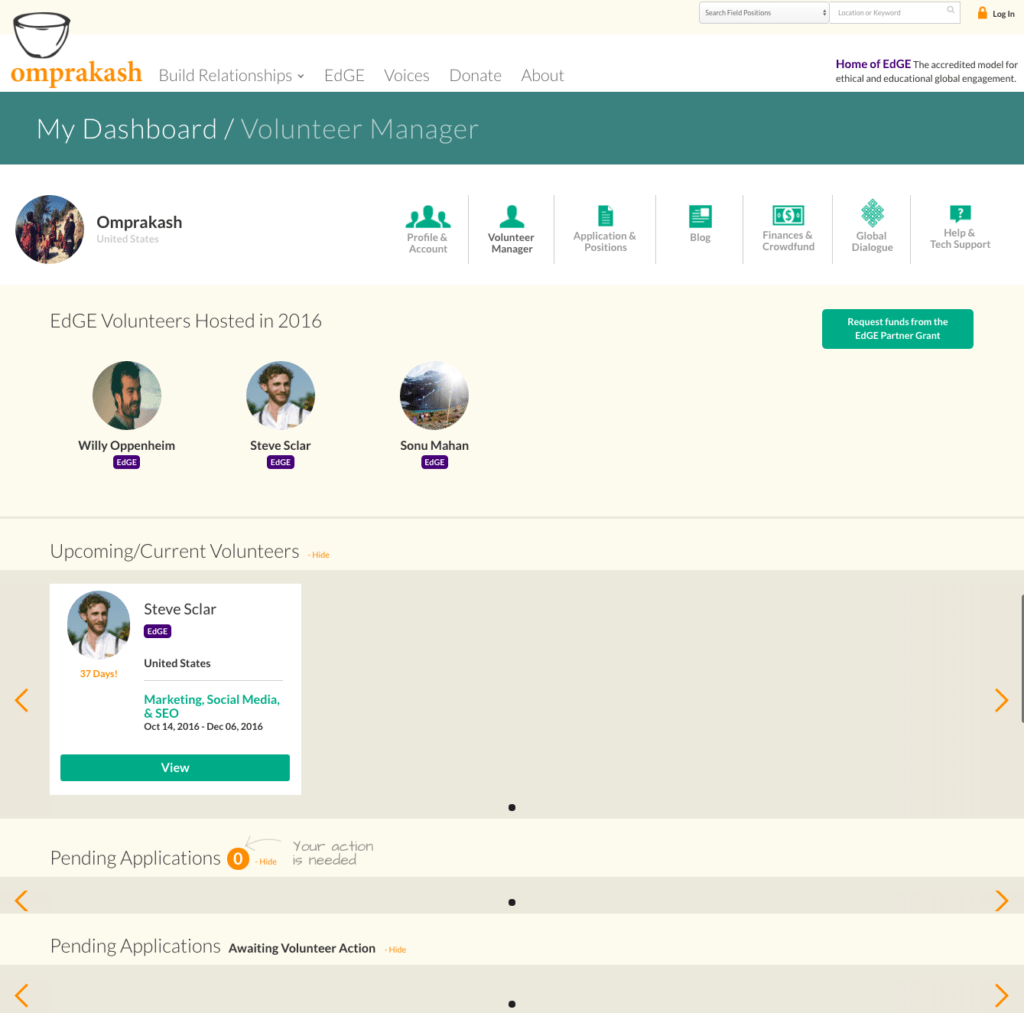 Now let's suppose that our admin team approves this application and welcomes the organization into our network of Partners. This will trigger a welcome email to the organization, and staff members of the new Partner will be able to access their Omprakash Dashboard, as shown in the image below. The Dashboard allows Partners to update their profiles, post positions for which they are recruiting volunteers, manage applications from prospective volunteers, keep in touch with past volunteers, and more. All of these actions push data to Salesforce, and trigger emails accordingly. For example, when a prospective volunteer applies to work with a Partner, this creates a new record in Salesforce, and triggers a notification email to the Partner. If the Partner chooses to accept or reject this application, or to send a direct message to the applicant, these actions update the record in Salesforce, and trigger email notifications to the applicant accordingly.
Now let's suppose you are an Omprakash Partner seeking to raise funds for a new initiative, or you are a volunteer seeking to raise funds to defray the costs of your upcoming travel. The Omprakash platform will allow you to create a customized crowdfunding campaign, and as tax-deductible donations come in from your supporters around the world, all of this transaction data pushes to Salesforce and triggers campaign-specific email notifications to you and your donors. When it comes time for you to request a balance transfer from your Omprakash Dashboard, this, too, triggers a notification via Salesforce. What about after an Omprakash admin sends you your money? You guessed it: the balance transfer is recorded in Salesforce, as are the receipts that you post in your subsequent expense reporting. All of this data allows Omprakash admins to track finances and ensure accountability and transparency across the diverse Omprakash network.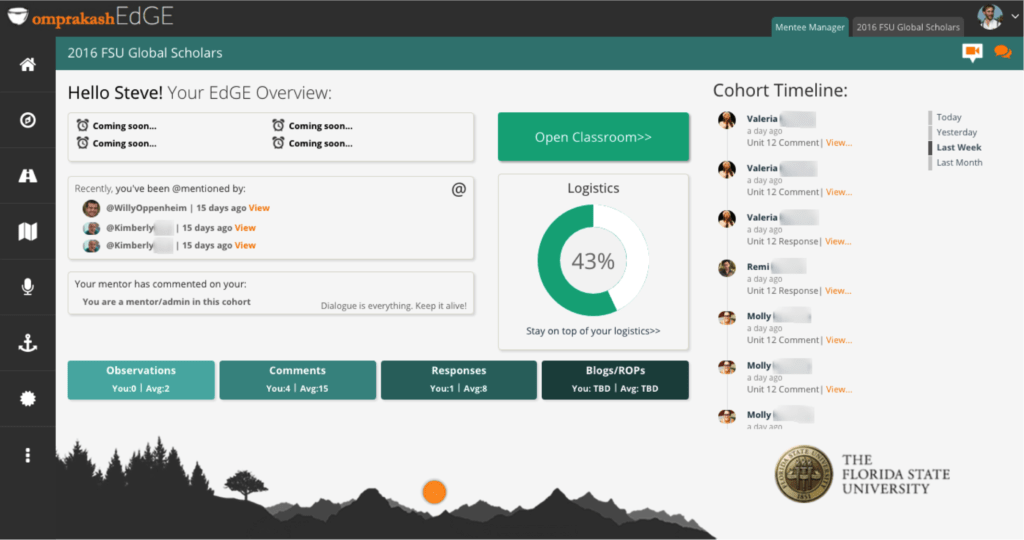 Within the EdGE classroom (see right), students engage with multimedia content and experience the peer-to-peer learning model which is central to our pedagogy. Salesforce underpins the entire program: it allows us to track student activity and deliver comprehensive reports to our university partners, but also, and even more importantly, it sends email notifications to students and mentors to keep them engaged in classroom dialogue. In other words, Salesforce allows us to translate our ideals of dialogue-driven pedagogy into real user experience and measurable student learning.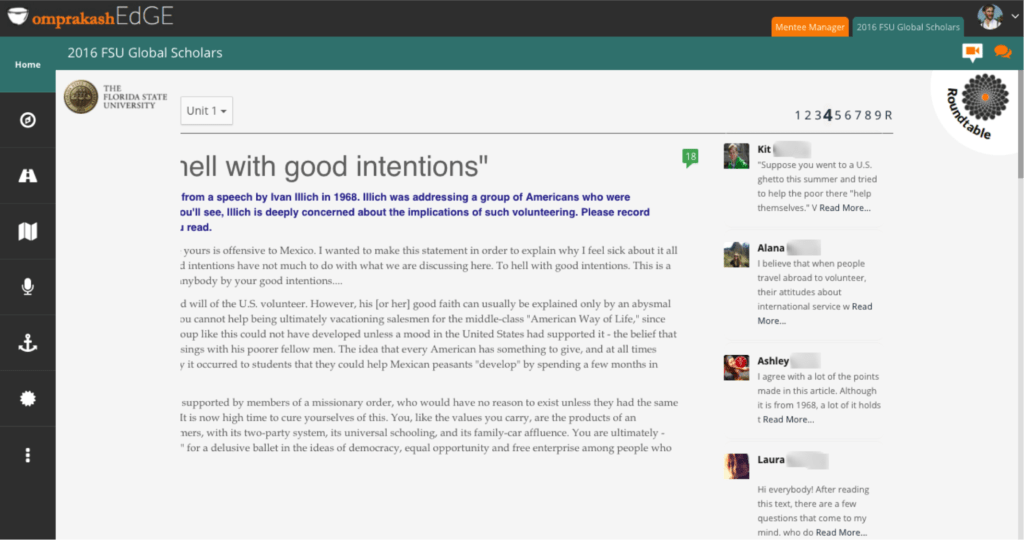 The robustness of our EdGE platform has allowed us to build partnerships with nearly a dozen universities across North America. For each university partner, we offer a unique opportunity to deepen their students' learning while also providing access to immersive international internships. If you are a university administrator seeking to expand your institution's global engagement, please get in touch with us!
We are extremely grateful to Salesforce for granting us free nonprofit subscriptions and for providing us with a product that has truly revolutionized our organization. While it may be true that I never imagined I would devote so many late nights to Salesforce workflows, formulas, field updates, and email alerts, the hard work has undoubtedly paid off. We look forward to sharing our model with other Salesforce users, especially those working in higher ed!