About 2.3 million people, or 60 percent of Nairobi's population, live in slums, and most have little to no access to formal sanitation services. Stagnant rivulets of human waste that trickle past homes and alongside narrow dirt roads in the tightly packed neighborhoods are as common as the diarrheal diseases they carry with them. Sanergy, a social enterprise building sustainable sanitation in urban slums, is working to change that beginning with the Mukuru slum. In just two years, nearly 300 bright blue Fresh Life Toilets have been installed here, all owned and operated by local entrepreneurs.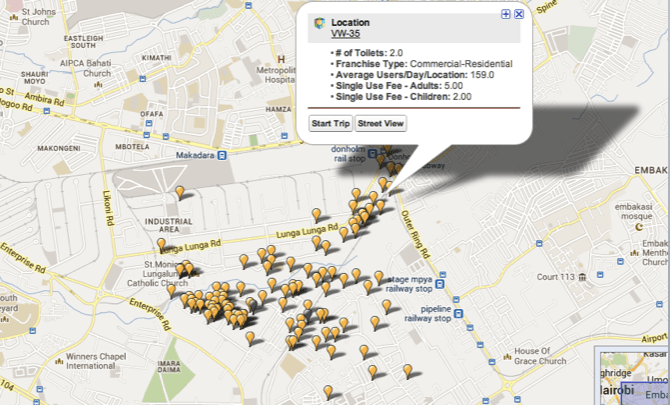 Sanergy's model is to franchise its specially designed low-cost, high-quality toilets to people living in urban slums who run them as businesses, giving Mukuru residents an alternative to unsanitary pit latrines and "flying toilets." The organization provides business and marketing support to each of its entrepreneurs to help drive the success of each individual toilet. Every day, Sanergy's "Fresh Life Frontline" team safely removes the waste from each toilet, which Sanergy converts into organic fertilizer that is then sold to Kenyan farmers.
Vera began working with Sanergy over a year ago to build a Force.com solution that allows the organization to track every aspect of its business including marketing, waste collection, fertilizer production, toilet usage, and entrepreneur income-generation. Since then, Sanergy has migrated many more of their internal operations onto Force.com, expanding their system to incorporate enterprise apps like Rootstock (for supply chain management) and Financial Force (for finance and accounting). Yet even with such powerful tools in hand, operating in a slum like Mukuru continues to present some very real challenges in collecting and analyzing data quickly and effectively.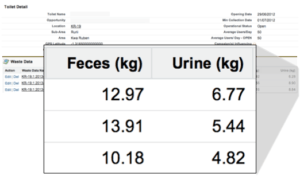 For example, Sanergy needs to record the amount of waste collected each day from all of its Fresh Life Toilets in order to track usage and business performance. After removing the waste from each toilet, often using wheelbarrows to ferry the jerry cans full of waste through the narrow and otherwise inaccessible roads, the Frontline team weighs each container at Sanergy's central processing site. Although a mobile data collection tool centered on a smartphone or tablet could easily help Sanergy's collection team enter and track these measurements in real-time, Sanergy knew that giving its field staff such expensive pieces of technology would likely make them targets for theft or armed robbery in the slums. So Sanergy's staff continued to record the daily waste measurements for each toilet by hand on a paper form. These measurements were then manually entered into Salesforce by another Sanergy staff member, a task that took an estimated 4.5 hours each day. Sanergy knew that in order to keep its employees safe it needed to continue using paper forms but in order to capture data in as close to real-time as possible, it needed to find a much quicker way to enter the handwritten measurements.
Enter Captricity, an OCR (optical character recognition) software that allows users to scan handwritten documents and convert them into digital files. Captricity had already launched a Salesforce integration at Dreamforce 2012, showcasing its ability to automatically convert a paper form into Lead records. But understanding that Sanergy's needs would require more than a standard CRM-integration, Vera approached Captricity with the idea of developing an integration that would allow paper data to be digitized and mapped to any custom, Force.com object. The result of months of testing and collaboration, the Captricity-to-Force.com integration allows Sanergy's waste data to be collected on paper, digitized and checked by Captricity, and pushed to Force.com, transforming Sanergy's input processes for their waste collection data.
Captricity's learning algorithm, which makes the program more accurate with greater use, has ensured increasingly fewer data entry errors and saved staff hours of time each week. Instead of taking almost five hours to enter a single day's waste collection data, it now takes fifteen minutes. Not only is Sanergy's data more real-time than ever, but the extra 20+ hours each week that staff have gained now goes towards quality control, greater supply procurement oversight, and operational support. Most importantly, Sanergy's field staff can continue to serve the local community without having to risk their safety.
Following its success in using Captricity for its waste collection data, Sanergy hopes to expand its use to other areas of its operations where pen and paper data collection is still necessary. Like so many of our partners, Sanergy works in a uniquely challenging environment that requires appropriate technological solutions to address complex social problems. Vera is proud to have worked with Sanergy and Captricity to help facilitate one such solution.
As Sanergy continues to scale its operations, their data needs continue to grow. We're currently piloting several new functionalities and applications that would take their Salesforce system to new levels—integrations with mobile data collection tools, an integration with m-Pesa (Kenya's largest mobile money platform) and much more.