Global AIDS Interfaith Alliance (GAIA) implements a grassroot strategy to help those affected by HIV/AIDS, tuberculosis, and malaria in the most remote and underserved areas of Africa. The organization was founded in 2000 in response to the devastating HIV/AIDS epidemic in Sub-Saharan Africa. Taking a bottom-up approach to disease control and prevention, GAIA works closely with interfaith organizations to reach vulnerable communities cut off from prevention and care programs due to their relative isolation, and develops specific healthcare programs to better suit their needs.
From the beginning, GAIA has primarily focused its efforts on Malawi, one of the countries hardest hit by HIV and most under-resourced to respond to the crisis. Working in Malawian villages, GAIA has developed innovative healthcare programs to provide basic prevention, care, and support services in communities affected by HIV, AIDS, TB, and malaria.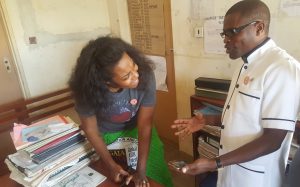 One of GAIA's core initiatives in Malawi is the Nursing Scholarship Program, which provides funds for primarily orphaned young women to gain a nursing education in hopes that they will return to their rural communities as healthcare professionals. Since 2005, the program has expanded its impact; to date, 97% of sponsorship grantees have graduated and 99% of licensed graduates have remained working in Malawi after graduation. During the same years, Malawi saw a 61% drop in the number of new HIV/AIDS infections annually. "GAIA is helping make strides towards an AIDS-free generation in Malawi, and is eager to replicate its successful model," says Elizabeth Geoffroy, GAIA's Monitoring and Evaluation Manager.
To determine if a program is worthy of replication, GAIA staff members collect and analyze a myriad of data throughout the sponsorship cycle. "Without data, we cannot know whether our programs continue to be demanded by the communities we serve, and whether or not our programs could be expanded to help other at-risk populations," says Kristin Nash, GAIA's Program Officer and Grants Manager. But the rigorous process of data capture that is required to generate telling results is no small task.
In the past, GAIA staff relied on Excel spreadsheets and pivot tables to track nurses as they progressed academically and professionally. However, as the nursing program grew and GAIA began tracking more and more granular data about each scholarship recipient, it became clear that staff needed a more effective way to monitor data. As a result, GAIA invested in a customizable data management system for their revolutionary nursing program in an effort to streamline their data collection and analysis processes.
Salesforce: A Short-term Investment for Long-Term Impact
With the support of Vera Solutions, GAIA transitioned their M&E operations to Salesforce. "Salesforce is great at tracking sales 'leads' and seeing how client relationships change and develop over time. This framework is perfect for GAIA's scholarship model as each nurse is a new 'lead', and Salesforce provides a way to track those leads," says Geoffroy. Since investing in a Force.com enabled system, GAIA can access 10+ years of data on-demand and easily update the data from anywhere. As a result, their data can effectively be used to evaluate if supporting students with scholarships to nursing or healthcare programs is really improving access to healthcare nationwide, improving the quality of healthcare, and improving the health of people living in Malawi.
Salesforce also greatly enhanced the communication component of GAIA's program management. In the past, if one of the 500+ scholars needed to get in touch with GAIA staff members they had to personally call or text them, which was unorganized and unreliable. Now, scholars can contact the system directly and program managers will immediately receive an email notification. With the click of a button, managers can now access the scholar's records to determine how to move forward.
The Growth of GAIA's Healthcare Initiatives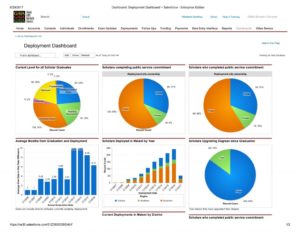 Given the success of GAIA's nursing program in Malawi, the organization has begun to expand its healthcare capacity building initiatives. Since 2015, GAIA has supported nursing students in Liberia in response to the devastating Ebola outbreak and their first cohort of Liberian nurses is set to graduate in late 2017. Earlier this year, GAIA also extended its Malawian nursing program to fund two Malawian students studying at South African universities.
But in order to effectively grow the capacity building programs across populations and geographies, GAIA will need to continue updating and expanding its M&E-focused Salesforce system. Unfortunately, the organization currently lacks the funds to do so. "Although data tracking is a critical piece of health workforce capacity building, it is also an expensive one," says Nash. GAIA hopes their Salesforce system, equipped with up-to-date dashboards and reports of their impact, will prove to be as effective a marketing tool for donors and grants as it is an M&E application.
For more information about becoming an active participant in GAIA's healthcare capacity building initiatives, visit

http://www.thegaia.org/get-involved/

.