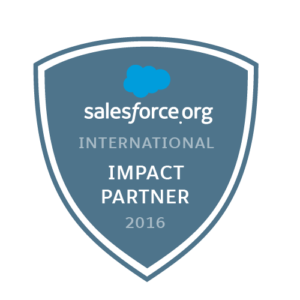 Earlier this summer, Vera attended Salesforce.org's London World Tour to celebrate the launch of its International Partner Program. Designed to support the technology consultant community serving Salesforce.org's 28,000 nonprofit and higher education customers around the world, the Program launched with 27 member organizations. Of the inaugural partners, nine have been designated as International Impact Partners, including Vera Solutions.
"I am excited about the opportunity we have at Salesforce.org to grow our market and help our customers achieve their mission through the use of our technology. Our partner ecosystem is key to help us achieve that," said Val Cassidy, Salesforce.org's International Partner Manager for EMEA, "This is the first year of the International Partner Program. The program will allow us to better use our time and resources and to focus our efforts with partners that have invested in us. It's the beginning of a new way of working and it's an exciting time for us."
Following more than five years of collaboration, made possible by the company's 1-1-1 philanthropic model, Vera is proud to continue working with Salesforce.org through the International Partner Program. "We've benefited tremendously from their expertise, network, and leadership in the sector. They share our mission of using technology to help social sector organizations become more effective and efficient, and we're pleased to continue working in partnership toward that end," said Vera Solutions Co-Founder and CEO, Zak Kaufman.
To learn more about the International Partner Program contact [email protected].