Earlier this summer, the fourth class of Vera Fellows convened at Amherst College for an intensive week of training and team building. Hailing from Canada, South Africa, Switzerland, and the U.S., these eight young professionals used training to skill up in Salesforce, discuss nuanced client case studies, and immerse themselves in Vera's culture and vision for a data-driven social sector. The 2016-17 Fellowship class brings more than 19 years of global development experience and significant sector knowledge — ranging from expertise in mobile technology and IT systems to bioethics and nutrition in emergencies to livelihoods and youth development — to the Vera team.
Anjali Merchant, a 2016-17 Fellow now based in Boston, said it was Vera's company values and commitment to the social sector that piqued her interest in the fellowship program: "I was drawn to Vera's capacity building approach; through conversations with current team members, as well as my own research, I learned how Vera enables social impact organizations to use their own data to evaluate and improve their operations and programs. Ultimately, I felt that I could find a home at Vera, given that the company's ethos, values, and culture align with my own."
Prior to the fellowship, Anjali served as a Research Analyst at the Center for Disease Dynamics, Economics, and Policy in New Delhi, where she analyzed antibiotic resistance data, as well as health outcomes related to fiscal policies implemented in India. She is joined in Boston by Allison Marsh, who most recently lent her monitoring and evaluation (M&E) expertise to the Harlem Children's Zone, a U.S. based non-profit committed to ending generational poverty.
Cape Town welcomed Fellows Elan Swartz and Megan Welsford to their Zonnebloem office. Elan brings a background in economics, youth education, and sport for development to the Vera team, while Megan specializes in wildlife conservation and sustainable development; most recently, Megan worked with the South African National Biodiversity Institute, where she supported biodiversity and wildlife trade research.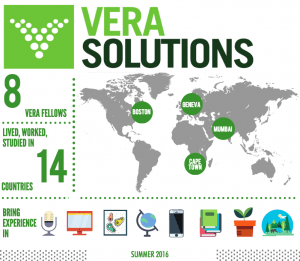 Half of the Fellowship class resides in Mumbai, where Carol Ernst, a strategic planning and change management specialist, and Cameron Kemp, an agriculture and livelihoods practitioner, support the Mumbai Consulting team. Fellows Lauren Theis and Wes Williams joined the Implementation Support Team, which is dedicated to helping Vera's clients devise strategies for training, user adoption, and long-term system care. Lauren joins Vera following a year-long engagement with Swaziland's Ministry of Health, where she focused on strengthening health data systems as a Princeton in Africa Fellow. Wes spent the last three years directing The Justice Lab, a non-profit using technology to combat violence and protect human rights with a focus on human trafficking.
Of his time at Vera thus far, Wes said, "It's rare to find a place where you can not only be exposed to such a wide variety of social sector organizations, but also feel that you're actively helping propel those organizations toward doing their good work better. One of the things I love most about working at Vera is putting my love of problem solving toward so many of the issues I feel passionate about addressing. At Vera, I don't have to pick between working on HIV prevention or improving rural farming economies or combatting gender-based violence, because I get to work with organizations doing all of these things, sometimes within a single day."
You can learn more about the 2016-17 class here. Follow us on Twitter, Facebook, and LinkedIn to stay up to date on the upcoming 2017-18 Fellowship application period.