With applications open for the 2014-2015 Vera Fellowship program, we sat down with Jill Shah, a current Fellow in Vera's Mumbai office, to provide potential applicants with insight into her Fellowship experience.


Born in Mumbai and raised in northern New Jersey, Jill attended Northwestern University, where she discovered her deep passion for global health and social justice. She majored in cultural anthropology and spent most of her free time working to strengthen the movement for global health equity through the student-led organization GlobeMed. "It was through working with this nonprofit for four years that I learned how important data and technology are to running an organization and running it well. I came to realize that the way an organization thinks about data says a lot about how it thinks about its mission, programs, and impact."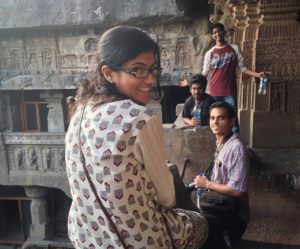 Jill felt that Vera stood out as a place where she could both grow professionally and delve more deeply into her passion for social impact, all while building a lasting skillset. "Vera seemed like a place that would challenge me to grow in ways that I hadn't had to grow yet. I was especially attracted to Vera because I think data helps organizations face their work in a meaningful and honest way, and I really liked the idea that Vera was helping these organizations do something right and do it well."


As a Fellow, Jill has worked alongside more experienced consultants to streamline a data collection system for an organization that supports social entrepreneurs across India and to develop a research management system for a leading research organization with projects worldwide. "I have a lot of responsibilities and also have exceptional teachers and mentors." Working directly with clients to design tools and systems that fit their needs has given Jill a special appreciation of Vera's people-oriented approach to technology. "It's a constant act of empathy to think about the needs of a user, what makes sense to them, and what gets them up in the morning to do what they do every day."


Most days, Jill provides support for a number of different projects. After arriving at the office each morning (sometimes on the back of her co-worker's motorcycle), Jill participates in the team's daily stand ups, "Where we tell the rest of the team what we're working on or if there are any tasks we need help with. After that, my day is filled with a mix of system configuration, emailing or talking with clients to understand their needs, and working with our developers to design solutions. My role forces me to hold a lot of things in my head at once and be ready to switch gears at any point. It's really energizing!"


Since moving to Mumbai in September, Jill has begun to make a new home in the city's thriving Bandra/Khar neighborhood. "Mumbai is very easy to live in—there's always something to do. On the weekend, there might be an art festival or a concert, or because travel is really easy, you can take weekend trips if you want to get away. And we've created our own community of expats and locals. The Vera team has family dinners together every Thursday night."


Of her experience at Vera, Jill says, "I've developed a skillset that I never thought I would have. As a Fellow, you're basically getting trained in a system of logic. I can see so many patterns already as a result of having designed systems on Force.com. If I could give one piece of advice to young professionals who are looking for a meaningful career opportunity, I would tell them to choose something that's going to challenge them in entirely new ways, which is what Vera has done for me."


The Vera Fellowship Program provides energetic, hard-working, and impact-driven young professionals with the opportunity to solve problems for some of the most innovative NGOs, social enterprises, and grant-making institutions worldwide.
Vera Fellows come from diverse professional and educational backgrounds but share a common belief in the power of data to transform the efficiency and effectiveness of social impact organizations.


Applications are open now through April 1, 2014.
For more information, please visit https://verasolutions.org/open-positions/ or email [email protected].