At Vera Solutions, we believe that collaboration is a cornerstone to achieving the Sustainable Development Goals (SDGs) . Over the last decade, we've been fortunate to work with hundreds of organizations to deliver data solutions that unlock a culture of transparency, collaboration, and data-informed decision-making. Through our work, we've been inspired to see a rise in cross-sector collaboration—individuals and organizations from across the nonprofit, government, philanthropic, and business sectors working collectively to achieve the SDGs and ensure greater truth and accountability in the sector, through initiatives like the International Aid Transparency Initiative (IATI) and Impact Management Project (IMP).
As the social sector becomes increasingly connected, more and more organizations are turning to Salesforce—the world's leading CRM—to work cross-functionally, advance business intelligence, and better understand their impact. But the power of the platform isn't limited to organizational efficiency and information management. With Salesforce Experience Cloud, you can extend Salesforce to directly engage with constituents, collaborate with partners, and share data-based insights with both internal and external stakeholders.
Read blog

: 7 Reasons Why Salesforce Should Be At The Center Of Your Nonprofit Digital Strategy
What is Salesforce Experience Cloud?
Salesforce Experience Cloud (previously Salesforce Community Cloud) provides a digital platform—such as a website, portal, mobile app, knowledge base, or forum—to engage your community and enable more collaborative feedback loops. These "Experiences" can be personalized and branded to the look and feel of your organization and securely extend your Salesforce data with key stakeholders, including grantees, partners, donors, employees, or your Board.
Over the years, Vera Solutions has implemented Salesforce Experience Cloud for a wide range of organizations, including nonprofits, foundations, incubators, accelerators, impact investors, government agencies, and multilateral organizations. Whether you're hoping to facilitate collaboration across internal teams, with external volunteers and partners, between funders and grantees, or even among grantees, Experiences can transform community outreach and open new channels for cross-sector collaboration and data-sharing.
Here are six ways your organization can benefit from Salesforce Experience Cloud with real-world examples from our community-powered customers.
1. Connect and collaborate on common goals
Addressing today's most pressing challenges requires organizations to work more collaboratively than ever before. Yet all too often organizations approach these issues with siloed solutions and individual efforts that aren't sufficient to address the problems at the scale at which they exist. Leveraging Salesforce Experiences, community-driven organizations can facilitate vital connections between entrepreneurs, practitioners, and organizations—creating a space to ask questions, share knowledge, and encourage collective action in pursuit of common goals.
Impact Hub partners with companies and organizations focused on social innovation. With a global community of over 100 Impact Hubs and more than 16,000 members across 60 countries, Impact Hub is one of the world's largest networks focused on building entrepreneurial communities for impact at scale.
Since 2017, Impact Hub has been using Experience Cloud to facilitate connection and collaboration between its global members. "Everyone wants to be able to connect to other people doing similar work around the world," says Petr Skvaril, Impact Hub's Global Partnership Director. "In reality, many start-ups are focused on solving a local problem and don't look beyond their immediate region. With Salesforce, we can facilitate better connections at a global level." Built on Experience Cloud, Impact Hub's 'Global Community App' has scaled to thousands of users in recent years.
2. Empower staff with better feedback loops
Global organizations today are continually working to become more data-driven in an effort to enable more efficient and effective decision-making. This requires strong feedback loops that empower staff – from HQ to the field – with the information they need to meaningfully inform, improve, and scale their work.
While Experience Cloud is frequently known for extending your system to external stakeholders, it also provides a cost-effective way for large organizations to democratize data internally. Using a secure portal, organizations can finally break the norm of one-way data flows – providing field staff with access to the data that is most relevant to them while bringing decision-makers closer to the source of truth for program impact.
Population Services International (PSI) is a global nonprofit organization focused on the encouragement of healthy behavior and affordability of health products. With hundreds of field sales reps around the world, PSI leverages Experience Cloud to centralize performance data and inform decision-making at the local, country, and global levels.
PSI's Salesforce system is integrated with TaroWorks' field service app, enabling sales reps to record sales transactions and distribution-related activities while offline. Once connectivity is restored, the data collected is automatically fed into PSI's centralized Salesforce system where global teams, such as Social Enterprise, Finance, and Marketing, can analyze, visualize, and report on aggregated results with PowerBI and trade spend for products and stock-keeping units across countries.
By using Salesforce Experience Cloud, however, PSI's business intelligence isn't limited to the HQ-level. Sales reps and medical detailers in the field can login to PSI's secure online portal to view their performance. This enables sales management and leadership at the local and country levels to access and visualize the most up to date performance data on a daily basis, enabling them to more quickly make data-driven decisions.
3. Streamline online application processes
For many organizations, application management is known to be cumbersome. We've seen too many organizations juggling applications between multiple platforms, causing applications to be lost into a void and in some cases never to be seen again.
Salesforce Experiences allow organizations to streamline and automate even the most complex application processes with an online application portal. The portal allows applicants to create accounts and then login to view calls for proposals, submit an application, and track the status of the application. The applicant portal can also provide a knowledge base for applicants to refer to FAQs, access relevant articles, and interact with other applicants.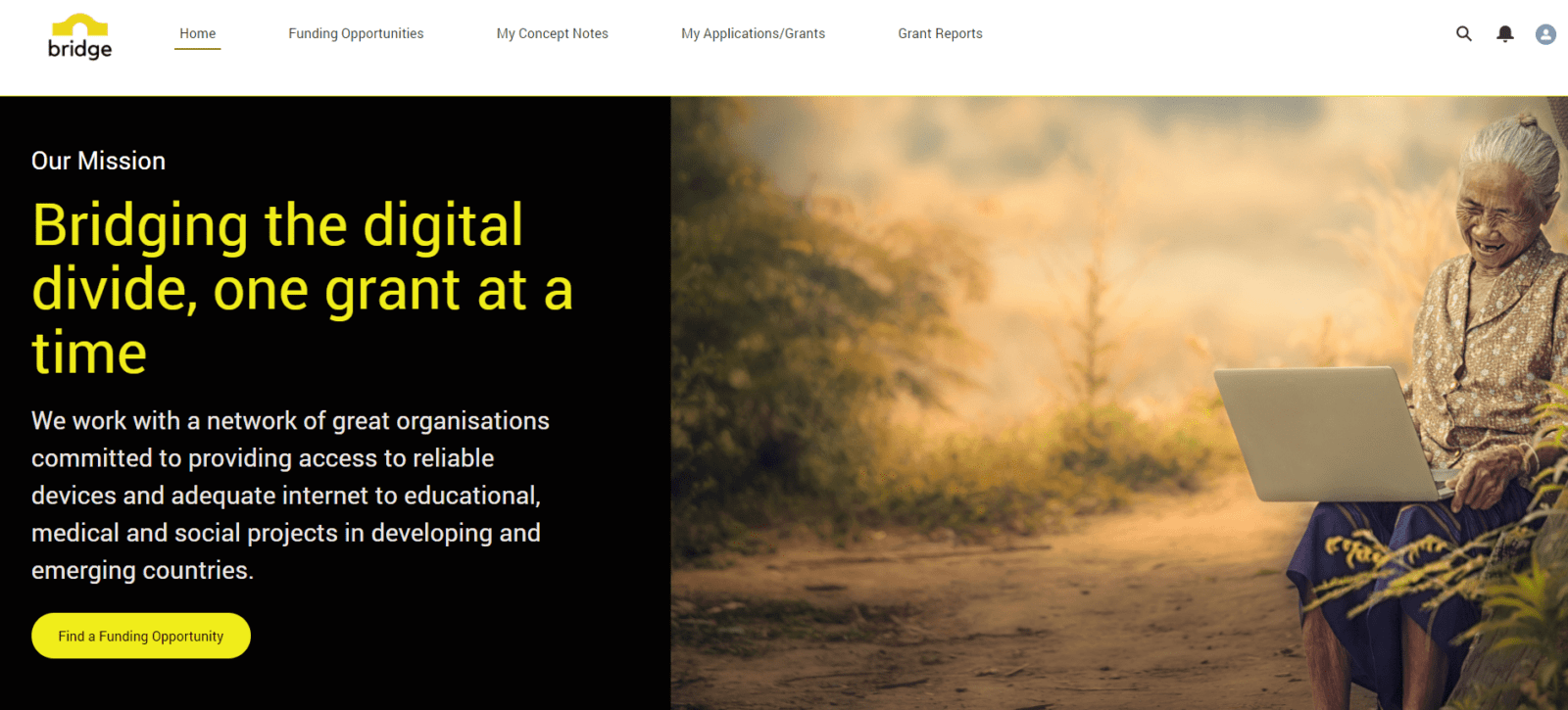 Camp Harbor View
Camp Harbor View (CHV) changes the lives of 1,000 youths each summer and enhances Boston by exposing underserved youth to the possibilities of a future they may have never envisioned. CHV provides unique experiences through an eight week summer camp and a year-round leadership academy that provides academic guidance, career exploration, and parent programs.
Vera Solutions began working with Camp Harbour View in 2018 to implement a robust camp management system on Salesforce. To centralize camper applications and enrollment, the system is integrated with an online application portal, which is embedded on Camp Harbor View's website. Parents can use the portal to submit applications (built on FormAssembly), update contact information, and manage their applications for campers online.
The application system has moved CHV off the twelve systems previously used by staff and into one central platform that is CHV's source of truth. The staff can now send mass emails to the prospective applicants, proceed applicants through application processes, and follow up with parents and campers, where necessary. The enrollment process is now a one-click process for CHV staff, allowing them to easily send enrollment or waitlist notifications to hundreds of campers' parents at once.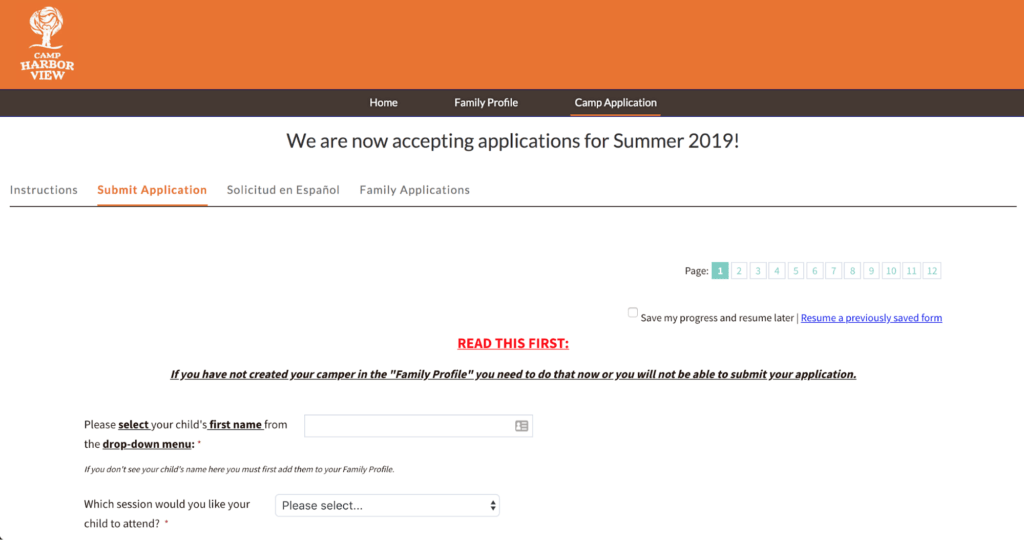 4. Alleviate the reporting burden
Reporting processes are often coupled with headaches and depletion of our most valuable resource – time. Our clients often look for ways to alleviate the reporting burden so that they and their grantees/partners can focus on achieving their mission instead of punching numbers into spreadsheets.
Salesforce Experience Cloud has helped our clients to simplify and strengthen reporting by advancing it from a one-way flow of data to two-way, as data moves from email- or form-based submission to a collaborative, ongoing practice within a shared Salesforce Experience Cloud workspace.
When paired with Amp Impact, Experience Cloud can also facilitate funder-grantee collaboration, providing grantees with a portal to track the grant and disbursement status, connect with other grantees, and submit narrative, financial, and impact reports.
The Global Good Fund
The Global Good Fund (GGF) is a nonprofit social enterprise that identifies high-potential leaders who stand to achieve greater social impact with executive mentorship, professional leadership coaching, and access to capital. Since 2013, the GGF Fellowship has developed 160+ entrepreneurs who are now accelerating their enterprise growth in more than 40 countries.
In December 2018, GGF and Vera Solutions began designing a database to centralize fellow management and reporting activities for their annual Fellowship Program. The system leverages Amp Impact for program impact measurement, allowing GGF to track and report on baseline and final values for fellows' performance indicators, monitor fellow outcomes through reports and dashboards, and provide a system that promotes ease and consistency in data entry and performance tracking.
GGF's Amp Impact-based system is integrated with Salesforce Experience Cloud for GGF Fellows to directly report on their leadership development goals, indicator results, and budget/expenditure. GGF staff can then review these figures and provide feedback to fellows, leveraging the Salesforce "Chatter Feed" in the Fellow Community.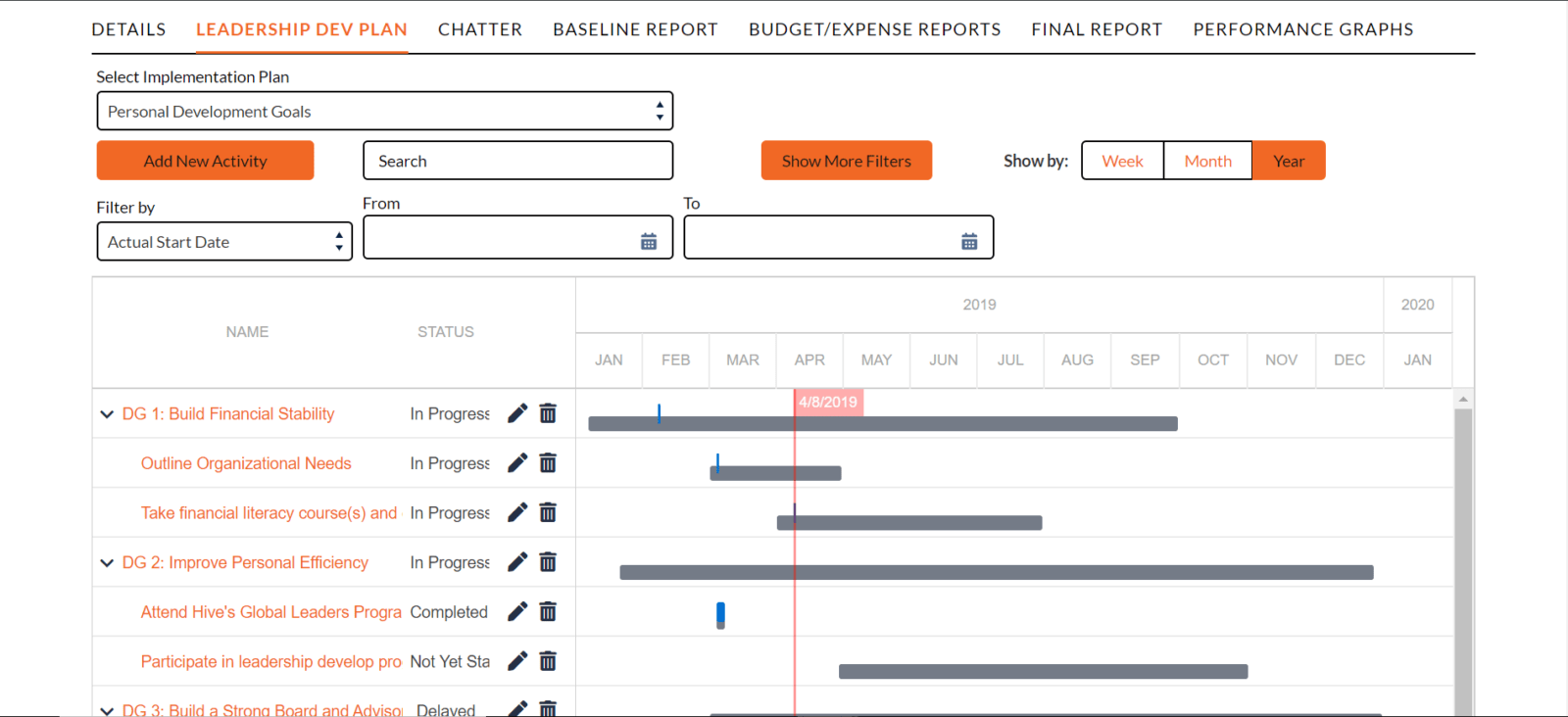 5. Improve transparency and accountability
Part of our mission as a social enterprise is to increase transparency amongst the social sector, by putting data in the hands of those who need it. This is especially valuable for stakeholders such as trustees and board members who are making consequential decisions that ultimately affect all of an organization's key stakeholders, including beneficiaries. Salesforce Experience Cloud offers a space for key external stakeholders (directors, trustees, reviewers) to view, edit, or comment on relevant data.
Elton John Aids Foundation
The Elton John AIDS Foundation (EJAF) provides funding to programs that support populations affected by or at risk of HIV/AIDS. By providing physical, emotional, and financial support, EJAF aims to end the stigma surrounding HIV/AIDS, prevent further HIV infections, and eliminate the number of people who die as a result of AIDS each year.
EJAF has used Salesforce since 2011 to track and manage grantees, concept notes, grant applications, grant reports, and payment tranches. In 2020, they upgraded their system, moving it onto Amp Impact and Experience Cloud. The system includes an online portal for EJAF's trustees to review and vote on shortlisted grants in the application pipeline. Moreover, they can use this portal to stay up to date on basic information and the progress of grants in the pipeline, viewing reports and dashboards directly in the Experience. EJAF trustees are now equipped with the right data to make decisions that have a far reaching impact within their community of stakeholders.

6. Engage directly with your community
With the sector's increased focus on transparency and accountability, organizations are increasingly turning to their constituents to provide feedback on the services they are receiving. Salesforce Experiences allow organizations to transform community outreach and open new channels for communication and collaboration. It provides a central location for community members to find answers themselves – on their own terms and time frame – instead of communicating via lengthy email chains, forms, or document attachments. With a community portal, members can create "profiles" where they can update their status, contact information, progress, and more.
Whether you implement Salesforce Experience Cloud as a knowledge base, a self-service portal, or a forum, giving members the autonomy to update their own data can save your organization time and headaches by minimizing the additional email communication burden and creating one source of truth for member details.
Global Health Corps
Global Health Corps' (GHC) mission is to mobilize a diverse community of leaders to build the movement for health equity. GHC provides a 13-month long paid fellowship for young professionals from a wide range of backgrounds to work on the front lines of global health with GHC's partners, hone their leadership skills through transformative programming, and become part of a tight-knit network that provides support throughout their careers.
While GHC has used Salesforce for fundraising and donor management since 2016, they lacked a simple, reliable way for staff to communicate directly with community members and for fellows and alumni to share information between each other. In 2017, GHC rolled out a Community Portal, built on Salesforce Experiences Cloud, that allows alumni and fellows to create unique user profiles, search for members based on filter criteria, and connect with peers in relevant groups.
After more than three years, GHC staff continue to use the Community Portal to share resources with fellows and alumni—ranging from fellowship policies to travel guides to country information packets. Users can access a directory tool allowing them to search for members of the community based on a wide range of parameters, for example a user could search for all users based in Malawi with expertise in HIV.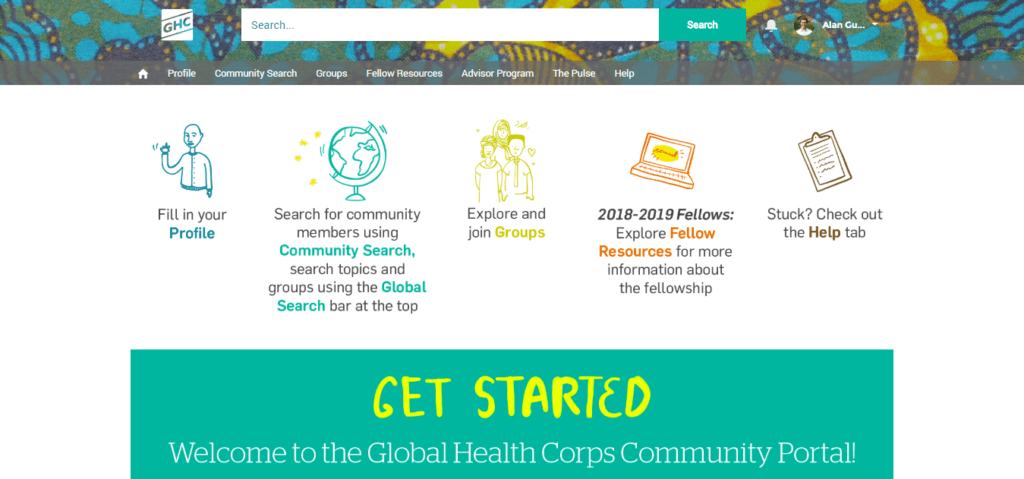 Collaboration is key to achieving our respective missions, and Salesforce Experience Cloud provides a full-featured toolkit for powering community engagement, collaboration, and data sharing.
Salesforce Experiences are in no way limited to these six benefits – set up a demo with us if you'd like to explore ways that a digital Experience can spice up your digital transformation efforts.