Global Health Corps

Region: Global
System: CRM, Community Engagement
Sectors: Global Health, Leadership Development
KPIs: 140 fellows and nearly 900 alumni using the Salesforce-based Community portal
Global Health Corps
' (GHC) mission is to mobilize a diverse community of leaders to build the movement for health equity. GHC provides a 13-month long paid fellowship for young professionals from a wide range of backgrounds to work on the front lines of global health with GHC's partners, hone their leadership skills through transformative programming, and become part of a tight-knit network that provides support throughout their careers. Since its founding in 2009, GHC has recruited and trained 1000+ young leaders committed to transforming health systems and united by the belief that health is a human right.
Community stands at the center of GHC's mission. Through a networked and dedicated community of changemakers, GHC aims to transform health systems in GHC's placement countries of Malawi, Rwanda, Uganda, the US, and Zambia. Beyond the 13-month fellowship program, GHC offers alumni programming to amplify the impact of the young leaders in their community. GHC has developed both the fellow and alumni programming in close partnership with community members, prioritizing their needs, ideas, and evaluations.


Prior to working with Vera, GHC lacked a simple, reliable way for staff to communicate directly with community members and for fellows and alumni to share information between each other. Already leveraging Salesforce for fundraising and donor management, GHC sought a Salesforce-based portal to:
Disseminate information to the community

Collect information from the community

Facilitate connections and information sharing among community members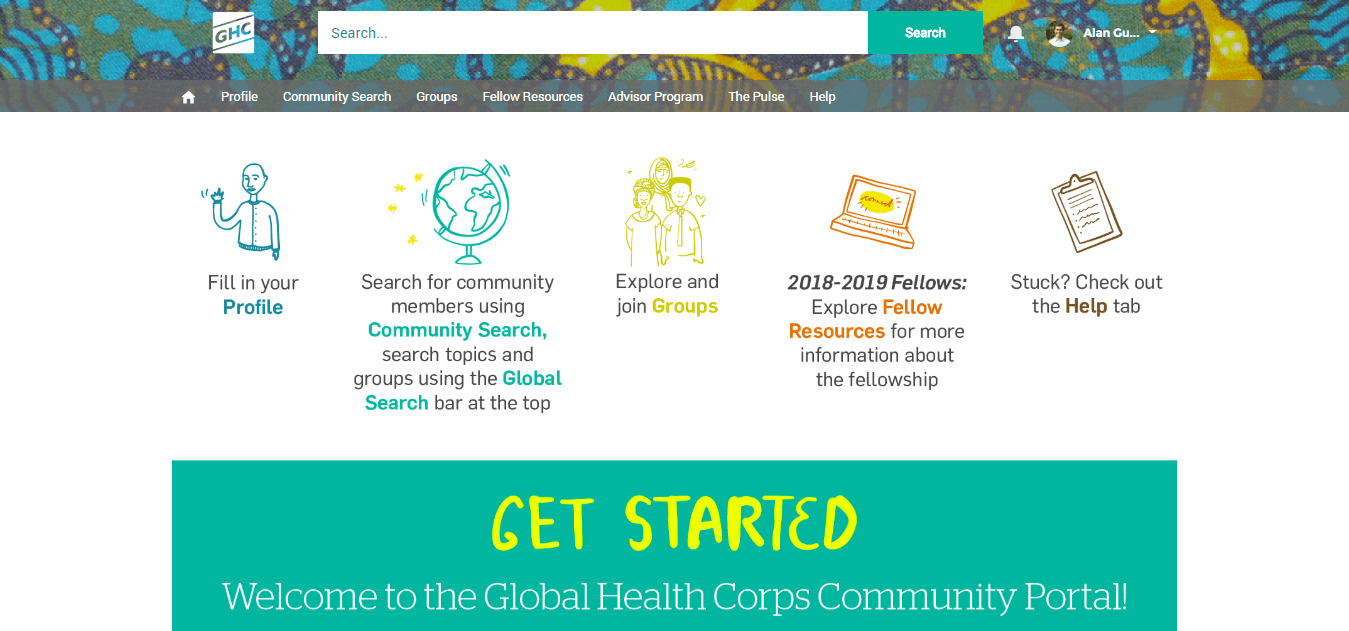 Beginning in 2016, Vera worked with GHC to upgrade to the latest Nonprofit Success Pack (NPSP) version and train staff on new features. With a strong foundation in place, Vera and GHC then developed a Salesforce-based Community Portal that allows alumni and fellows to create unique user profiles, search for members based on filter criteria, and connect with peers in relevant groups.
GHC staff use the Community Portal to share resources with members—ranging from fellowship policies to travel guides to country information packets. Users can access a custom-developed directory tool allowing them to search for members of the community based on a wide range of parameters, for example a user could search for all users based in Malawi with expertise in HIV/AIDS.
"The GHC Community Portal has allowed our community to collaborate and share resources in more targeted ways, and has given our staff real-time data to evaluate the strength of our community."
Since launching the Community Portal in June 2017, GHC has continued collaborating with Vera to expand the portal's functionality and enhance the user experience for staff, alumni, and Fellows. To date, 140 fellows and nearly 900 alumni have used the GHC Community Portal.