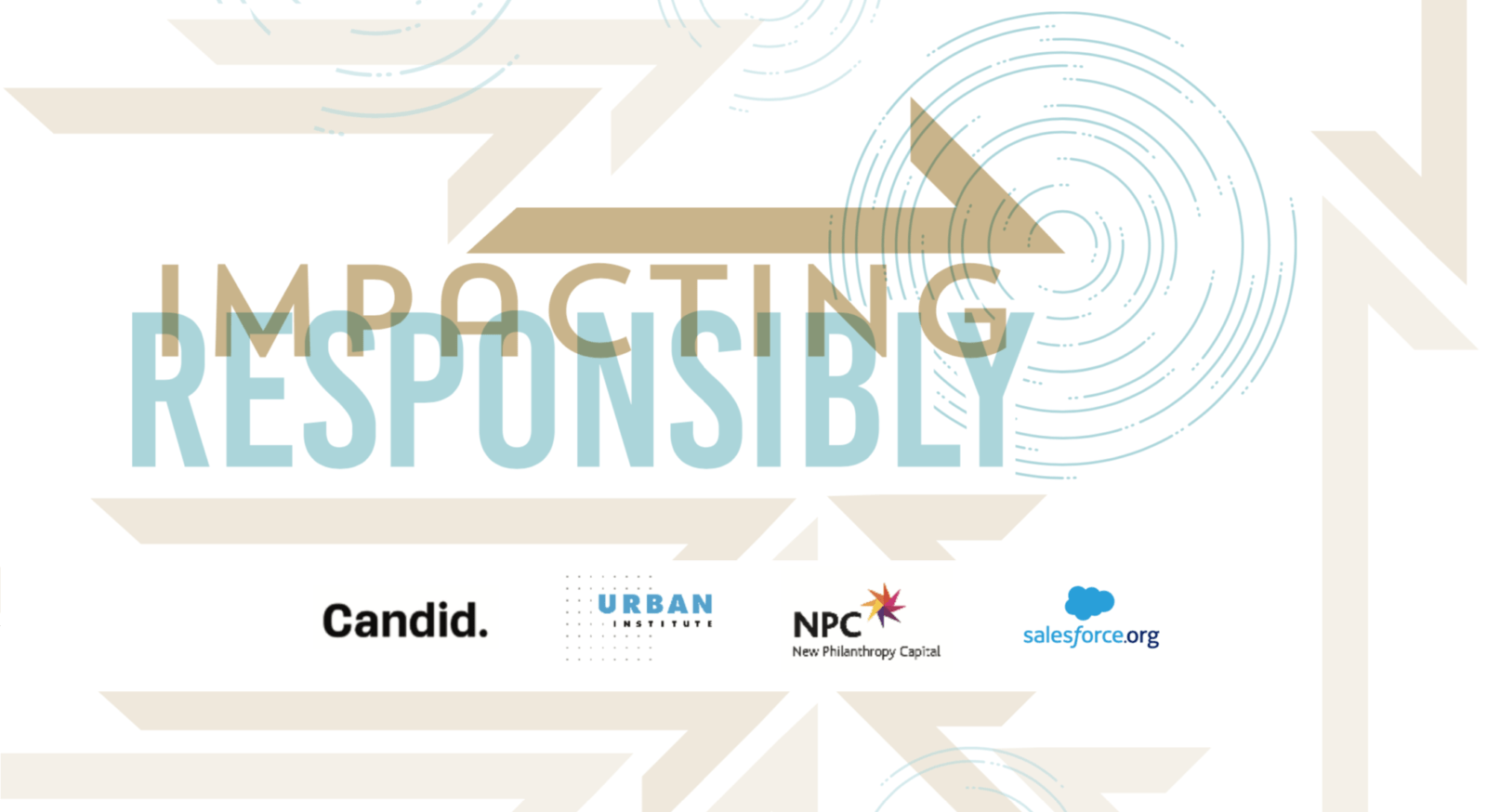 On May 22, Salesforce.org released
Impacting Responsibly
: a collection of articles written by data-focused influencers to help social sector organizations collect, interpret, and apply impact data responsibly, created in partnership with Candid (formerly Guidestar), the Urban Institute's Center on Nonprofits and Philanthropy, and New Philanthropy Capital.
According to Brian Komar, VP of Global Impact at Salesforce.org, "The impact measurement movement presents a unique opportunity to reimagine how to address long-standing sector challenges including diversity and inclusion, beneficiary feedback, onerous reporting, and transparency and accountability. Overcoming these challenges and seizing these opportunities, however, will not happen if left to chance."
The importance of impact measurement is not a new concept to Vera Solutions – just one day before Salesforce.org released the
Impacting Responsibly
report, we presented a session at Good Tech Fest in Chicago titled
Impact Measurement
with Amp Impact
– but we're inspired to see industry leaders coming together to provide insights and examples for how we can tackle challenges and create meaningful, measurable, and sustainable change. We've outlined our thoughts on each of the nine themes covered in the report and the role that technology plays in effecting this change.
Theme 1: Impact Capacity Building
"Building an array of evidence is arduous and requires an enormous amount of patience and discipline. It helps to focus more on the journey – what are we learning? – and not the destination – when can we check the box for achieving impact?"

Brad Dudding, Chief Impact Officer, Center for Employment Opportunities
In order for an organization to realize its impact goals, the leaders of the organization must set a tone of data-informed decision-making across the organization, not just at the HQ/leadership level. This means including all users in data analysis and providing the right tools, training, and time for staff to integrate the impact data into their day-to-day work. Performance management technology, like Salesforce, is vital in building a culture of internal accountability, in which all users understand the value of the data being collected.
Theme 2: Impact Frameworks and Standards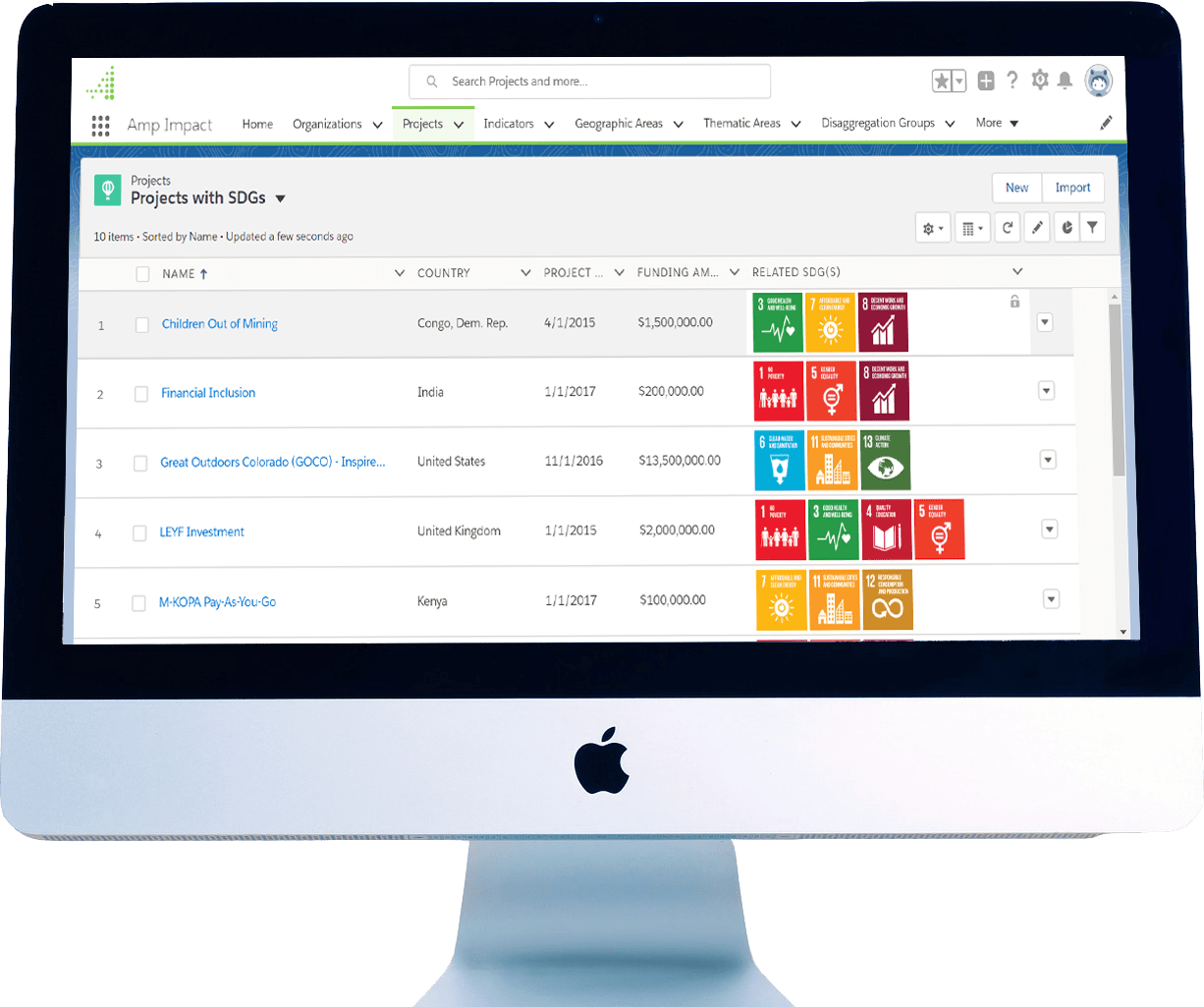 While common indicators and standardized reporting frameworks, like those set by the Sustainable Development Goals and the International Aid Transparency Initiative, make it easier for organizations to access, use, and share information, they don't tell the whole story.

Organizations must evaluate these standards in terms of their own goals and "consequences" of programming in terms of reach, scale, and intensity. This means that the tools and technology they're using to measure performance indicators must be able to answer the "why" questions — why an intervention is working or not — and not just "how much" and "for whom".
Theme 3: Closing Feedback Loops
"We overlooked a wealth of data that was right under our noses: the ideas, opinions, and suggestions of the people participating in our programs."

Ben Goodwin, Executive Director, Our House
Over the years, Vera has observed too many organizations working with a one-way flow of data – from the field to the local office to the head office to the board. Without feedback loops in place, these organizations struggle to use the data they're collecting to make meaningful improvements to their programs and inform the daily work of staff on the frontline.
"By listening, offering advice, and genuinely conversing, we can enable the people we seek to serve to find the right fit for themselves."
Dennis Whittle, CEO and Co-Founder, Feedback Labs Technology provides a unique opportunity to democratize access to data within an organization, turning feedback collected from constituents into actionable guidance for improving program results.
Theme 4: Current Reporting Burden
"Imagine a world where funders could automatically get aggregate reports from the transaction systems of their grantees about who was being served, the marginal outcomes being achieved, etc. It could radically reduce the reporting burden to grantees to simply say here is the data."

Andrew Means, Co-Founder & VP of Strategy, BrightHive
We're excited to say that technology is helping make this a reality, allowing us to take almost real-time monitoring data and turn it into seamless reporting for hundreds of organizations. Over the years, we've noticed common needs in the way nonprofits and grant-makers track and manage information for impact reporting and developed Amp Impact as a packaged solution to align their efforts. With Amp Impact,
grant-makers
and grantees can collaborate on impact data
, providing a single platform for grant-makers to measure grantees' outputs and outcomes and for grantees to submit quantitative and qualitative assessments.
"Both funders and grantees should be aligned in what change they are trying to create. Therefore, the data that the grantee should already be collecting to understand and validate their own ability to create change should be exactly what the funder needs to validate that they bought the change they thought they did."

Andrew Means, Co-Founder & VP of Strategy, BrightHive
Theme 5: Resource Inequities
"You don't have to be big to achieve meaningful impact," says Keely Hanson, Policy Associate at Urban Institute Center on Nonprofits and Philanthropy — and we couldn't agree more. We've worked with organizations of all shapes and sizes and seen firsthand how access to the right tools and resources can improve efficiencies and accelerate impact, whether on the individual, regional, or global level. This is also why we're a proud partner of Salesforce.org, who continues to invest in the "small" guys through a
1-1-1 Philanthropic Model
and the
Power of Us program
.
Theme 6: Impact Data Ownership
"We need to build digital products that put the primary constituent at the center, helping them to achieve their objectives…"

Tris Lumley, Director of Innovation and Development, New Philanthropy Capital
Design ICT solutions for beneficiaries. This was the underlying theme of the ICT4D Conference in Kampala last month and the idea that motivates our work everyday. In order to design a solution that is powerful, flexible, and sustainable, it is imperative to include the users who will eventually be making sense of the system. Our pro tip? Make tools as simple as possible so even non-technical staff can understand how to use them: complexity undermines adoption.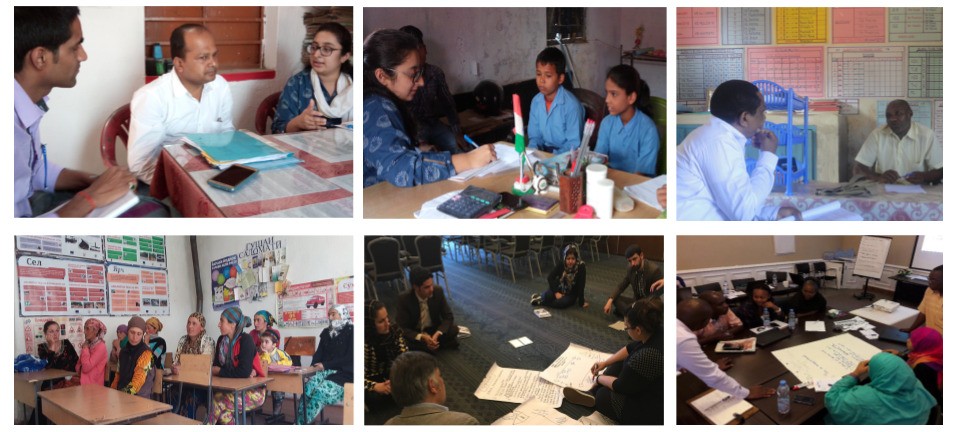 Theme 7: Systems Focused on Learning and Improvement
According to Kathy Richardson, Executive Director at Our Community, "The system we're working within is actually working against us." That is, a system "about reporting, not learning; talking up the positives rather than reflecting on how to do better next time." We believe that in order to "fix" a broken system, we need to go back to the basics at the organizational level.
Define a sound
Theory of Change and Logical Framework
that will provide an objective sense of success or failure. Build a team of people who have the right skills and sufficient time to collect, capture, manage, analyze, and utilize data effectively. Outline processes that will drive your organization forward rather than keep you from creating meaningful change. Grant-makers, nonprofits, technology solution providers — we all have a role to play in creating a social sector that works.
Last month we hosted the
inaugural Amp Impact Summit
for users and partners to connect, share common challenges, and learn from each other in their impact measurement journeys. Throughout the day, it became clear that attendees were eager for more opportunities to convene and work together.
In discussing Theme 3, we touched on the problems caused by the siloing of data within an organization. But it's important to note that data siloing
between
organizations is just as destructive. Collaboration is key to achieving our respective missions. The combination of impact networks, like Impact Management Project, and collaborative technology, like Salesforce Communities, makes it easier than ever to proactively engage with your community and share knowledge that others in the sector can benefit from.
"In the end, the value of collaboration only matters if the individual partners change how they work everyday between the collaborative meetings, and this is where partners need to look in the mirror about the impact of their own work."

Jeff Edmondson, Executive Director-Community Mobilization, Ballmer Group
Theme 9: Limits of Quantitative Evidence
Similar to the limitations of impact frameworks and standards from Theme 2, quantitative evidence does not tell the whole story.
"While we can answer many impact-related questions either quantitatively or qualitatively, there is an advantage to incorporating both types of data into impact measurement. One of the most common uses for qualitative data in impact measurement is to provide context for the numbers. When done appropriately, this creates harmony between your findings. The numbers show what happened, and the qualitative data sheds some light on how and why."

Eric Barela, Director, Measurement & Evaluation, Salesforce.org
Impact measurement tools must be able to effectively collect, capture, manage, and analyze quantitative and qualitative data. This is why we built Amp Impact with out-of-the-box functionality to track and visualize qualitative and qualitative results against targets as well as create, review, and score narrative assessments for impact reporting.