Elton John Aids Foundation

Region: Global
System: Grant and Project Management
Sector: Health
KPIs: $160 million+ in all-time grants, 720 organizations supported
Organization Type: NGO (Grantmaker)
Theme (s): Concept Notes, Indicators, Grantee Reporting
Solution (s): CRM, Grants Management, Amp Impact
Product (s): Amp Impact, Experience Cloud, Power BI
Vera Solutions and Amp Impact help The Elton John AIDS Foundation track more than $160 million in grants

From Bespoke Grant Management to Amp Impact: The Elton John AIDS Foundation's 10-year Journey on Salesforce
Vera Solutions began working with the Elton John AIDS Foundation in 2011 to design and implement a Salesforce-powered grant management system. At the time, the Foundation sought a central, cloud-based system where staff could easily review applications and track grantees' achievements – one that would automate most of the steps of the grant management lifecycle and provide a more streamlined experience for their grantees. As the Foundation's grantmaking grew to more than $160 million across 44 countries, their Salesforce system grew as well. In 2020 – after nearly a decade on Salesforce – the Foundation partnered with Vera Solutions to further expand and automate their grant management functionality with Amp Impact. Integrated with PowerBI, the Foundation's system now provides meaningful insight into their grantmaking performance at both grant-specific and portfolio-wide levels. This empowers staff to easily monitor and report on funding outcomes across geographies, thematic areas, and key performance indicators.
Since 1992, the Elton John AIDS Foundation has worked to overcome the stigma, discrimination and neglect that keeps us from ending AIDS. Through public and private supporters and partners, the Elton John AIDS Foundation helps to create a world of love, compassion and dignity for people living with or at risk of HIV/AIDS. The Foundation's mission is simple: an end to the AIDS epidemic.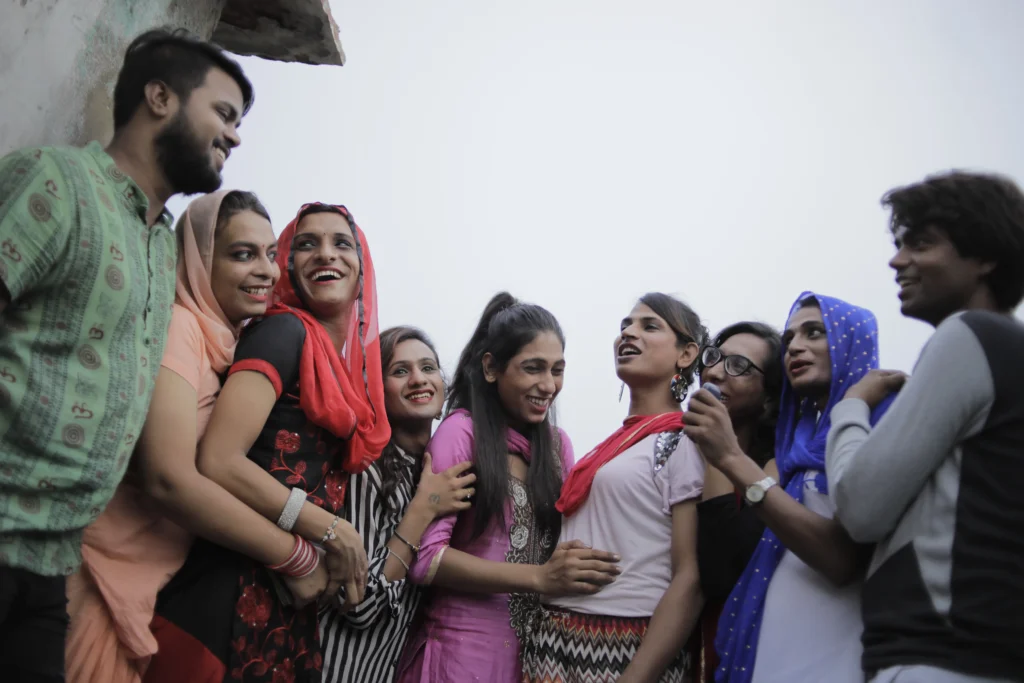 The Beginning of The Elton John AIDS Foundation's Salesforce Journey
In 2011, The Elton John AIDS Foundation sought Vera Solutions' help to simplify and automate grant management processes using Salesforce. At the time, the Foundation's staff spent countless hours operating a tedious, manual process for receiving and reviewing grant applications and communicating with applicants and grantees. The Foundation had also struggled to effectively monitor the progress of grants against targets for KPIs, report this information to external stakeholders and partners, and use it to inform funding decisions. The Elton John AIDS Foundation needed a central, cloud-based system to manage grantee applications, concept notes, and reporting across the entire grant lifecycle.
Co-creating an early Salesforce-powered grant management system

After spending several months ideating and collaborating on the Foundation's new system, its capabilities, and user requirements, Vera Solutions began configuring and implementing The Elton John AIDS Foundation's CRM and grant management solution built on Salesforce. The solution was designed to effectively track and manage grantees, concept notes, grant applications, grant reports, and payment tranches – thus eliminating tedious manual processes.
Applicants used Formstack webforms to apply for grants, with application and concept note data instantly received by the Foundation's staff in Salesforce. Once a grant application was accepted, grantees utilized additional forms to report on progress to the Foundation, both qualitatively and quantitatively.
The Elton John AIDS Foundation leveraged Salesforce reports and dashboards to analyze performance at both grant and portfolio levels, allowing staff to easily monitor and report on global funding outcomes across geographies and thematic areas. The system served as a repository of grant data and documents that informed decision-making around grant and payment approval.
The 2011 solution automated a number of the Foundation's processes which were previously carried out manually over email. The Elton John AIDS Foundation has saved hundreds of hours thanks to the system, which has also provided the organization with easier and more powerful visibility on grant performance.
Between 2011 and 2020, the Foundation utilized the solution to process and review more than 4500 concept notes from 44 countries, tracked more than $160 million of all-time grants supporting over 720 organizations, and monitored performance on 600 key performance indicators (like the number of individuals receiving HIV testing, the percent of successful treatment referrals, and the number of home visits received by children living with HIV).
A Decade Later: The Evolution of The Foundation's Grant Management Needs
After using their Salesforce system for nearly a decade, The Elton John AIDS Foundation's grant management needs evolved and they required a system with additional application management and grantee reporting functionality. While Grantees were able to submit their ongoing impact reports via Formstack, they lacked insight into previous reports and collaboration with the Foundation on the data that was submitted. This created the opportunity for the Foundation to implement a more powerful solution to bring their processes and system into the new decade.
One of the requirements of the system was to enable grantees to view past reports and collaborate with the Foundation in a portal. The solution had also had to provide more sophisticated, impact intelligence on KPI progress (including disaggregated result data), and use different application and reporting templates for different funding opportunities.
The next phase of end-to-end grant management with Amp Impact
In 2020, Vera Solutions redesigned the Elton John AIDS Foundation's existing Salesforce system with Amp Impact, Vera Solutions' Salesforce-based portfolio management and impact measurement solution which is now used in over 150 countries to manage and track the impact of over $4 billion of international development programs and grants.
The shift to Amp Impact helped The Elton John AIDS Foundation establish a Grantee Portal (built with Salesforce Experience Cloud) that allows Applicants to submit Grant Applications and Grantees to submit Grant Reports and manage their grants throughout the entire grant lifecycle. Grantees can also use the Grantee Portal to report on the progress made on their key performance indicators (KPIs) using both Quantitative and Qualitative data. The KPIs are tracked using Amp Impact's Indicator Management functionality which allows the Foundation to manage a Catalog of commonly used Indicators and to be able to draw from that Catalog or create custom Indicators for Grantees. Previously, Grantees could only provide up to 5 Indicators in total, and could not provide any details about the Indicator beyond the name, the target, and some results.
With Amp Impact, Grantees can now collaborate with The Elton John AIDS Foundation to set up a detailed set of Indicators, reporting on them at a frequency that makes sense for them, and disaggregated in ways that both are happy with (e.g. by sex, age group, target population, etc.). This allows the Foundation to maintain consistency in their system with reusable KPIs, whilst having the flexibility to choose alternate set-ups that allow Grantor and Grantee to tailor impact reporting as needed.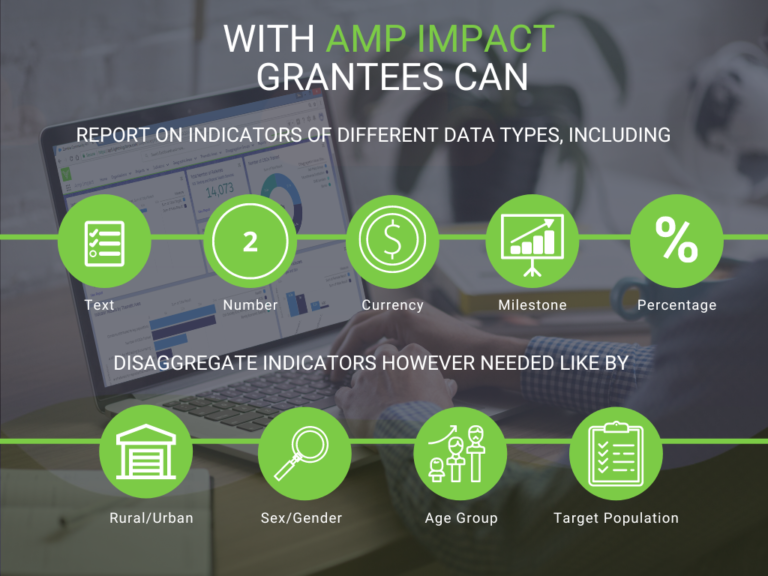 Simplified Grantee Reporting to Inform Funding Decisions
The Elton John AIDS Foundation defines the KPIs and allows Applicants to add custom Indicators during the Application stage. Applicants then submit the proposed targets they plan to achieve for the KPIs in a grant. The Foundation uses various types of KPIs, including Milestones, Qualitative, Number, and Percent indicators. Once Grant Applications are submitted, the Submission is locked in the system (unless the Foundation reopens it for revision).
The Foundation then accepts or rejects the Application. Once grants are approved and underway, grantees report back regularly to the Foundation with Narrative templates, Budget Items, KPI results, and Attached files. Grantees can use the download/upload functionality on KPI results to work offline on their report before submitting to the Elton John AIDS Foundation.
Leveraging Power BI to Visualize Portfolio-wide Impact
Previously, the Foundation depended on Salesforce Reports and Dashboards as well as Google Charts to analyze grant performance. However, the charting capabilities were limited and the need for more dynamic, filterable reports led The Elton John AIDS Foundation to explore other business intelligence solutions.
The Elton John AIDS Foundation is now using powerful Power BI reports and dashboards to analyze performance at both grant and portfolio-wide levels, empowering staff to easily monitor global funding and outcomes, disaggregated geographically and thematically.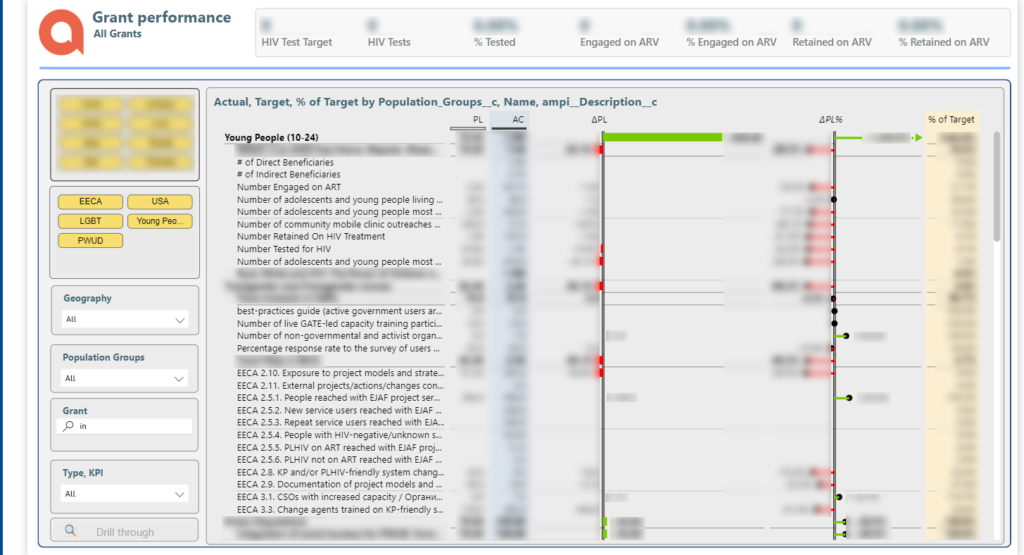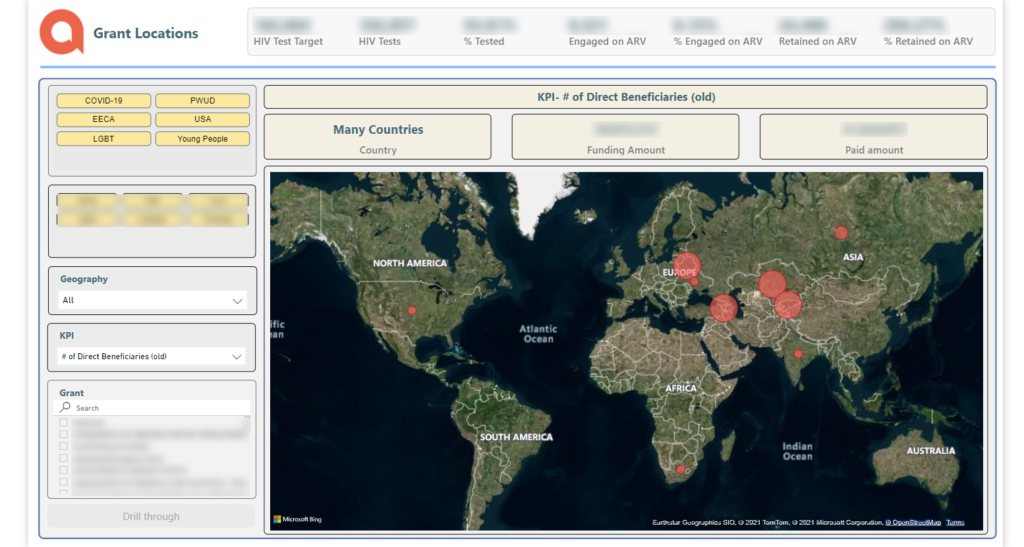 Vera Solutions is honored to have partnered with The Elton John AIDS Foundation on their digital transformation journey. Our team strives to help social-impact organizations save time, reduce headaches and advance their mission through the power of Salesforce - and we'd love to help you do the same. If your organization is seeking to start or accelerate its digital transformation journey, we'd love to chat.