Frontline AIDS

Region: Global
System: Program Management, Community Engagement
Sectors: Global Health, Livelihoods, Human Rights
KPIs: 325 projects managed within Amp Core
Frontline AIDS
(formerly known as the International HIV/AIDS Alliance) has been on the frontline of the world's response to HIV and AIDS for 25 years, working with marginalized people who are denied HIV prevention and treatment simply because of who they are and where they live. Today, Frontline AIDS invests in communities in more than 40 countries, taking local, national and global action on HIV, health, and human rights.
The
Rapid Response Fund
(RRF), one channel of Frontline AIDS' community involvement, helps with urgent situations where lesbian, gay, bisexual and transgender people, and men who have sex with men struggle to access HIV services because of stigma and discrimination – often leading to threats and violence. The Rapid Response Fund provides financial support both through emergency response grants and challenge-response grants.
While Frontline AIDS had been using Salesforce to track Accreditation, the Rapid Response Fund, the Global Fund pipeline, Programs, Projects and Risks, and Human Resource Management, the system was not widely adopted across the organization. Frontline AIDS was experiencing challenges associated with siloed data from disparate data sources, complicated workflows, and slow connectivity. There was a common need across various user groups for more streamlined data entry and a more structured process.
"It's been an absolute pleasure working with [Vera Solutions] in this last year. [Vera has] worked tirelessly on this project and I really appreciate all the hard work [the team] put into the system. I hope the relationship between Vera and Frontline AIDS continues."





Vai Cheung – Former Lead: Business Planning & Analysis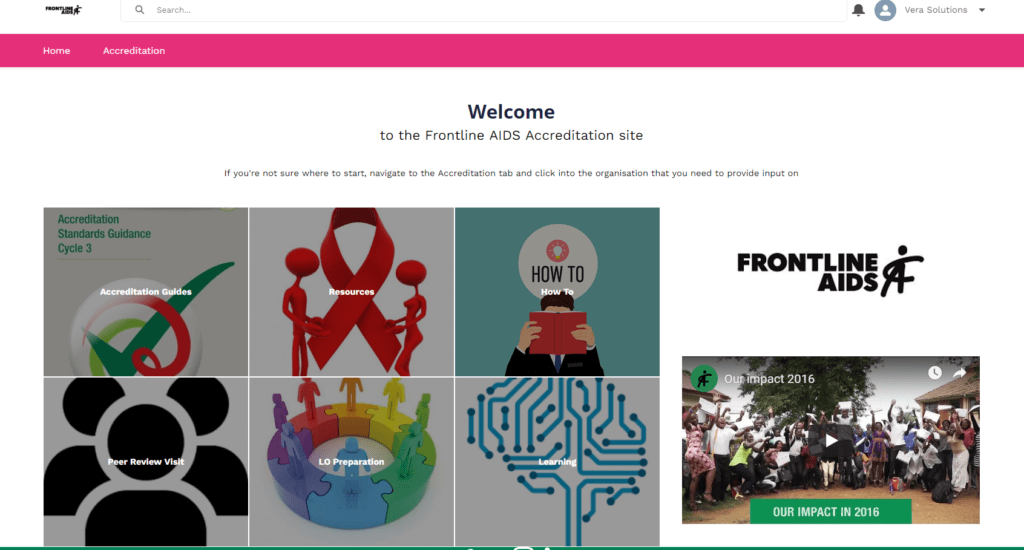 Frontline AIDS partnered with Vera Solutions to eliminate the barriers to collaboration, accessibility, and efficiency. Vera proposed a more centralized, user-friendly Salesforce solution to accommodate all of Frontline AIDS' involved users – from Secretariat members to program staff to RRF applicants. Through an initial Discovery and Design phase, consisting of user interviews, process mapping, and in-person workshops, Vera proposed three system upgrades:
Implementing Amp Core, the main program management objects of Amp Impact, Vera created a centralized place to track project delivery, program progression, and allocated funding. Incremental budget reports provide frequent insight into project financial progress and Many2Many enables Frontline AIDS to relate projects with other projects for simplified reporting. Through this structure, Frontline AIDS' team has a constant pulse on thematic areas, sub-grant agreements, and projects.

Vera configured functionality enabling RRF applicants to self-register and apply for Challenge and Emergency funds via a Salesforce Customer Community. The community allows partner organizations to self-assess, peer-review, and build capacity through knowledge-sharing. Internally, Frontline AIDS uses the community portal to search for and assess organizations, based on their review criteria.

Through an Accreditation system remodel, Frontline AIDS can now help fund and support HIV-focused organizations with the highest accreditation levels in alignment with universal standards. The system allows for "self-accreditation" as well as peer reviews for increased accountability and connectivity with like-minded grantees.
After the new system was launched, Frontline AIDS initiated an ongoing support contract with Vera, including a three-day in-person training, to drive user adoption across all departments and teams, build internal capacity at Frontline AIDS to manage the system, and make minor system updates in line with the agreed upon release management terms.