World Animal Protection
Region: Global
Organization Type: International Nonprofit
Vertical: Animal Welfare
Solutions: Project Management
Products: Amp Impact, Salesforce Platform, Salesforce Experience Cloud, Microsoft Outlook, Microsoft Sharepoint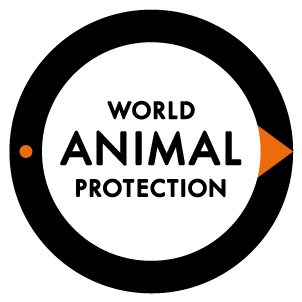 Vera Solution's flagship product - Amp Impact, Powers World Animal Protection's
Dynamic Platform for Stakeholder and Campaign Management
World Animal Protection is an animal welfare campaigning organization dedicated to moving the world to protect animals from cruelty and suffering. Working in more than 50 countries, World Animal Protection partners with local communities, non-governmental organizations, and governments to advocate for transforming the global food system and stopping the exploitation of wild animals. Learn more about World Animal Protection at www.worldanimalprotection.org.
Learn more about World Animal Protection and their impact here.
Measuring advocacy is key to World Animal Protection's work. This requires careful oversight of the organization's relationships with hundreds of external stakeholders throughout the campaign lifecycle–from "identified" to "engaged" to "qualified" to "activated."
Prior to using Salesforce, World Animal Protection had no relationship management system in place for tracking stakeholder engagement consistently. Further, the organization relied on highly manual processes to monitor project and campaign delivery indicators and produce quarterly performance reports on Excel. The organization sought a centralized CRM and project management platform to streamline stakeholder engagement and track campaign delivery.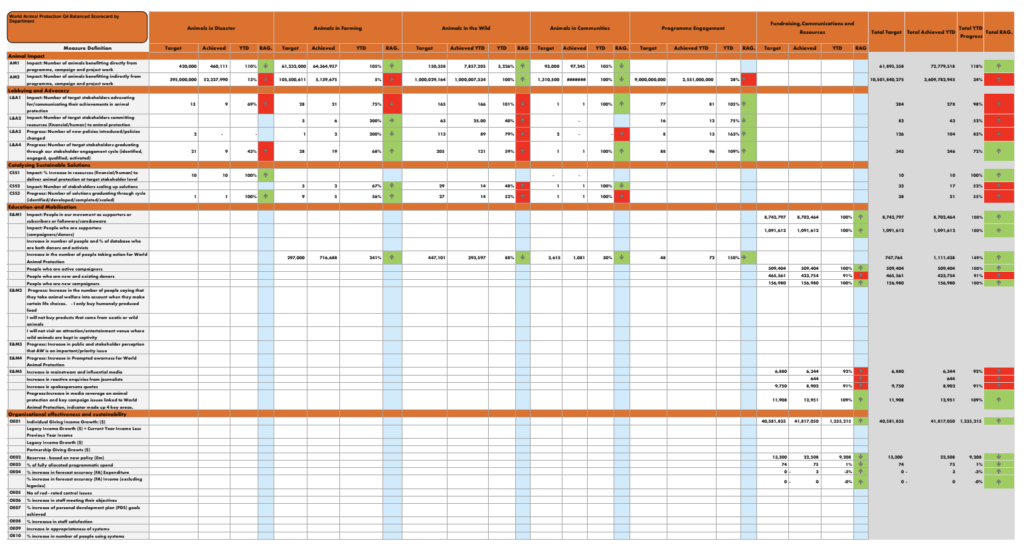 THE SOLUTION
Reimagined Stakeholder and Campaign Management
Simplifying Stakeholder and Campaign Management with Amp Impact
In 2020, Vera Solutions began working with World Animal Protection to implement Salesforce and Amp Impact for stakeholder and campaign management. Using Salesforce's and Amp Impact's out-of-the-box CRM and project management capabilities, World Animal Protection is now able to manage stakeholder information and monitor engagement activities from one central place. The system is integrated with Microsoft Outlook to automate workflows and document stakeholder engagement with one click. Vera Solutions additionally configured a custom "Stakeholder Engagement" object in Salesforce, enabling project staff to track the progress of stakeholders through each stage of the "lobbying and advocacy engagement" cycle.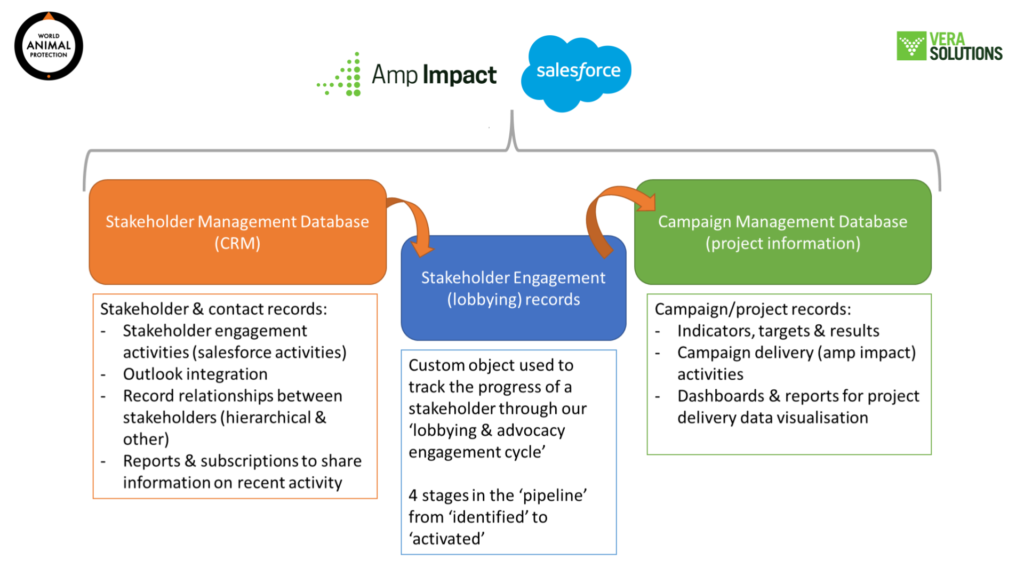 World Animal Protection uses Amp Impact – Vera Solutions' flagship product built on Salesforce – to enhance the project management and impact measurement capability of its system. Amp Impact allows project staff to create and manage indicators, set targets, and capture results for campaigns over time. Project teams also utilize Amp Impact's Activities feature to centralize project management and track the progress of stakeholder activation.
To measure campaign impact at scale, World Animal Protection leverages Amp Impact's auto-aggregation functionality, which seamlessly aggregates the results of campaign indicators for instant oversight of results against objectives and targets set. "Some engagements can extend for years," explains Straszynski. The powerful aggregation feature also reduces the need for manual input of indicator results and, thereby reducing human error and strengthening data quality.
Dynamic Dashboards and Impact Reporting
On a quarterly basis, World Animal Protection reviews and reports on key performance metrics across its programmatic areas: lobbying and advocacy, education and mobilization, catalyzing sustainable solutions, organizational effectiveness and sustainability, fundraising, and communications. Previously, these reports were produced primarily on Excel through a "static" and "resource-taxing" process, according to Straszynski.
A key benefit of World Animal Protection's new system is that it enables project staff to collect, manage, analyze, and disseminate stakeholder engagement and project delivery data in one dynamic platform. As a result, the system has eliminated human error in manual data entry of campaign results and strengthened feedback loops within the organization, as staff are more motivated to keep data up-to-date.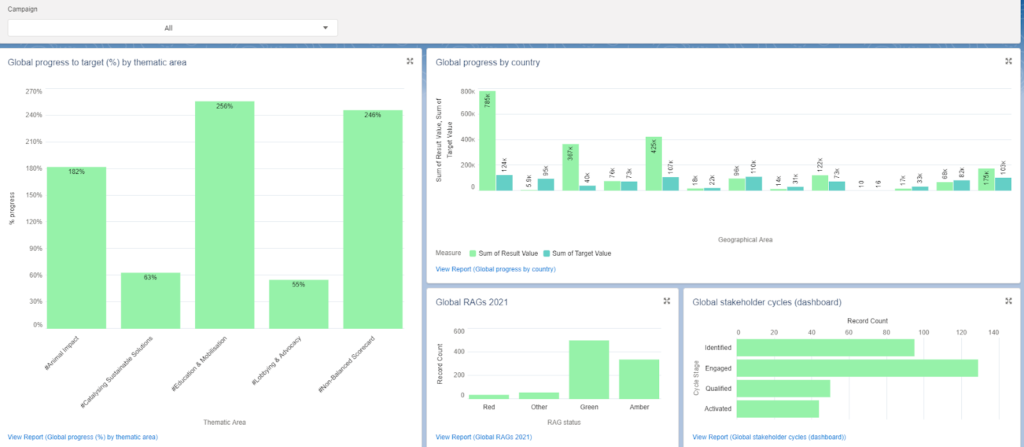 Vera Solutions is honored to have partnered with World Animal Protection on their digital transformation journey. Our team strives to help social-impact organizations save time, reduce headaches and advance their mission through the power of Salesforce - and we'd love to help you do the same. If your organization is seeking to start or accelerate its digital transformation journey, we'd love to chat.